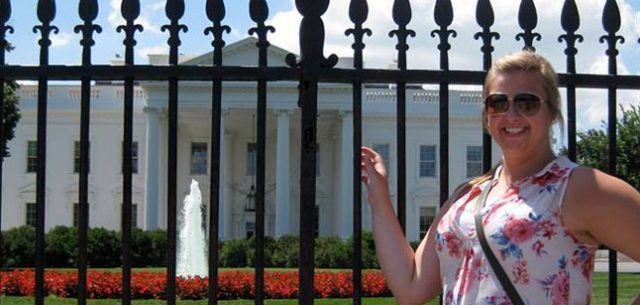 After sending an email to a Macalester alumnus she'd never met, Jolena Zabel '16 (Hastings, Minn.), who has a concentration in Human Rights and Humanitarianism (HRH), spent the summer in Washington, D.C., interning with the United Nations Population Fund. Here's what she wrote about the experience.
I stepped off a plane into the nation's capitol feeling the usual cocktail of emotions associated with moving to a new place; excitement, anxiety, confusion, and liberation.
Thanks to an email with an attached resume I sent to a Macalester alumnus who happens to be chief of UNFPA's Washington, D.C., liaison office, I was on my way to work for a major human rights-centered international agency for the summer.
UNFPA, or the United Nations Population Fund, is a UN agency that focuses on creating a world in which "every pregnancy is wanted, every birth is safe, and every young person's potential is fulfilled."  They work in more than 150 countries and have a variety of programs, with goals such as increasing global family planning access, ending female genital mutilation, and preventing child marriages.
Besides being right up my alley issue-wise, my internship at UNFPA provided me with incredible opportunities in the human rights field. For one, I helped organize an event in the Russell Senate Office Building Rotunda to raise congressional awareness about the international effort to end child marriage, through exhibiting the work of Nobel prize-winning photographer Stephanie Sinclair.
After Samantha Powers became the new U.S. Ambassador to the United Nations and Susan Rice was appointed U.S. National Security Advisor, I drafted the official congratulatory letters from the UNFPA Secretary General. Several times a week I attended briefings at the Capital, the UN building, and other NGOs addressing a variety of human rights and humanitarian concerns, from refugees in Syria to infant mortality in West Africa.
These experiences affirmed my choice to concentrate in HRH and helped me gain practical knowledge of subjects, issue areas, and documents I had previously only read about. My first day on the job, for example, my boss asked me, "Have you ever heard of CEDAW?" and I almost jumped out of my seat (I mean, I've only written several papers on it).
The Convention on the Elimination of All Forms of Discrimination Against Women (or CEDAW) is an amazing piece of work by the UN. Now, instead of writing a paper about it, I was working to bring CEDAW back onto the Senate floor by performing research, updating the CEDAW 2013 website, and writing country reports on its positive effectiveness in countries where it has been ratified.
UNFPA is also working intently on maternal mortality and health issues—including ending obstetric fistula and educating midwives—as part of an effort to meet the Millennium Development Goal to improve maternal health. As a result, I learned about programs designed to increase the economic empowerment of women, address the difficulties in treating maternal health issues, and increase the accessibility of health care for women.
Finally, my internship placed me right in Washington, D.C.— the epicenter of political movers and shakers. As the Supreme Court announced its rulings, I was right outside the building and just a few feet away from Anderson Cooper. I ran into Howard Dean at a frozen yogurt joint and a U.S. Senator handed me a Dr. Pepper at a fundraising event.
More importantly though, by being in the Capital throughout my internship, I learned firsthand about the complexities, intent, and multiple actors that go into promoting human rights and creating humanitarian responses. I left the summer feeling hopeful, knowing for certain there are thousands of people out there, some of whom I had the honor to meet, who are creatively, relentlessly, and selflessly working for the dignity of all, and that I can, someday, be one of them.