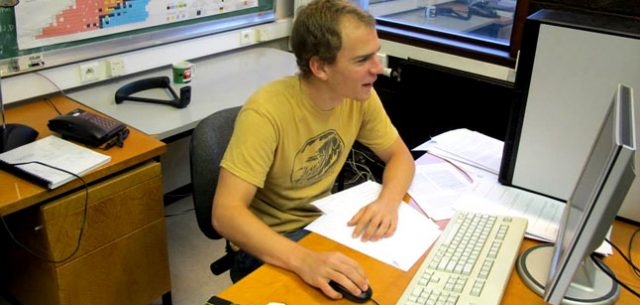 excerpted from Vagabond Scholar
Physics major Ned Molter '15 spent the fall in Belgium, studying at the Astronomy and Astrophysics Institute of the Free University of Brussels. He was part of an astrophysics team studying the universe's white dwarfs. Their study aims to establish a link between star explosions and the structure of white dwarfs. In addition, Ned took a master's level course, taught in French by the laboratory's director, about the life cycle of stars.
Why did you choose Brussels?
I got to experience what it's like to be a real scientist doing original research on a cutting-edge problem 40 hours a week, but I also got to keep my classic liberal arts well-roundedness with night classes (in French) about Belgian history, politics, literature, and culture, as well as an introductory Dutch course.
Tell us about your internship.
I did astrophysics research at the Université Libre de Bruxelles (ULB, the francophone side of the public university in Brussels). Specifically, I modeled and analyzed highly magnetized and/or rotating white dwarf stars to see if they can become more massive than was previously considered possible. I worked with really interesting people from all over Europe.
Was your program's atmosphere similar to life at Mac?
Not at all. Working full time was very different from anything I've experienced before. It's just about as busy as the Mac schedule when you add up work, night classes, and Frisbee (I played three times a week with a local club), but instead of doing a lot of homework I spent time in my internship trying to solve the same problems, which is both exciting and tiring.
What was your most memorable experience?
Going to my first soccer game was incredible. Belgium qualified for the World Cup this year for the first time in over a decade, and the excitement in the city was unbelievable. Perhaps the most impressive part of the whole experience was the ride in, where what felt like 400 people clad in black, red, and yellow wigs and facepaint packed into one metro car and sang fight songs for the entirety of the 30-minute ride. Even in a country where economic and linguistic tensions have led to discussions of various regions splitting off from one another, the love of soccer really is a uniting force.