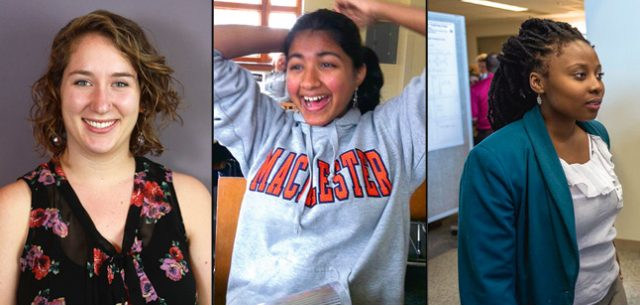 Their focus ranged from Costa Rican organic agriculture to reproductive health awareness among Indian girls, and thanks to college funding, three students had the chance to see global citizenship in action over their January break.
All three received Live It Fund grants, part of a program created in 2010 by Macalester's Institute for Global Citizenship. The funding— allocated by the IGC student council—supports students who propose projects to live out their definition of global citizenship. This year's January projects:
Justine Decker '14 (Waukesha, Wis.) worked with a community partner in Costa Rica—where she studied abroad last year—to restore its greenhouse and expand its initiative to grow organic produce and medicinal plants. "I feel an obligation to sustain the relationships I formed while in Costa Rica," she says.
Shruthi Kamisetty '16 (Bangalore, India) gathered adolescent girls from a government school outside Bangalore for a support group and classes on reproductive and sexual health. "Information can empower young women who are traditionally marginalized in Indian society," Kamisetty says.
Puleng Moshele '16 (Leribe, Lesotho) worked in Lesotho together with HIV-orphaned and vulnerable children to open a micro-poultry farming facility as a food and income source. "The goal is to help the children learn to provide for themselves," she says. "It's a step toward breaking the cycle of poverty."