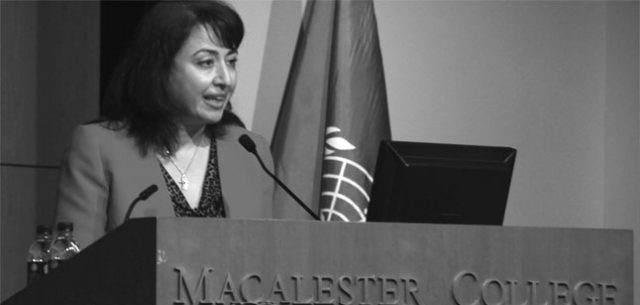 The Amy Ostermeier Human Rights Educational Fund was established in 2012 with memorial gifts from the family and friends of Amy Ostermeier '98. The fund's goal is to carry on Ostermeier's lifelong human rights work. This will be achieved by providing opportunities that will help Macalester students better understand the critical nature of human rights issues across the globe and the role that diplomacy plays in addressing those issues. The fund will support both on- and off-campus student experiences.  
The first on-campus activity supported by the fund was the Inaugural Ostermeier Human Rights Lecture, which took place in October 2013 and featured Suzanne Nossel, executive director of the PEN American Center. The next day Nossel joined Macalester students and several of Ostermeier's former colleagues from the U.S. State Department in a conversation about human rights careers.
Off campus the fund will support students in research and experiential learning through internships and other directed experiences in the areas of human rights and diplomacy.
To read more about Ostermeier's life and work and the Amy Ostermeier Human Rights Educational Fund, go to amyostermeierhumanrightsfund.org.