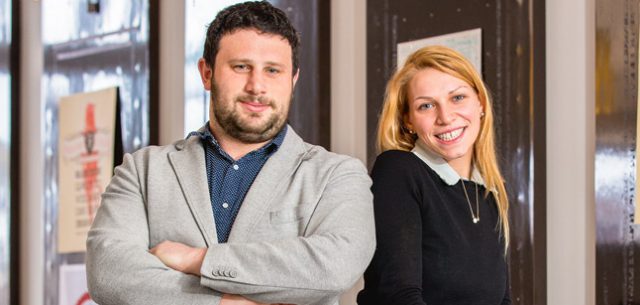 This summer, a St. Paul tutoring and writing center run by Mac alumni joins a nationwide movement helping at-risk kids.
A WALK THROUGH THE CUBICLES of the Lampert Building reveals an ordinary set of Macalester College offices. In this everyday space, two women working for the Annual Fund became colleagues, then friends. Soon they were talking a lot about education and how they might be able to do something—something significant—to close the widening performance gulf between white and minority students. Today, 10 years later, they're watching their dream come true, right on the corner of Raymond and University Avenues in St. Paul.
The first step toward that dream began with a book-signing conversation between Holly Muñoz '02 and author Dave Eggers, which led to them becoming what Muñoz describes as "sporadic pen pals." When Muñoz later learned about the tutoring and writing centers Eggers was expanding nationwide, she wondered why the Twin Cities didn't have one. "We're a literate, highly educated community, yet we have a huge opportunity gap. I thought, someone should tackle this problem," she says. Muñoz, a committed advocate for education and the first person in her family to attend college, says, "I feel like I won the lottery by getting the education I did at Macalester."
The more she considered the situation, the more she wanted to act. Her first call was to Riddle, then director of Macalester's Annual Fund, now vice president for advancement at Augsburg College. "Holly said, 'I have an idea,' like she always does, and I grew very interested," says Riddle. "I already knew our community was rich in people who want to get involved and make a difference, and it was such a good idea."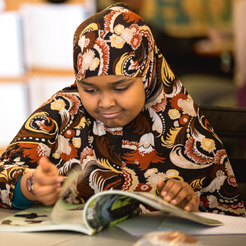 We all thought, "How hard could it be?" Muñoz laughs, recalling many meetings in the Ruth Stricker Dayton Campus Center with early board members, including Peter Ahn '87, Colin Kennedy '04, and the Pohlad Family Foundation. After officially organizing as a nonprofit in 2009, the board chose Rock Star Supply Co. as their organization's name. Muñoz says, "Heather and I are both music lovers, and we figured that anyone who wanted to improve educational outcomes for students was pretty much a rock star."
Still, says Riddle, that rock-star caché turned out to be well deserved. "At Como High School one day, I met a new group of volunteers— two Mac alums and two Mac students. They had crazy hair, lots of piercings, great boots—they looked like a really cool rock band. As I walked them through the hallway, all the kids stopped and stared. When the ninth graders to whom they'd been assigned met them, the kids' jaws dropped. 'These are our tutors?' 'Yes they are,' I told them, 'and this one is fluent in Spanish, and this one is an algebra genius, so you're in luck,'" Riddle recalls.
After operating for five years in St. Paul's Midway neighborhood, Rock Star Supply Co. (RSS Co.) was recently chosen by the Eggers group to be part of a first phase center, with the goal of eventually developing into a national 826 tutoring site. This summer it will re-launch under a new name—the Mid-Continent Oceanographic Institute. The 826 tutoring centers—the first of which was founded in 2002 by veteran teacher Nínive Clements-Calegari and Eggers, author of A Heartbreaking Work of Staggering Genius—are named after the original San Francisco site at 826 Valencia.
The concept then continues today: to offer free drop-in tutoring, field trips, workshops, and in-school programs for students ages 6 to 18, all based on the belief that great leaps in learning can happen with one-on-one attention, and that strong writing skills are fundamental to future success.
Because the original San Francisco location was zoned as retail, its founders hit upon the idea of including a storefront space billed as "San Francisco's only independent pirate supply store." Serving as the tutoring site's entry, the store sells items such as eye patches, compasses, and secret treasures. After that first success, 826 expanded, always incorporating that original crazy store-in-front design. For example, there is Superhero Supply Co. (Brooklyn), Liberty Street Robot Supply & Repair (Ann Arbor, Mich.), and the Greater Boston Bigfoot Research Institute. St. Paul's Mid-Continent Oceanographic Institute is on track to become the ninth national site.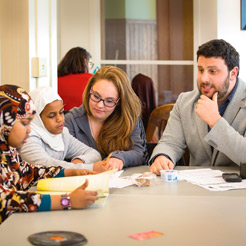 "The store is more than just a way to diversify the revenue stream," says Muñoz. "It de-stigmatizes tutoring and helps attract a diverse community of volunteers: educated people with flexible schedules who are interested in being civically engaged."
Managing all this amiable chaos in St. Paul is Chad Kampe '04, a classroom teacher with a master's degree in educational leadership from Columbia University. After graduate school and a five-year stint teaching at St. Paul's Friends School, he saw a posting for the first full-time executive director of RSS Co. He called his friend Muñoz, who thought he'd be a perfect fit. Kampe will celebrate his one-year anniversary with the organization in July, right before RSS Co. re-launches as Mid-Continent Oceanographic Institute.
Kampe "keeps the plates spinning" as he manages the details of student interactions, volunteer recruitment, and nonprofit administration. He also hopes to get an occasional turn at the periscope, which will be installed this summer.
One of those spinning plates is the complete rebranding and renovation of the physical site and retail store. Local agency KNOCK, inc, whose other clients include Caribou, Perry Ellis, and Target, is heading up the effort. To no one's surprise, there's yet another Macalester graduate on the creative team: KNOCK account producer Diana Ross-Gotta '04. "Our passion for 826 runs deep at KNOCK," she says. "I'm proud that our local chapter is so inspiring, smart and dedicated."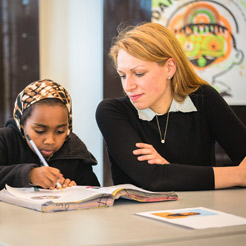 Kampe is aided by a single employee, AmeriCorps staffer Ariel Sehr '13, who credits Macalester with giving her many chances to volunteer, thus helping her gain skills that today help her recruit and support volunteers. "We have an awesome network, many of whom are connected to Macalester, who put in tons of hours of organizational help and volunteering with our students," says Sehr. "The commitment to both the organization and the individual students is incredible." Some of those volunteers travel to three area high schools every Friday for tutoring sessions, while others work at the drop-in tutoring sessions held weekdays at the storefront.
RSS Co. also organizes school field trips and Saturday workshops, mostly focusing on creativity and writing. Right now center volunteers tutor more than 20 students a day at afterschool drop-in sessions, but with support from 826, "We hope to build those numbers considerably," Kampe says.
Recently RSS Co. had a big success with a Monster Writing Workshop it offered, conducted by National Book Award winner William Alexander. "We're hoping to engage more members of the local literary scene as volunteers," says Kampe.
By this fall, he adds, "It's going to be a very fun place to be. I mean, we're going to have a periscope, so good times are pretty much guaranteed."