In the 1960s, a groundbreaking international work program allowed many Mac students to travel overseas for the first time.
The Cold War had an iron grip on global politics in the early 1960s. Middle-class Americans rarely traveled overseas, and a film based on the bestselling novel The Ugly American was playing both at home and abroad.
These dynamics—and the distorted picture of American citizens they painted—were shaping worldviews when several extraordinary programs emerged at Macalester College, designed in part to counter that negative image of Americans. Two of those programs—the World Press Institute (WPI) and Ambassadors for Friendship, which brought international journalists and students, respectively, to the U.S.— have been previously covered in this publication.
The third program—the Student Work Abroad Project or SWAP— initiated in 1963, sent U.S. students overseas to work alongside local people. The St. Paul Pioneer Press, which ran several articles about the program, called it "a first for an American college."
Unlike today's popular study abroad programs, SWAP stressed cultural exchange and geographic exploration over academic endeavor, matching Macites to jobs and living situations in nearly 20 different countries—even paying their airfares in the early years. Over the next decade, SWAP sent abroad more than 700 Mac students—mostly rising juniors and seniors—to work for two months while staying in homes with families or in hotels with coworkers, and then to travel on their own for a month. Virtually all were traveling abroad for the first time, and some—dependent on summer jobs to earn tuition—received grants to help finance their trips.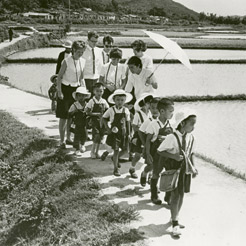 Even today, 50 years later, they vividly recall those first trips overseas. "It was a remarkable experience that equipped me with tools to deal with the unknown and gave me self-confidence and courage," says Jeanne Schilling Messersmith '68, who waitressed at a hotel on the Firth of Forth in Scotland. "It has had a lifelong impact. I still seek that thrill of exploration," says Connie Eckhoff Charles '64, who worked as a clerk at the Nile Hilton in Cairo, Egypt. Adds Jon Walton '69, who was a parish worker at a church in Edinburgh, "The program was really important to our education. A large number in every graduating class participated. We were helping to overcome Midwestern parochialism." The program also helped strengthen Macalester's reputation for internationalism, says Lew Beccone '68, who worked in a 3M warehouse in Oslo, Norway. Throughout the 1960s, international programs such as SWAP increasingly drew students to the college. "Its international focus was the reason I came to Macalester," says Judy Brown Marquardt '66, who spent a SWAP summer working as a sous chef at the Rotterdam [The Netherlands] Hilton. "The Peace Corps had just been formed and Americans were starting to look beyond their borders."
INTERNATIONAL DREAMS
The seeds of all three of Mac's international programs were sown in the context of the college's growing global outlook. A young man named Harry Morgan had captured the attention of DeWitt Wallace, Class of 1911, Reader's Digest founder and Macalester benefactor, with his ideas for combatting negative propaganda about Americans. During a year spent in Holland, Morgan had heard unfavorable views of Americans, said Kathy Kinnear Rodger '66, a secretary at the Madrid Hilton who knew Morgan. He feared that wealthy American travelers were giving the U.S. a bad rap worldwide and decided to create a means by which the world could get to know "real" Americans.
When Wallace brought Morgan to Macalester, he had free rein to implement his ideas. After founding Ambassadors and WPI, which enabled foreigners to appreciate Americans in the U.S., Morgan realized that the college also needed a program to enable students to appreciate people in other lands. The next step came about when Morgan met an official at Hilton Hotels, then a WPI sponsor, recalls Jim Toscano, who took over international duties at Mac from Morgan in 1964.
Soon Mac students were working in Hilton hotels across the globe, especially between 1963 and 1965, when the program was in its prime. Conrad Hilton—then the world's most famous hotelier—was eager to help his country fight the Cold War by opening hotels in strategic sites, some suggested by the State Department. "We think we're helping out in the struggle that is going on in the Cold War today with world travel," Hilton told Time magazine in 1963. Because the SWAP concept fit into that vision, he made a three-year commitment to hire Macalester students in his overseas hotels. (Other colleges apparently later tried unsuccessfully to convince Hilton to offer the program for their students.)
OH, THE PLACES THEY WENT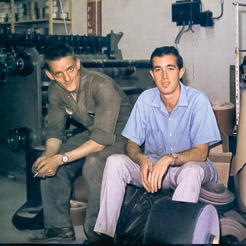 Staff at overseas offices of Reader's Digest often helped SWAP staff find employers, recalls Dave Rodger, who ran the program from 1966 to 1968. Messersmith, the Scottish waitress Swapper who later helped match students to jobs, remembers that forging those connections was labor-intensive work. "If you were from a farm, we might try to place you on a Swiss farm. If you were interested in business, we tried to place you in a company."
Although program expenses were high, Wallace provided the major funding, recalls Toscano. He was particularly keen to give international experiences to students who had never been abroad and might otherwise spend their summers at home working to earn tuition dollars. Many of those young people came from middle-class families for whom international travel was then virtually unknown. "My folks had never been overseas," says Marquardt, "but it was my dream to see the world."
WHERE GLOBAL HARMONY MET GOODWILL
The SWAP rhetoric reflected the innocent idealism of the early '60s era. Did the participants meet the lofty cross-cultural goals envisioned by the founders? Most believe that they did. "We fostered goodwill among young people," says Mike Moeller '64, who spent his summer working as a steward in the Rotterdam Hilton.
In the 1960s participants were required to attend orientation sessions stressing language and culture. "The college was intent on culturally sensitizing us," says John Chamberlain '69, who worked as an American Express clerk in Amsterdam. He recalls that a book called On Understanding Other Cultures was required reading at the time.
Once abroad, some Swappers lived with families; most befriended coworkers. "The Dutch were gracious about inviting us home even though they had tiny living spaces," remembers Marquardt. "Europeans had seen wealthy New Yorkers and Texans by then but hadn't met many students yet. We were still a bit of a curiosity in the '60s—another voice of America—enthusiastic, optimistic, innocent."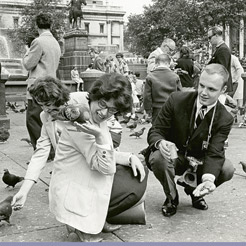 For a few Swappers, making close connections was part of the job description. Walton did outreach to parish families and youth for an Edinburgh church. "In the evenings, I'd hang out with the street toughs at fish and chip shops. They didn't like my American accent and were suspicious of my motives," says Walton. For the most part, however, he so thrived in the job that it confirmed his decision to enter the ministry when he returned to the United States.
If Swappers did not always rise to the program's high intercultural ideals, they certainly grew in their appreciation of other peoples as well as in their self-reliance and maturity. "That was a time when I grew up," says Mark Nelson '73, who worked as a doorman at an Oslo hotel. "I'm not sure it would have happened as well any other way."
As the '60s progressed and the times became more turbulent, Europeans challenged young Americans with questions about race riots and the war in Vietnam. Political science professor Ted Mitau advised the Swappers about how to respond to anti-American sentiments abroad. "What a backdrop to our travels," says Messersmith, "the Arab-Israeli conflict, Vatican II, free love—so many norms and mores were being challenged."
That experience allowed them to figure out what they really thought about various political issues, says Beccone, the Oslo warehouse worker. "I began to solidify my beliefs. It was a chance to experience the world without being bombarded by American media. When we got questions, we had to think, 'Who am I and what do I believe?'"
One major lesson was that most of the world—including Europe at that time—did not live with the same luxuries routinely enjoyed by middle-class Americans. "When I returned from living abroad I was flabbergasted at the excesses in American life," says Thelma Lancaster '74, who waitressed at a hotel located on a Norwegian fjord. Some—used to regular hot water and plenty of bathrooms—even found it hard to keep clean while living abroad in that era. Judith Strom '70, who worked at the Cambridge [England] Daily, needed to reserve the tub in her landlady's kitchen several days before each bath.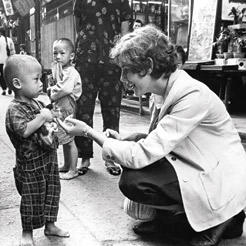 Too, weekly pay did not always cover expenses, some Swappers found, necessitating scrimping on meals and writing home for money. Terence Nadler '73, who sold Ferris wheel tickets at the Battersea Fun Fair in London, twice had to ask his parents for cash to make it through the summer. American Express clerk Chamberlain didn't earn enough to pay his rent. "I ran out of money and my dad sent a bank money order that never reached me," he recalls. Messersmith's farm family had to scrounge to find money so she could take part in the program. In the 1960s long-distance phone calls were expensive, so letters home were the only means of communication. "Back then you existed more in the space and the time right around you," says Strom. An important lesson for many Swappers was the realization that they could face hardships and emergencies on their own and be just fine, she adds.
INFLUENCING LIFE CHOICES
Some SWAP participants said that the experience influenced their life choices. Paula Wolfe '70, who clerked at an art school in Amsterdam, later left the Midwest to establish her career in Boston because it reminded her of the European cities she had learned to love. An experience working as a cafe hostess in the Tokyo Hilton led Penny Bren Johnson '65 to teach overseas for 13 years, two of them back in Japan. "The SWAP experience became part of who I am," she says.
For Don Mackenzie '66, a SWAP summer working as a lifeguard at the Nile Hilton in Cairo led to even more profound shifts in worldview. Observing his Sudanese co-workers' devotion to Islam that summer impressed him deeply, he says, ultimately leading him, a Protestant minister, to post-9/11 interfaith work with a rabbi and an imam. Among the outcomes of that work have been media appearances, many presentations and articles, and two books.
EUROPE ON $5 A DAY
After the work portion of the summer came several weeks of travel though Europe for most Swappers. They hitchhiked, rented VW vans and bugs, or used Eurail passes to get around. "We stayed in hostels with other youth from all over Europe, meeting people as we traveled," says Clare Lacher Carlson '67, who repaired elderly people's homes with a college-aged work crew in Bordeaux, France.
Because it was so expensive at the time to visit Europe, many Swappers felt compelled to make the most of what might be their only opportunity to travel there. "I figured I'd never get to travel again," said Margo Holen Dinneen '65, who worked at various assignments at the Hong Kong Hilton. The students pushed boundaries and took risks. "Every day was an adventure," says Phil Fabel '64, a reception clerk at the Berlin Hilton. "On many nights we did things we shouldn't have. We'd go up on the rooftops on the west side of the Berlin Wall and through binoculars watch the East German guards watching us through their binoculars."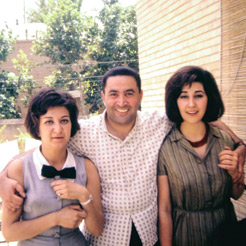 Moeller, the Rotterdam steward, outfitted a VW van with a bed for a solo trip through Europe. He recalls awakening one morning in Stockholm as angry Swedes rocked his vehicle. Apparently he had parked illegally in a workplace lot the previous night. A couple Swappers wound up in European hospitals, thanks to various ailments picked up during their travels. They learned to rely on their own judgment and ingenuity to survive those situations.
Independent travel also led to other unexpected outcomes, including a few marriages. Cairo lifeguard Mackenzie and his wife, Judy Petterson Mackenzie '66, who worked as a secretary at the Athens Hilton, traveled together in Greece after their respective work experiences. On an all-night boat to Crete they shared stories of their summers and became engaged, marrying the following spring. Swappers Lynn Clutter Holmes '66 and Jack Holmes '65 met while learning Farsi from history professor Yahya Armajani in preparation for their work assignments at the Tehran [Iran] Hilton. They, too, traveled together at summer's end, even surviving an accident on a narrow road near Rome that totaled their Fiat.
CHANGING VIEWS OF STUDY ABROAD
By the 1970s, however, student expectations for international experiences were changing. Opportunities for travel and community service abroad expanded for both college and high school students, and as students became more career driven, colleges started focusing on finding them internships related to their majors. "Today they want their overseas experience to connect with their resume," says Walton, the Scottish church worker. In contrast, he says, SWAP was more about sharing "life and culture—daily values, hardships and joys through the eyes of the people."
SWAP itself began to reflect these trends of blending travel with academic and career interests. The college began referring to SWAP as the Study/Work Abroad Project. Andrea Fell-Moody '73, who later did scientific research, took care of lichen colonies for a professor at the University College of North Wales. Strom, who interned at a British newspaper, was headed toward a career in journalism. Lancaster, who waitressed at a Norwegian hotel, joined SWAP in part so she could stay longer in Europe following a year of study in Yugoslavia.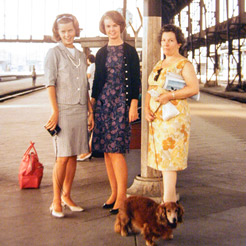 Today international student programs are also far more regulated and supervised. Many Swappers have adult children who studied abroad during their college years, "but they were so closely monitored," says one-time French construction worker Carlson of her sons' study abroad experiences. "What I liked best about SWAP is that we were completely on our own."
Macalester officials rarely checked up on Swappers at their job sites. Neither were students required to report on their experiences when they returned to campus, although a handful did speak with the media or at convocations. Lancaster, the former Norwegian waitress, was among those who wished there had been more follow up to her experience. "When we got back we had no more interactions with anyone related to SWAP," she says. "There were no expectations to share." Scottish waitress Messersmith remembers that the cultural transition was hard. "We plunged right back into our senior year at Mac so fast," she says.
With the evolution in expectations of overseas programs, SWAP had run its course. Interest in the program dwindled and it was ended in 1973. After 1968, SWAP records are incomplete, so it's impossible to determine exactly how many students participated in the program over the years. Today approximately 60 percent of Mac students study abroad at least once during their college years. In 2011–12, Macalester was ranked ninth among all baccalaureate institutions for the number of its students studying abroad on semester-long programs.
Some of the college's renown for internationalism—now so fundamental to its reputation—goes back to those pioneering SWAP students. The program unlocked the doors of foreign travel for many Macalester students, regardless of income, opening up the world to them and empowering them to become confident world citizens.