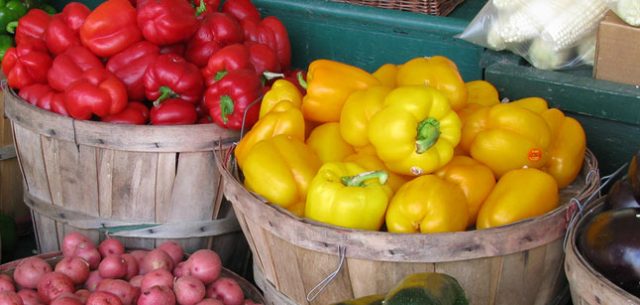 "It is important for our community to see how successful local farmers are and how available their food is, and how passionate they are about their work."
—Molly Sowash '16
Picture graduating from business school, moving up the corporate ladder throughout your twenties, then moving to rural Minnesota to start your own small organic farm. This year's EcoHouse residents couldn't quite imagine that career path, yet they knew that in her early thirties Lisa Baker had done just that.
They wondered, how did Baker gather the information and skills she would need to start—all by herself—Baker's Acre Farm outside Avon, Minnesota? How do small operations like hers stay afloat in a world of huge corporate growers? Knowing that there must be an interesting story behind journeys like Baker's, they decided to interview several small-scale farmers in Minnesota and western Wisconsin and compile their stories into a written anthology. The outcome, a booklet called Conversations with Farmers, is available here (PDF) .
EcoHouse is one of Macalester's specialty interest houses, renovated in 2007 for four students interested in living in a highly energy efficient manner. Composting, organic cooking, solar hot water, and raising chickens are just a few of the ways that each year's EcoHouse residents care for the environment.
Another responsibility of EcoHouse living is to design an environmentally conscious project. Because this year's residents—Molly Sowash '16 (Columbus, Ohio), Carly Avezzano '16 (Montvale, N.J.), Julia Gay '16 (Cleveland Heights, Ohio), and Analuna Brambila '16 (San Jose, Calif.)—met through Macalester's Lives of Commitment (LOC) program, they wanted their project to have a service component. They decided what would be most useful is to meet real people doing important work and to compile their stories in a way that might inspire future Macalester students.
Last February and March were dedicated to interviews, all but one of which were done on site.  The four friends traveled from farms in southwestern Minnesota to western Wisconsin, talking to owners, looking over the land, hearing of business dreams and plans, and snapping photos.
The six sets of farmers they spoke with shared stories quite different from what you might expect. They come from all walks of life. Some grew up on farms or took over a family business but many did not—some are couples, some are single, others have kids. Many traded well-paid office jobs for farm work. One of the farmers came all the way to Minnesota from California, having previously made his living building robotics. Some are grandparents, while others have just finished college.
But when asked why they grow vegetables on a small scale, most organically and many on a community-supported agricultural model, the farmers all responded the same way: taking care of the earth and raising food just makes sense to them.
During their interviews, along with asking about big issues like environmentalism and living on the land, the EcoHouse authors enjoyed asking a more lighthearted question: "If you were a vegetable, what would you be?" One farmer replied that he would be an onion, because its flavor, like his affable personality, blends well with other foods. Another said winter squash because it's "the most delicious vegetable and a solid staple. A keeper."
Students Sowash and Avezzano agree that balancing the anthology project with their academic load was a challenge. But Conversations With Farmers also complemented their academic work, they point out. For example, Sowash's course Food, Environment, and Society in 20th Century America focused on the national trend toward industrial, non-organic farming. Bringing what she learned from local farmers to class "made discussions more enriching," she says. Anthropology classes familiarized Avezzano with the interviewing process, making her well prepared for her work on the anthology.
"Our goal with this anthology is that it can be spread around campus and will connect people to their food," says Avezzano. "We hope that by reading it, people will realize where their food is coming from." The authors hope that everyone who reads Conversations With Farmers will become more aware of local farming's impact.  "It is important for our community to see how successful local farmers are and how available their food is," says Sowash, "and how passionate they are about their work."