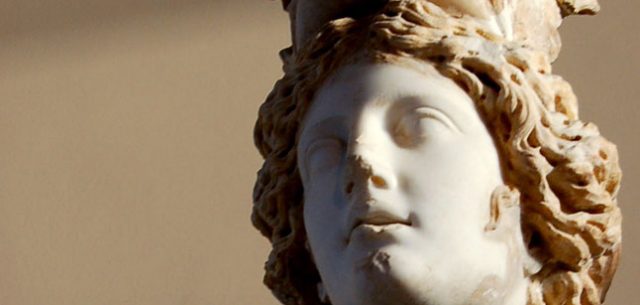 Each year priceless antiquities—visual documents of the ancient past—are stolen from graves, temples, and other archaeological sites and sold to the highest bidder, robbing countries of their cultural heritage. According to the National Geographic Daily News, archaeologists and criminologists are now working together to fight the underground trade in ancient treasures. Last semester, students in classics professor Vanessa Rousseau's course Digging into Greek Art made their own contributions to the cause.
Brandi Trice '15 (Memphis, Tenn.), a history major and classics minor, became fascinated by the antiquities trade after hearing a lecture by Jason Felch, co-author of Chasing Aphrodite: The Hunt for Looted Antiquities at the World's Richest Museum.
Chasing Aphrodite deals with the J. Paul Getty Museum's acquisition of Greek and Roman antiquities channeled through unscrupulous dealers. Italy declared the objects stolen and demanded their return. (Several other prominent museums faced similar charges, though the Getty collection involved the greatest number of works.) After years of acrimony, the Getty repatriated 47 art objects to Italy.  
In Professor Rousseau's course, each student selected a looted art object to study. Trice chose a statuette of Tyche, Greek goddess of prosperity, dating from the 2nd century BCE. For each object, students had photos and some documentation confiscated from looters. Then they began to track the ownership histories of their works.
Rousseau—who is also antiquities consultant to the Weisman Art Museum and president of the Archaeological Institute of America's local society—described the student projects as "a starting point for developing an international crowd-sourced database to help track the illegal antiquities trade." Chasing Aphrodite author Felch is working on a database prototype.
Students knew each object had been in the hands of private collectors in New York, and then at the Getty, says Rousseau, before being returned to Italy. "Then they tried to fill in the gaps."
Although she is a history major, says class member Trice, she had never before examined documents in a foreign language, so this project, with its documents in Italian, "provided a new and exciting kind of research."
"It was already known that the Tyche was acquired by the Getty Museum from Barbara and Lawrence Fleischman's collection," says Trice. "However, I learned that the object had travelled through three dealers—Giacomo Medici, Nikolas Koutoulakis, and Robin Symes—before it got to the Fleischmans. All three dealers were notorious for selling looted antiquities."
Over the semester, Trice learned about the evolution of ancient Greek art and that each ancient object also has a modern history. "There are complex networks of trade," says Trice, "and many gray areas that make it difficult to prove that an object was actually looted. The complexity also makes it difficult to trade antiquities in a legal way."