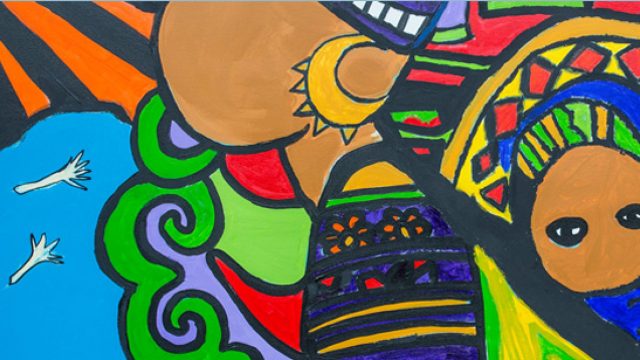 Human migration as a powerful social force shaping societies will be the focus of this year's Macalester International Roundtable, held Oct. 8 through 11 on the Macalester campus. 
Human beings have always moved in search of new opportunities, or to escape war, poverty, oppression, and environmental degradation. "Migration is an incredibly powerful social force that has shaped societies past and present," says roundtable co-chair and anthropology professor Dianna Shandy. "It's a topic that evokes powerful personal and political responses. It's hard to open the newspaper and not see the impact of migration at work."
The four-day roundtable will look at migration through a broad range of topics, including environmentally displaced people, Syrian refugees in Jordan, and unaccompanied children at the U.S.-Mexico border.
Macalester students are involved in nearly all the weekend's panels and presentations. Grace Newton '16 (Middleton, Wis.), for example, a Chinese adoptee majoring in international studies, American studies, and Chinese, is part of a panel on transnational adoption. "Adoptees do fit in this context, even though we aren't often seen as migrants," she says. "We have a different immigration experience that can be viewed as privileged in some ways, but we also face unique issues of our own relating to a culture/country that people in our immediate family have limited knowledge of, as well as the stigma of not being seen as immigrants, yet not as full-fledged Americans either."
Newton will be joined on the panel by English majors Marissa Kurtz '15 (Arlington, Va.) and Rachel Rostad '15 (Sartell, Minn.), American studies professor Jane Rhodes, Sandy White Hawk from First Nations Repatriation Institute and Julie Jong Koch from Adoptee Solidarity Korea.
Another frequently overlooked category of migrants is female domestic workers, says anthropology major Rachel Ladd '17 (Lewisburg, Pa.). "Female migrant domestic workers are a virtually invisible group," she says. "And yet in the U.S. alone, 80 percent of dual income households hire an outside domestic worker," many of them immigrants. "I want people everywhere to become aware of these immigrants as real people who deserve our respect."
Ladd got interested in migrant domestic workers while teaching English as a second language last year to Somali immigrants. This year she is teaching Mexican immigrants and refugees through a local nonprofit, and says, "Every week I hear the most amazing stories from my students—the extreme obstacles they had to overcome to get to this country and the challenges they still face daily." Ladd is part of a panel with Shandy and fellow anthropology major Antara Nader '15 (Glendale, Mass.), who won a Spradley Fellowship to study migrant domestic workers in Senegal last summer.
Roundtable co-chairs are Shandy and Ernesto Capello, associate professor of history and Latin American studies. For more information please contact the Institute for Global Citizenship's Karla Nagy at knagy@macalester.edu.