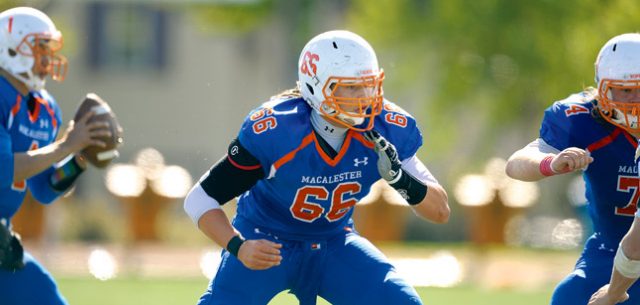 Djoser Ramsey '15 (Middleton, Wis.) is often the only football player in the room when he's taking a course for his women's, gender, and sexuality studies minor. And that's fine with him. As an offensive lineman and biology major with plans for dental school, he considers his own breadth "what the liberal arts are all about."
Although Ramsey knew he wanted to major in biology, he didn't get interested in WGSS until he took the class Whiteness and Post-Colonialism. "I wanted to challenge myself and do something I wasn't necessarily good at," says Ramsey.
Football first attracted the senior to Macalester. The suburban Madison kid figured he'd attend the UW—his hometown college— and play club rugby, but head football coach Tony Jennison persuaded him that Macalester would give him both the strong academics he needed for dental school and the chance to play football.
"I was sold after my visit, blown away," says Ramsey. "I felt I could be myself here. Every Mac football player has more going on than meets the eye. We really care about each other and help each other reach our goals, and not just in football."
One of Ramsey's goals was to conduct original research, which he did over the summer in biology professor Marcos Ortega's lab. There they researched the viral enzyme terminase and its involvement in the replication of viruses, such as the Epstein-Barr virus, which can cause lymphomas.
Juggling football, research and coursework demands excellent time-management skills and a commitment to physical and emotional health. Ramsey sleeps at least seven hours a night and practices meditation.
He used to pride himself on waking up just 20 minutes before his first class, but no longer. "I've learned to respect the process. I have a set bedtime, study until then, take pride in what I've done, and get some sleep. In the morning I have breakfast, meditate, clean the dishes, and go to class."
Ramsey is quick to acknowledge the many others at Mac who have helped him: Financial Aid staff, coaches, Café Mac staff, work study supervisors, custodians, professors, and of course his teammates and classmates. "Coming to Macalester is the best decision I've ever made. I'm 100 percent confident that I'm a better person for having come here."