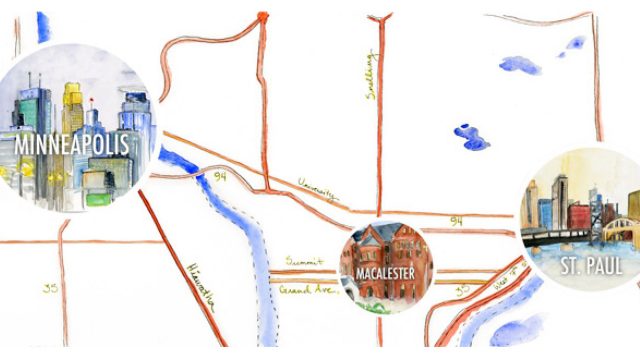 At Macalester College you are in a residential neighborhood midway between the downtowns of St. Paul and Minneapolis, which means you're within a few miles of—almost everything. And because two major bus lines run right by campus, and connect to the two light rail lines (which run 24 hours a day), you don't need a car to get there.
With five professional sports teams, major concert venues, and limitless shopping and dining, the fun is easily accessible, but being in "the cities" also offers amazing opportunities for academic engagement.
More than 60 courses incorporate community resources and students land internships at organizations from Hennepin County Medical Center (a major teaching hospital) to Medtronic to the Governor's Office to Minnesota Public Radio. There are 21 Fortune 500 companies headquartered here including 3M, Target, Best Buy, and General Mills.
Tell us who you are and we'll tell you how close you'll be to the things you love.


| | |
| --- | --- |
| Into politics? | 4 miles from the state capitol |
| A concert fan? | 3 miles from a major concert venue |
| Interested in monetary policy? | 7 miles from the Minneapolis Federal Reserve Bank |
| A theater fan? | 7 miles from a Tony Award-winning theater (Three Twin Cities theaters have won Tonys.) |
| A traveler? | 6 miles from an international airport |
| Into history? | 4 miles from the Minnesota Historical Society and museum |
| Pre-med? | 5 miles from Regions Hospital; 7 miles from Hennepin County Medical Center (both Level 1 Adult and Pediatric Trauma Centers) |
| A shopper? | 9 miles to Mall of America (the largest mall in the U.S.) and IKEA; 2 miles to a Target store |
| A nature lover? | 1+ miles to the Mississippi River |
| A foodie? | 2 blocks to Thai, Afghani, Mediterranean, and Italian food, not to mention gelato |
| A sports fan? | 4 miles to pro hockey (Minnesota Wild); 7 miles to women's pro basketball (Minnesota Lynx); 7 miles to men's pro basketball (Minnesota Timberwolves) ; 7 miles to pro baseball (Twins); 6 miles to pro football (Vikings), new stadium 2016 |