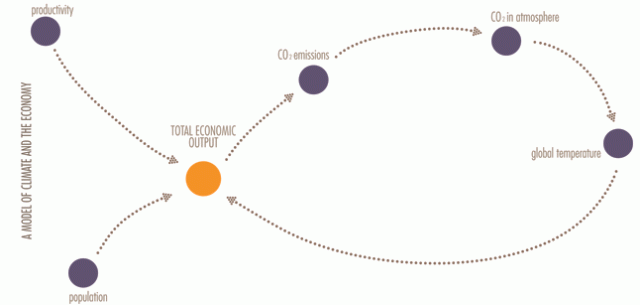 Wouldn't it be nice if the scientists and the economists could, and would, talk to each other?
Climate change poses an imminent threat, yet consensus on how to address the problem has been elusive. Wouldn't it be nice if the scientists and the economists could, and would, talk to each other? A core group of Mac students is preparing themselves to do just that by taking the course Climate Change: Science, Economics, and Policy.
With the support of FACT, the Fund for the Advancement of Collaborative Teaching, Professors Sarah West (economics) and Louisa Bradtmiller (environmental studies) have developed a course that incorporates climate change science and environmental economics.   
Students jumped at the opportunity to learn how to use "integrated assessment models" to bring together what is known about the sources and effects of carbon emissions with the economic costs and benefits of abatement.
Megan Davitt '17 (Albany, N.Y.), who is majoring in both environmental studies and economics, is involved with climate justice efforts and participated in the People's Climate March in New York City in September. After graduation, she wants to work in the corporate sector to encourage sustainable business practices. "This course gives a practical perspective on climate change and will allow me to present arguments based on facts," Davitt says. "The externality models we're using can also be used to look at other environmental issues."
Forest Redlin '17 (Tempe, Ariz.) is an economics major with minors in environmental studies and math. "There is a great deal of uncertainty about how to quantify these issues and how best to move forward. I wanted to use and understand the models in order to know what are the efficient actions to take."
Sometimes actions that appear on the surface to be efficient and fair—aren't.  The popular concept of a universal standard—requiring every country to reduce carbon emissions by the same percentage—is both disproportionately hard on poor people in developing countries and costlier than permit trading systems, in which companies must buy a permit to emit a certain quantity of emissions.
Requiring more efficient cars through the Corporate Average Fuel Economy standards helps, but also makes it cheaper for car owners to drive more.
By using integrated assessment models, students are learning not only what actions are most effective in reducing carbon emissions, but also the economic consequences.
Redlin and Davitt agree that this is a very challenging course, but they are highly motivated. They intend to be part of the solution to climate change destruction and their ability to speak both the language of climate scientists and that of economists suggests that they and their classmates will be in a good position to do so.
Both professors felt strongly that such a course was needed. "We've talked about teaching this course for several years," says Bradtmiller. "Solutions to anthropogenic [human-caused] climate change have to involve both scientific and economic expertise, but when we looked for a textbook to use, there wasn't one."
Bradtmiller taught climate science for most of the first three weeks of course. Assignments included reading and discussing the recent report by the UN's Intergovernmental Panel on Climate Change and homework involved testing a hypothesis using numerical modeling software to answer questions of "what if?" In the fourth week, West began teaching about economic modeling and concepts like discount rates, e.g., how much do we care about what happens to coastal countries and islands 50 years down the road? "The professors were learning from each other," says Davitt, "so as we were learning, one of the professors was learning and questioning right along with us."
"A collaboration like this wouldn't be possible at a big university," says West. "As members of the departments of economics and environmental studies, we probably wouldn't even know each other."
"From the time I read the course description, I said, 'I have to be in this class,'" says Redlin. "It's about understanding climate science and economics, so we can maximize the well-being of both present and future generations."