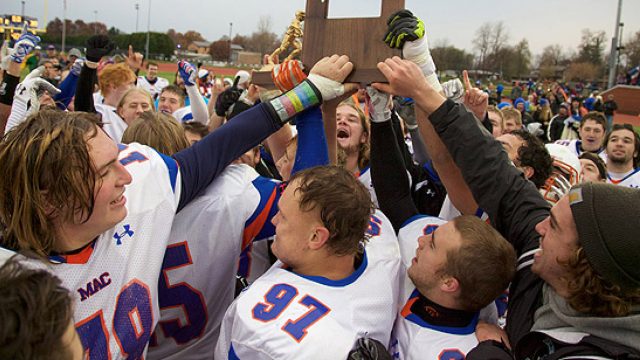 With 53 seconds left in the fourth quarter, the Macalester football team kicked a field goal that put them ahead of Illinois College, 30-27—a lead that the Scots held onto to earn their first-ever Midwest Conference Championship title. This is the Macalester football program's first conference title since 1947.
With a 21-13 win over St. Norbert on Nov. 8, Macalester—in its first season in the Midwest Conference—claimed the conference's North Division title. That victory sent the Scots to Jacksonville, Ill., to face Illinois College for the Midwest Conference championship. The Scots' current eight-game winning streak is a new school record for a single football season, and the team's 9-1 overall record is already the winningest in school history.
After the win over St. Norbert, accolades rolled in for the team:
Macalester received votes in this week's American Football Coaches Association national poll for the first time in school history.
Quarterback Samson Bialostok '15 (North Woodmere, N.Y.) was named Midwest Conference Offensive Performer of the Week, and Michael Abramson '15 (Atherton, Calif.) was named the conference's Special Teams Performer of the Week.
The Scots' offensive line was named to D3football.com's Team of the Week.
Having won the conference title, the Macalester football team advances to the NCAA Division III playoffs, which begin Nov. 22.