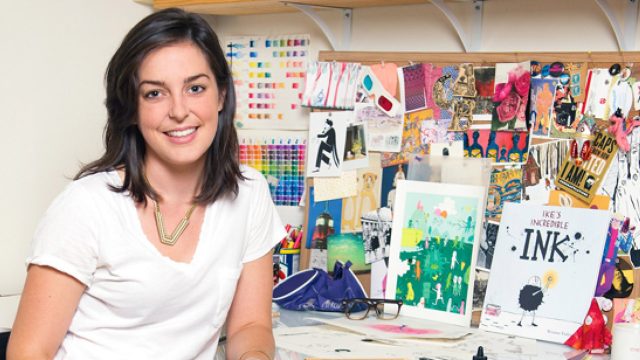 "I thought it was going to be terrible news!" says Brianne Farley '06, vividly recalling the day she found out that her acclaimed picture book, Ike's Incredible Ink, was picked up for publication. "I'd forgotten my phone at home," she recalls. "And I saw this email from my agent that said I needed to call him back with a glass of wine in my hand!"
At the time Farley was working as a design assistant at Random House. When she returned her agent's call, it took her a minute to realize that not only was the book going to be published, but it would be published by Candlewick, one of her favorite presses, and they wanted to sign her for a two-book deal.
"The former editor was so enthusiastic after taking a printmaking class that her parents insisted she switch careers" 
"I was trying to remain calm," she says. "Like, 'Oh, sure, great, cool' but while I was on the phone I was literally jumping up and down on my bed!"
It was November 2011: a year since her agent had begun trying to find a home for the book, and almost two years since she had written it for a course at the Savannah College of Art and Design. "On the first day of class our professor asked us to come to the next session with thumbnails and a manuscript for whatever we wanted to illustrate," she remembers. "We had two days to do it."
Fortunately, the idea for Ike had been brewing for a while in Farley's mind: it's about a character whose storytelling efforts are stymied by a bad case of writer's block. "I'd tried it as a short story," she says. "And then as a graphic novel. But thinking about it as a children's book really helped me simplify it."
She knew she wanted the Ike character to be an inkblot: his procrastination technique would be his quest for the perfect materials for his ink. In the two days before that second class, Farley hunkered down with a few of her favorite picture books, including Olivia and Where the Wild Things Are, studying the way their artwork was organized, the patterns of spot and full-page illustrations.
Although her professor only required students to finish three spreads, by semester's end Farley had completed all 12 for the book. For the Ike artwork, Farley drew heavily on her experience at Macalester, where she had minored in studio art. In printmaking classes with Professor Ruthann Godollei, Farley had learned a technique called chinecolle, in which precut paper is bonded to base paper in a fashion that resembles collage, but creates the appearance of embossing. "I like collage," she says. "But for Ike I wanted something more refined."
Her process integrates digital work with manual drawing: she scanned her "library" of ink splotches representing Ike's body along with found paper—ranging from vintage graph paper to dry cleaning tags—then used Photoshop to digitally collage the paper and her ink drawings, which she drew by hand. The vibrant, playful black and white illustrations show the trajectory of Ike's extravagant efforts to collect things like shadows, a booga-bird feather, and a piece of the dark side of the moon.
While enjoying the success of Ike (it won a 2014 Ridgway Honor Award and was chosen for the Society of Illustrators Original Art Show), Farley is keeping busy at her home studio—a nook in her apartment with IKEA lights and a glass piece for a desk—working on her second book for Candlewick. This one draws on her childhood experiences living in rural northern Michigan, and follows a pair of sisters as they concoct an elaborate fantasy about a tree fort. Hoping to continue writing children's books, she's already at work on a couple more manuscripts.
Farley is freelancing for Random House now, which allows her to focus more on design. She's also volunteering with 826NYC, part of the Dave Eggers-founded national franchise of tutoring centers (see "Education Rock Stars," Spring 2014). Farley first learned about the organization while a student at Macalester, and volunteered for the Chicago branch while living there. She calls the Comic Book workshops and other activities she's involved with at 826NYC as among her favorite activities. "I love the work they do and it's just an inspiring place to hang out," she says.
Also on that list of favorites is editorial illustration, an arena where Farley is finding increasing success, having recently sold illustrations to such prominent publications as McSweeney's and The New York Times. "Children's books are like a marathon and editorial work is like a sprint," says Farley. "I really like exercising those different parts of my brain."
She also draws just for herself and her followers; Farley's Tumblr account includes frequent posts of miniature black and white ink sketches, often accompanied by the hashtag #tinydrawing (she hates to waste paper, so tends to work on a small scale).
The drawings, in her trademark playful style, reveal a real enthusiasm for her work—a career that took the former English major by surprise. "I thought I wanted to be an editor," she says. During college she dutifully held internships at a New York publisher and at Minneapolis's Coffee House Press, but quickly realized she wasn't cut out for the dayto- day work of the publishing business.
In Chicago, she switched to working as an administrative assistant at The Art Institute of Chicago, which allowed her to take studio art classes for free. She was so enthusiastic after taking a weeklong intensive class in which she produced a book from woodblock prints that her parents—both of whom began businesses stemming from their own passions—told her she must switch careers.
Several years later, Farley is sure she made the right choice. "When I'm doing the less glamorous bits of designing and writing and illustrating it still doesn't seem like work to me," she says. "I mean, it's not as if I think, 'Hooray, now I get to format files!' But if you love your job, you sort of love the whole job."