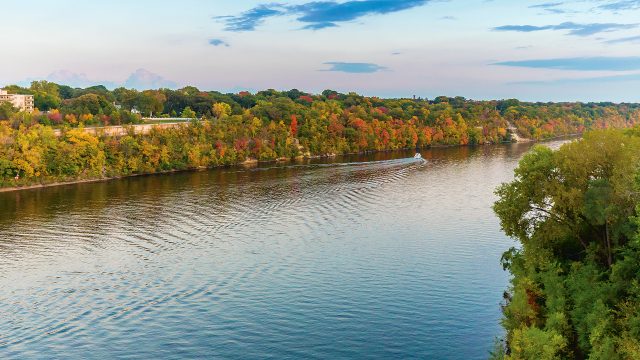 Dawn is the bewitching hour. Fog rises from the glasslike river. Shadows of cliffs loom to right and left as the indigo sky above turns slowly to bright blue. The cities on either side of the river—St. Paul to the east, Minneapolis to the west—begin to stir as traffic crosses the black arch of the Lake Street bridge.
Clara Friedman '16, a biology major, hauls down to the Mississippi every morning at six during the autumn rowing season. As rowers slide their shells into the river and climb aboard, soft gray light filters into the gorge. As they pull at their oars, beating a path upriver toward St. Anthony Falls, daylight suddenly strikes the western bank. "It's beautiful when all the trees turn color," says Friedman. "They're red and yellow and orange. There's wildlife. We see bald eagles swooping in front of us."
The Mississippi, despite lingering pollution and the existence of two major cities on its banks, is a stretch of unrealized wilderness. Biology professor Dan Hornbach takes his environmental studies students to the confluence of the Mississippi and Minnesota rivers to test water quality. "When we go down to Fort Snelling and start looking along the river, many of them ask, 'How can we be in the city?' They're surprised by the beautiful river system they have so close to Macalester." The Mississippi flows with the power of a landscape that stitches together the nation, from the forests of northern Minnesota to the Gulf of Mexico. It has a strong connection to the Macalester campus, barely more than a mile away. Students wander down Summit Avenue to hang out on the river bluff, bike along the river trails, take classes and conduct research, wading in the river's waters and scrambling along its banks and floodplain forests. Professors incorporate the river into their classes, and alumni work for conservation organizations. But one of the college's most notable river connections is the Katharine Ordway Natural History Study Area, located on the bluffs and floodplain overlooking a backwater lake halfway between St. Paul and Hastings, 15 miles from campus.
Samuel Adels '09 grew up in Philadelphia, on the banks of the Delaware, a well-known river in its own right. But once he decided to attend Macalester, he grew really excited knowing he'd be living near America's most famous waterway. "It's the Mississippi, you know?" says Adels. "It's a big deal in American history and the continental ecosystem." Adels earned a degree in environmental studies and wrote his honors paper on using explorers' and settlers' journals to determine the native plant communities along the river. His most exciting discovery was finding unpublished journals from Henry David Thoreau when he visited Minnesota.
"The river really fascinated me," says Adels, now an environmental educator at the New York University's Wallerstein Collaborative for Urban Environmental Education in New York City. "Everyone kind of hangs out by the river. It's right there. It's a huge part of living in the Twin Cities."
A Tale of Two Rivers
The Mississippi River isn't pristine. It isn't the river Zebulon Pike ascended when he bought the land for Fort Snelling in 1805. The river exceeds water quality standards for mercury, bacteria, sediment, and nutrients, and industrial chemicals such as PCBs. But it's also not the sewer that people imagine it to be. The river harbors more than 200 species of fish and dozens of freshwater mussel species. Nearby wildlife include red and gray foxes, raccoons, beaver and muskrats, even river otters. Black-crowned night herons prowl the banks at dusk, and great blue heron wade the backwaters for fish. Bald eagles continue to make a strong comeback: At last count, 48 pairs nested between Dayton and Hastings, including one nest by the I-35 bridge in downtown Minneapolis.
Dan Hornbach takes his classes to the river, they hike the trails through Fort Snelling State Park over Pike Island. That's the lowlying sliver of alluvial soils and forest that formed where the Minnesota River, flowing from west-central Minnesota, joins that Mississippi, which runs from the forests and dairy country of northern and central Minnesota.
There, they wade into the river and take "grab samples" of the water from both rivers, testing each for turbidity, acidity, and concentrations of dissolved oxygen and ions.
They do all those tests to show students the kind of fieldwork that goes on, but also to demonstrate how different two rivers joining together can be, says Hornbach. The students learn that the Mississippi, which has already flowed through downtown Minneapolis, is usually cleaner than the Minnesota, which arrives from western Minnesota farm country loaded with nutrients and sediment. Hornbach says they not surprisingly often assume it will be the opposite.
The Mississippi wasn't always so clean, of course. It was a very different river just 80 years ago, when Minneapolis and St. Paul dumped raw sewage into it, relying on the current to flush it away. Beginning in 1938, the cities gradually began filtering and then breaking down the organic waste in the sewage before adding it to the river. Even so, until the 1960s, organic crud fed a crop of microbes that consumed all the river's oxygen, leaving none for fish or other aquatic life. Except for bacteria, says Hornbach, "basically the Mississippi River was a desert."
Since then, improvements in sewage collection and treatment have dramatically improved water quality. Where once virtually no fish swam, anglers now catch game fish including smallmouth bass, walleye, channel and flathead catfish, white bass, and northern pike. Mayflies, whose nymphs live for up to several years in the bottom sediments, emerge as adults and swarm above the river by the billions. During profuse "hatches," cities have had to activate snowplows to clear bridges and roadways. As inconvenient as massive bug hatches may be, says Hornbach, "that's really an indication of hugely improved water quality.
A National River
In 1988, the 72 miles of the river from Dayton to Hastings was designated the Mississippi National River and Recreation Area. This national park includes dozens of islands and parks upstream from the Twin Cities. In town, the designation incorporates the natural and manmade artifacts of toric District, the steep-walled gorge between Minneapolis and St. Paul, Minnehaha Falls, the historic Coldwater Spring, and Fort Snelling. The early Twin Cities, including St. Anthony Falls, the Mill City His river is lined with miles of bike trails and several boat access points.
"It's such a great asset," says Anna Waugh '08 of the Mississippi River Fund (MRF). "It's so close to the campus." With all these attractions, you'd think people would swarm to the river like, well, mayflies. But getting people to the river is often a challenge.
Waugh is the project manager and volunteer coordinator for the MRF, a nonprofit auxiliary to the National Park Service. "We have two main missions," she says. "One is to get people to the river and experiencing the river. The other is to support the National Park Service and their programs in education, youth education, adult outreach and recreation, and volunteer programs."
As a student in environmental studies, Waugh often ran the trails along the river. "It was my personal escape," she says. Soon after she graduated, she began work for the River Fund (with another Macalester alum, Kate Havelin '83). Waugh organizes wilderness canoe adventures on the urban river, taking summer school students out in big voyageur canoes. She also organizes work crews, cleaning up trash and removing invasive species such as buckthorn.
The river, she says, "is an amazing natural area. It's so close to so many people that you can easily escape from city life by walking a few blocks or biking. The cities are blessed with so many wonderful parklands, and the river is one of the things that ties all of that parkland together."
Jeff Evans, an adjunct professor in accounting and investing, knows well the value of the river. "A couple times a week I go down to the river bottoms to get recharged," he says. "Crosby Farm is one of my favorite places—hiking, biking, birding. It's a great spot to see warbler migration in early May and waterfowl migration in the fall."
Evans has volunteered for conservation organizations for 30 years, initially devoting his attention to the Boundary Waters Canoe Area Wilderness. But because he was spending so much time enjoying the urban Mississippi, he "thought I should get involved in protecting that." Now he serves on the board of directors of Friends of the Mississippi River, a conservation group that lobbies for legislation to protect the river and organizes service projects to restore riverside land. "Here we have a major metropolitan area of three million with a wilderness running right through the heart of it," says Evans. "We see the same plants and vegetation that settlers would have seen 300 years ago."
The "Other Campus"
Macalester's strongest institutional tie to the Mississippi is the Katharine Ordway Natural History Study Area. The field station, perched on a bluff 200 feet above the backwater known as River Lake, overlooks patches of tall-grass prairie, riparian forest, aspen woodland, and seasonal and permanent ponds and springs—nearly 300 acres in all. Visitors might think they're alone in a wilderness or transported back in time, but for the occasional jet that thunders overhead as it lifts off from Minneapolis-St. Paul International Airport 12 miles to the northwest.
"I like to call this the other campus," says Jerald Dosch, field station director, dressed this morning in tick-deterring insect repellent–laden clothes and high rubber boots.
The property was purchased in 1967, with a donation from Katharine Ordway, an heir to the 3M fortune. Her brother, Richard Ordway, was a member of Macalester's board of trustees at the time. Katharine was an ardent conservationist determined to protect a key piece of prairie and woodland in the burgeoning Twin Cities.
The protection Ordway intended became more assured in 2012, when Macalester completed a deal with Dakota County, Inver Grove Heights, and the Friends of the Mississippi River to sell to Dakota County—at a discounted rate, with funds provided by the state—a conservation easement on much of Mac's property. The easement provides Macalester with an endowment that will fund future operation of the field station and that guarantees the biggest undeveloped area along the river will be preserved. The field station abuts the 1,300-acre Pine Bend Bluffs Natural Area, which includes a 256-acre state scientific and natural area.
One responsibility involved in owning such a choice piece of natural habitat is sustaining the prairie through regular prescribed fires and cutting out the encroaching aspen, oak, and sumac. A patch of overgrown woods near the entrance, for example, was recently restored to tall-grass prairie.
Another responsibility of such a site is to involve the community, which Mac has done in various ways. Dosch himself, for example, recently led 25 Cub Scouts and their families through the property, helping them meet requirements for Cub Scout badges. He also has begun work with aspiring Eagle Scouts on a dock and boardwalk–building project on River Lake.
But the chief purpose of the field station is to provide education and research for Macalester students. The research piece at the Ordway has really grown, he says, and not just for biology students.
For example, anthropology professor Scott Legge was awarded a state historical and cultural heritage grant to survey Ordway for archeological sites. During the 2013 field season, he and his students designed a digging survey to search for the remains of Dakota Indians and their predecessors. "I told the Ordway staff they wrecked those students for life," says Dosch. "The first day, before lunch, the first four random holes they dug each hit something, including pottery that may be up to 2,500 years old. The students are going to think, 'This is the way science works. Archeology is easy! Dig a hole and there it is!'"
Another project had geology professor Ray Rogers and student Jansen Smith '12 burying rat and trout carcasses for various durations (up to two years) to compare their decomposition rates and predict whether fish are underrepresented in the fossil record.
And then there were environmental studies professor Louisa Bradtmiller and Karoline Hart '11, who used an ice auger to drill through River Lake ice to get a 14-foot core of sediment from the lake bottom. Their goal was to study variations in the compacted muck in order to characterize historical events and human development, and their effect on the natural environment.
Student work at the field station has even extended to art and dance. Students in Megan Vossler's class constructed "ephemeral sculptures" on the property, created from found rocks, wood, grasses, and other plant materials, which they left to fall apart or decay when the sculptures were complete. And Becky Heist's dance students performed and videotaped the dance performance "Terrain" on the Ordway property.
But, as one would expect at a field station found on a riverbank, much of the research has revolved around biology.
Dosch, biology professor Mark Davis, and students have studied the impact of nonnative garlic mustard on native plants in an intact woodland. (Surprisingly little, so far.)
In another exotic species study, biology professor Sarah Boyer and students have examined the community of arthropods that live in the leaf litter beneath common buckthorn, exploring whether it differs in composition and diversity from leaf litter communities found beneath native plants.
National Science Foundation funds allow Mac professors to "engage students in real research—not made-up lab projects," says Dosch. Among those projects are a turtle population survey, an emerald ash borer survey, and tracking of forest carbon storage. All tie into a continental network of similar research, which expands the range of what is possible at a small liberal arts college. Says Dosch, "You can do this continental-scale ecology that you couldn't as a small private liberal arts school."
Kinship of Rivers
English professor Wang Ping found her relationship to the Mississippi by way of the Yangtze, China's longest river. Wang grew up in Shanghai, which lies at the mouth of the Yangtze, and traveled it extensively a decade ago, writing prose and poetry about the river and the millionplus people displaced by the construction and rising waters of its Three Gorges dam.
That trip inspired Wang to develop her Kinship of Rivers project, which she describes as an interdisciplinary project designed to build bridges between communities along the Mississippi and Yangtze, and to bring awareness to their respective ecosystems through art, literature, music, and food. Among those art projects has been creating "river flags" from hand-dyed cloth—inspired by Tibetan prayer flags—which Wang, her students, and other artists have carried along the Yangtze, the Ganges in India, and the Mississippi and its tributaries to share with riverside communities. The flags, says Wang, have become a way to share art, hope, and messages of environmental stewardship.
A Wallace Scholarly Activities Grant from Macalester has allowed Wang to take writing students on the Mississippi and its tributaries— the St. Croix and Minnesota, which they have used as grist for their writing. On the first trip, the professor and about a dozen students paddled the Minnesota River and met with Dakota Indian historians, storytellers, and medicine practitioners. In four days on the river, the class paddled past many of the sites of the U.S.–Dakota War of 1862. "I could feel the ghosts," says Wang. Apparently, many of her students could as well. "Their writing was just astonishingly good."
Since that initial voyage, additional ones by canoe and other means have inspired the writing of dozens more Mac students. The Mississippi is invaluable for that purpose, says Wang, because rivers connect not only their headwaters with their final destination, but everything in between. "I really think a river is such a perfect symbol for human lives, for civilization," she says. "All civilization was born on the riverbanks."