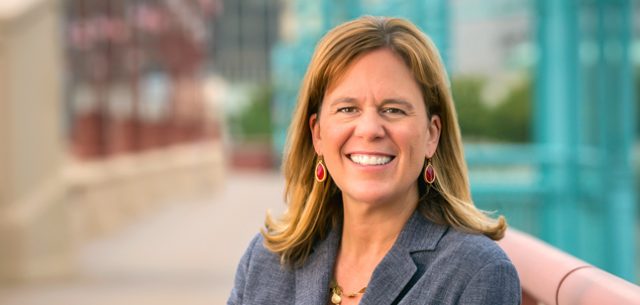 AS SOON AS THE MESSAGES began rolling in congratulating Kristin Beckmann '92 on being named deputy mayor of St. Paul she noticed a theme.
"Almost every note came with a line like, 'Hey I've got this issue,' or 'I have an idea for a food truck,' or 'There's a Porta-Potty in front of my window that I want gone,'" Beckmann says. "Big issues, little issues—the vast majority involved roads."
If there's an issue anywhere in the capital city, chances are Beckmann, on the job since May, has her fingers on it. The heads of St. Paul's 12 city departments report to her, and she reports to the mayor.
Beckmann was drawn to the job because of Mayor Chris Coleman's decision two years ago to focus on advancing racial equity in every aspect of city life. For a bureaucracy used to responding to the most vocal residents, it's a sea change to consider equity in decisions about everything from patching potholes to youth programming. For Beckmann, the challenge is one she has been preparing for her entire life.
She grew up in Omaha, Nebraska, in a Roman Catholic family that deeply valued the concept of service. The more you have, the more you give, she was taught. Arriving at Macalester in 1988, she realized she could live those values on a much bigger scale. "Mac opened up the whole world—politically, socially and philosophically," Beckmann recalls. "But in a safe space."
Beckmann gravitated toward activism. She volunteered for Paul Wellstone's first U.S. Senate campaign in 1990 and pestered then-brand new political science professor Adrienne Christiansen into helping her conduct and present research on Wellstone's use of humor. Christiansen, laughs Beckmann, "pushed me to do things I thought I was too smart to do," such as read the work of Republican speechwriter Peggy Noonan.
Beckmann and her husband, Robert Richman '95, first "hung out" at a rally for Michael Dukakis. After graduation, the two moved around the country staffing political campaigns, but "we always came back to St. Paul," says Beckmann, who now makes her home with Richman and their two children in the Summit-University neighborhood. "It's home to us. We're the Mac grads who never left."
Richman went on to co-found Grassroots Solutions, a consulting firm that helps campaigns and advocacy organizations mobilize support. Beckmann earned a master's degree at the University of Minnesota's Humphrey School of Public Affairs and began running the political program of the Service Employees International Union.
In 2009 she became vice president of programs and services for Twin Cities Habitat for Humanity. There she polished the operational skills key to ensuring that a city's countless moving parts all pull in the same direction. She was a natural, according to Habitat CEO and mentor Susan Haigh '73.
"The whole region will be 40 percent people of color in 30 years. If we continue to have these disparities we're going to have problems maintaining our level of prosperity," says Haigh, who also chairs the Met Council. "The ability to make a vision and a dream come true is the ability to execute on the fly. Kristin excels at that."
"I love to write a plan and work a plan," Beckmann agrees. "How else do you build 60 houses a year using volunteer labor and public money?"
Last year she was tapped to co-chair the transition team of new Minneapolis Mayor Betsy Hodges, who won office by building a coalition around social justice issues. There, Beckmann saw the power of city government to make change. "I thought about leaving Habitat for Humanity to work with Betsy," she says, "but it really just kept coming back to, 'I am a St. Paul girl.'"
Call it career kismet. While driving to work shortly after having that realization, she heard on the radio that St. Paul's deputy mayor was resigning. "When I got to work there was a message," she says. "'Do you want to have coffee with Mayor Coleman?'"
She did indeed, and Coleman, now in his third term, was thrilled. "The deputy mayor's key quality is the ability to juggle a thousand balls," he says. "This is a natural progression from what she had been doing in her career so far."
Beckmann's first test was starting her job at the end of a brutal winter that had taken a huge toll on the city's infrastructure and services. "I walked in the door and Chris said, 'Fix the roads,'" she says. Specifically, he wanted St. Paul's "Terrible Twenty"— among them Mac-area thoroughfares Grand, Hamline, and Fairview—made safe to drive, walk, and bike before the snow flies.
Sixty percent of people who drive in St. Paul don't live in St. Paul; they come to the city to access state government or to use its infrastructure. So Beckmann must balance the city's position as a statewide resource with the needs of St. Paul residents—especially those third who are living in poverty and least likely to call City Hall.
"One of the first things I learned about equity is that you don't base your work on complaints," she says. "If we based our decisions about distributing resources on complaints, we'd only fix Highland Park and Crocus Hill."
Beckmann would like to leave her adopted city a place where every resident has access to opportunities. "When I was at Mac, we were told not to go beyond Selby Avenue," she says. "I don't want there to be barriers like that anymore."