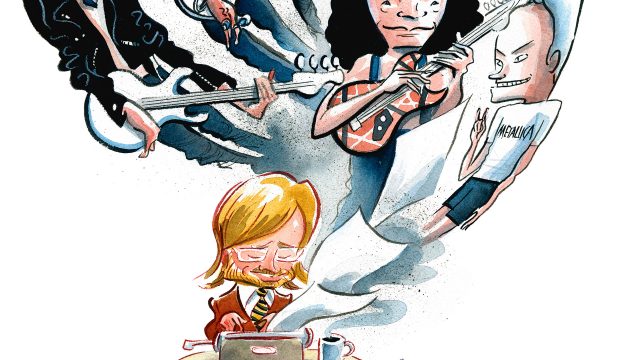 BY KATE HOPPER '95 > ILLUSTRATION BY MARCELLUS HALL
The last time I saw music writer Charles M. Young, known by his friends as "Chuck" and affectionately by my family as "Chuckie," was in August 2013. I was in New York for a few days with my family, so Chuck and I met for lunch at an Indian place not far from the Upper West Side apartment where he'd lived for over three decades.
Over the years Chuck wrote funny and incisive features on some of the most influential musicians of our time—Led Zeppelin, The Who, The Eagles, Keith Richards.
Over tiny dishes of lentils, curried tofu, and dal we talked health and family and writing. Years earlier, when I had mentioned to Chuck that I wanted to be a writer, he took that dream—and me—seriously. A few weeks later, a package arrived from him containing a thin volume on avoiding writer's block and a letter that said, "Write every morning at the same time, and don't smoke." I promised. He began sending regular letters to make sure I was still writing (and not smoking), and he'd often include a copy of his latest magazine feature with words of encouragement.
A legendary rock journalist, Chuck had written profiles of many of music's greats, and that day over lunch I wondered if there was one in particular that stood out. Which of the profiles he'd written had been his favorite?
He raised his eyebrows slightly and, always determined to make me more precise with my language, said, "The one I'm most proud of or the one that was the most fun to write?" I smiled. "Either. Both."
He took a bite of his dal and chewed for a moment. "Well, I'm probably most proud of my cover story on the Sex Pistols," he said, smiling. "I'm not sure they liked it because I portrayed them exactly as they were, but I loved that piece." I smiled, remembering Chuck's colorful descriptions of the Pistols. "And," said Chuck, looking at me over the rims of his glasses, "Keith Richards was probably the most fun."
"Keith!" I said. "I should have guessed." In the introduction to his 1982 story on Richards for Musician magazine, Chuck had written, "When I interviewed Jimmy Page a few months ago, I felt that I had my hands firmly on the steering wheel while Page was stomping on the brake pedal every few feet. With Richards I felt strapped in the baby seat as Keith drove way past the speed limit to whatever conversational terrain he chose."
"Sometimes," Chuck told me, "You meet these guys and in person they are nothing like you thought they'd be. But Keith was everything I expected and hoped for and more." He laughed then and so did I.
Charles M. Young was born in 1951 in Waukesha, Wis., the youngest child of Alice and the Rev. G. Aubrey Young, a Presbyterian minister. Though from an early age Chuck resented the pressure of being a preacher's kid, he credited his parents for engendering in him curiosity, critical thinking skills, and a clear sense of right and wrong. "I was encouraged to have opinions on abstract principles right from the start," he wrote in a 1991 story on AC/DC.
When Chuck was 12, his father took a job with the state government, and the family moved to Madison, Wis., where Chuck embraced the political and intellectual excitement that thrummed around the University of Wisconsin campus. It was the perfect place for Chuck to come of age: "Wonderful bookstores, wonderful record stores, big antiwar movement. Everything was dangerous and alive."
Then in the fall of 1969, following in the footsteps of his brother John Young '63 and sister Lois Young '65, Chuck headed to Macalester, where his anti-establishment leanings only grew in strength. "On the political and social front, that was a very important period of our lives," says classmate Matt Miller '73. "Campus had an anything-goes feel to it. There was a bit of a fuck-you attitude to the establishment."
Chuck certainly embraced that attitude, which infused his pieces in The Mac Weekly, which he began writing for during his freshman year. "They let me say what I wanted in the newspaper, which was brave of them," Chuck said in a 2001 interview with music critic Steven Ward. "I cringe when I read my old stuff, but what better time to be sophomoric than when you're a sophomore?"
In Chuck's weekly column, alternately titled "Botulism" and "Footbotulism," he covered football, politics, and campus goings-on with the flare of a true cynic and a heavy dose of bathroom humor. And it was in The Mac Weekly that Chuck began occasionally opening his pieces with Bible quotes, a habit he'd carry to Rolling Stone, where it would earn him the nickname "The Rev."
"We consciously wanted to get away from the notion of a campus newspaper," said Miller, who with Stuart Smith '73 took the helm at the paper their senior year. "The more outrageous the better."
Chuck was perfect for the job when he turned in his copy on time— but he rarely did. He had already begun his lifelong habit of pushing deadlines. "Once, when he was unconscionably late, we nearly went to press without his weekly football story," recalls Smith. "At the last minute, he came up with three paragraphs, the first of which read: 'The article I wrote about the Eau Claire game will not be appearing this week. Because we lost so badly, 39-7, I felt obligated to write the first serious article in my lengthy career as a journalist, but after four days of sweating over my typewriter, found myself utterly incapable of doing so. So I overshot my goddam deadline. So we lost. So what?'" For another issue his fellow editors had to barricade Chuck in his dorm room to finish his column. "He was furious with us," says Miller.
Some of the major themes of Chuck's writing can be found in his earliest Rolling Stone pieces: the importance of honesty and integrity and the power of music to bring joy to people's lives.
After graduating from Macalester, Chuck worked in a sheet metal factory for a year to earn money for Columbia University's Graduate School of Journalism. But at Columbia it was obvious to Chuck that he wasn't interested in the square reporting jobs his classmates were vying for. He wanted to write about rock & roll, or more specifically, about the people who played rock & roll. And the opportunity soon presented itself. In 1976, Chuck won Rolling Stone's first national college writing competition and was invited to write for the magazine. Soon he was an associate editor writing the "Random Notes" column and begging for feature assignments.
Chuck's move into mainstream reporting didn't shake the off-color humor he had so carefully cultivated at The Mac Weekly. In his review of the Ramones' album Road to Ruin, he wrote, "I've been working at this magazine for two years now and every album I've endorsed has gone over like a fart in the elevator. What we have here is not (in the words of Cool Hand Luke) a failure to communicate; it is (in the words of Richard Nixon) a public-relations problem. You bastards just don't believe me."
But Chuck also retained his cracking wit and fine-tuned understanding of a perfect sentence. "The thing about Chuck that was true from the beginning was that he was a fantastic writer," says Hillary Johnson, a longtime friend and fellow journalism school graduate. "He overlaid upon that his own sensibility, and it was a very winning combination."
Chuck kicked off his tenure at Rolling Stone covering the CBGB Bowery scene in the mid-'70s. He wholeheartedly embraced the punk movement and championed bands like the Ramones. But it was his 1977 cover story "Rock is Sick and Living in London: A Report on the Sex Pistols" for which he is perhaps most famous, a story credited for introducing mainstream America to British punk rock.
Some of the major themes that thread through Chuck's writing over the years can be found in his earliest Rolling Stone pieces: the importance of honesty and integrity and the power of music to bring joy to people's lives. After Chuck witnessed Johnny Rotten crack a brief smile during The Sex Pistols concert at Club Lafayette in London, Chuck wondered, "Did that mean, 'Look how great I am!' or 'Look at them have a good time!'? Those have always been divergent roads in rock & roll. The Sex Pistols took the latter, the one less traveled by, and that has made all the difference."
Chuck played his own music, as well. During his Rolling Stone days, he played bass with the magazine's house band, the Dry Heaves, then in the early '80s he wrote songs and played for Iron Prostate, a joke punk band that had some success at Manhattan clubs. And through the years he also played for his high school band, the Schmoes, who often performed at high school reunions.
Chuck left Rolling Stone in 1981, going on to write for Musician and a number of other magazines, including Playboy and Men's Journal. Over the years Chuck wrote funny and incisive features on some of the most influential musicians of our time, including Led Zeppelin, The Who, The Eagles, and of course Keith Richards. And in the mid-1990s Chuck returned to Rolling Stone, where over the next two decades he wrote some of his finest work, including profiles on Noam Chomsky, Ralph Nader, Jerry Lee Lewis, and the Butthole Surfers. "As he got older his writing got even better," says Johnson. "That was the mature Chuck, and they were beautiful pieces."
In 2010, Chuck was excited to join former journalism school classmates David Lindorff, John Grant, and Linn Washington, Jr. at the This Can't Be Happening! news collective to write about the American political and cultural scene. Chuck was especially inspired by the Occupy Movement and spent days reporting from Zuccotti Park.
When I saw Chuck at that last lunch, he was not well. Oh, he was the same witty, wry Chuck I'd always known, but he was unsteady on his feet and walking with a cane. Six months earlier he'd been diagnosed with a stage-four glioblastoma brain tumor. Though he had surgery to remove the tumor and was undergoing regular chemotherapy, the prognosis wasn't good, and he could only write about 200 words a day before exhaustion took over. "I wouldn't wish this on anyone," he said, then turned the conversation back to music, writing, life.
In his 2004 Rolling Stone article "The Last Days of Johnny Ramone," Chuck wrote that Ramone had, "spread joy throughout the world to people who really needed it."
Chuck Young did the same thing, and when he died on August 18, 2014, he left behind not only a lifetime of brilliant writing but also countless people whose lives he had touched with encouraging calls and emails, much-needed morale boosts at just the right times. I certainly wasn't alone in calling him a mentor and a friend.
"There was a time that we practically lived in Chuck's tiny New York apartment, and we were a handful," says Paul Leary, guitarist for the Butthole Surfers. "He was our angel…everybody's favorite uncle. He was like a normal person. Except that he got us. Not many 'normal' people would come near us back then."
"He was everybody's touchstone," says Johnson. "And he's dearly missed."