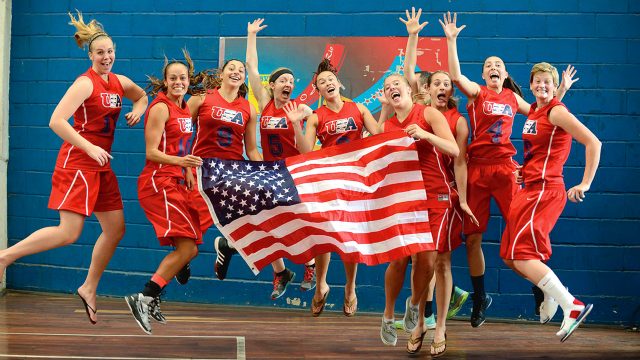 BASKETBALL PLAYER Erin Murray '16 (Sparta, Wis.) stepped out of her comfort zone last summer, playing games with teammates she'd just met, against opponents who spoke a different language, on courts thousands of miles from St. Paul.
After a successful first season at Mac, Murray was part of a select group of players invited to join the Division III women's basketball team's Brazil Tour 2014. The second Mac basketball player in as many years to be invited—Dylan Kilgour '16 (La Crescenta, Calif.) played on last year's men's team—Murray eagerly embraced the opportunity.
The whirlwind nine-day tour began in Orlando, where the team practiced for a day and a half before leaving for Brazil. Eighteen hours after leaving Orlando, they were on the court for their first game, a turnaround time Murray calls "exciting but jarring." Even with such a narrow window of time to get acquainted, Murray was struck by the team-oriented focus. "They're all standout players individually—I learned a lot by watching them—but each person is passionate about supporting one another," she says. "That's key because you only have so much time to mesh, and chemistry is essential."
Portuguese was new to her, requiring adjustments on and off the court, and it was Murray's first time abroad since a childhood trip. The American team lost its first two games but rebounded with two wins, which Murray credits to her team maintaining a positive attitude.
Between games against Brazilian professional teams, Murray and her teammates explored the South American country's life and culture—an intentional part of the program's structure—and formed fast friendships.