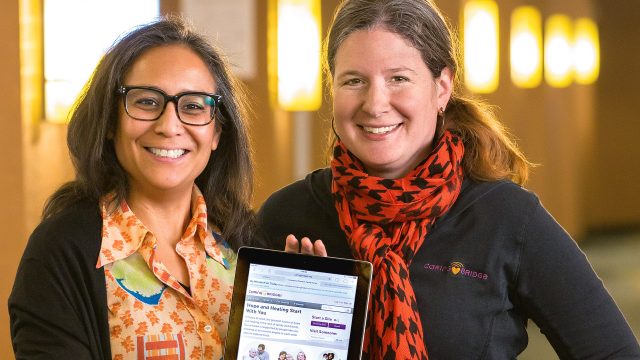 Sometimes the most ordinary thing sparks the most extraordinary idea. In the case of CaringBridge, a free and private online forum for those experiencing a health crisis, the spark came through the birth of a baby. Back in 1997, when the Internet was just beginning to be widely used and social media had not yet been invented, CaringBridge founder and CEO Sona Mehring had a friend whose baby was born prematurely, and wanted to get the word out to friends and family. "The couple asked me to let everyone know what was happening with the imminent birth," Mehring says. "Instead of making dozens of emotional and timeconsuming phone calls, I decided to create a website right there at my dining room table. The idea that became CaringBridge was born the same night as their little girl."
Since its inception, 458,035 CaringBridge communities have been created, with more than 1.8 billion visits to personal websites. Headquartered in Eagan, Minn., the organization now employs more than 50 people.
Even with all the changes in technology over the years, many in the nonprofit still see that "founder story" as a touchstone. Two Macalester graduates, CaringBridge creative director Mary Lou Hidalgo '91 and customer relationship marketing director Melissa Bear '98, recently spoke about the journeys that brought them to this organization that so uniquely combines heart and tech.
"I love to tell our founder story, because it's a manifestation of how all great ideas and innovations happen when a genuine need meets a desire to improve the common good," says Bear. "After Sona built that first website, people kept approaching her to create websites for them during health crises. They saw the benefit of a website that kept informed those who cared about them, and they received great comfort from the support they received in return."
When a check showed up in the mail one day, Mehring called the woman who had sent it, who told her, "You need to do this." Mehring eventually quit her day job in the for-profit tech sector to create the nonprofit organization.
With the objective of helping people who are in vulnerable conditions, a free CaringBridge website allows sharing of updates, photos, and videos, while connecting with friends and family who want to help. The CaringBridge community includes authors, visitors, and donors from all 50 states and more than 230 countries. As many as 500,000 people worldwide connect daily through caringbridge.org.
For Hidalgo, it's the ultimate example of using technology for good. "We all talk about how technology distances people or results in superficial connections, but this organization is a shining example of how technology can help people build bridges to each another, not just through space and time, but emotionally, too."
The simplicity of the website's design and its ease of use belie the work that goes into making it a safe and supportive space. "With so much concern these days about what social media are doing with private data, as well as fears about hacking," Bear says, "it's important to us that our users control their own content. We don't advertise or monetize, so we have no pressure from advertisers to share private information."
The organization regularly hosts visits from website users, asking them to share their stories with staff. A recent presenter was a mother who described her son's cancer journey. She told the group, "Sometimes when I used CaringBridge it was 1 a.m., I was in the hospital, and I was typing through tears. There wasn't anyone I could talk to, but I needed to tell the story." And while sharing the narrative is important, the messages sent in response are equally so, feeding hungry hearts. "People uncover a level of support that surprises them," Hidalgo says. "They tell us, 'I didn't realize so many people cared about me.'"
Bear, who is finishing a master's degree in nonprofit management, says her job is a perfect match for her skill set. "It's a wonderful marriage of technology and doing good in the world," she says. "I've always been customer-centered, and here my job is to make sure we start building relationships the minute someone creates a website, teaching them all the ways we can help them engage with their support network." Bear also manages word-of-mouth marketing, web communications, email, social media, and the active base of 2,500 volunteers.
With nearly 95 percent of its funding coming from individual donors, CaringBridge has an unusual financial model among nonprofits. "As gratifying as that funding stream is, it also can be volatile," Bear says. "We have to be responsive at all times. If we aren't providing value, our customers will tell us, in terms of less funding." In another twist, their most successful marketing comes from word-of-mouth referrals. "We're a little magical," she says, "Especially when you consider the inevitability that everyone will need CaringBridge sometime in their lives."
That magic extends to the organization's far-reaching impact on so many lives. "Many people have told me that they'll frequently reread messages posted on their website," Hidalgo says. Bear adds, "The presence of a strong community is a huge factor in healing and recovery. For many, it's more important than medical care." She points to a recent survey in which 91 percent of respondents said they felt CaringBridge helped in their healing process.
Bear, a St. Paul native, enrolled at Macalester at the urging of a high school teacher. "She told me, 'It's your kind of place,' and that was certainly true," Bear says. Hidalgo, on the other hand, followed to Minnesota a young man she later married. For both women, the chief lesson they learned from Macalester is clear. As Hidalgo puts it: "If you don't leave here and do something worthwhile, you're wasting an education."