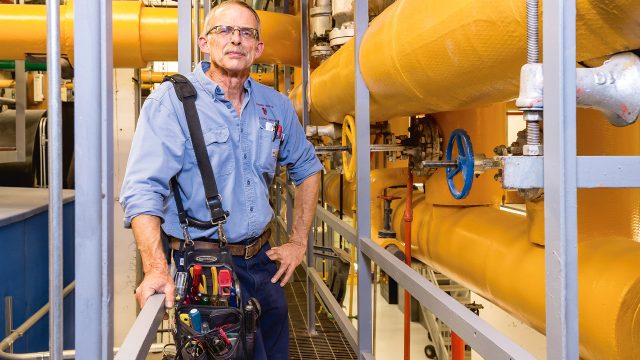 Meet a Few of the People Who Make Mac Run
THEY GET LITTLE FANFARE, but these staff members help make Macalester's campus cleaner, brighter, safer, and more efficient. In short, they make Macalester better for everyone. There's no question that the people in the pages that follow help make students' experiences at Macalester great. Students may not know these staff members by name, but they know the incredible work that they do. They're the ones who set up every single chair students and parents sit in on graduation day, who serve every hot meal on a cold winter's day, who—quite literally—keep the lights on. At Macalester, they are the quiet but critical staff members who make sure that the community runs seamlessly while professors and students focus on their work in the classrooms, labs, and library. We chose five longtime staff members and asked them to share the details of their jobs, the joys and challenges of their work, and what keeps them coming back, year after year.
Ed Gerten
Title: Electrician
Macalester tenure: 29 years
"People assume their lights and coffee pot and computer are going to work, so it's only when there are problems that I hear from them. For me? No news is good news."
Macalester has long prided itself on its environmentally sustainable practices, and for electrician Ed Gerten, that means there's always an interesting problem to solve.
This past summer, for example, he and the other 10 members of his crew (total years at Macalester: more than 200) were charged with upgrading the student rooms in Doty and Dupre with energy-efficient LED lighting—without breaking the bank. Commercial options were expensive—more than $30 per fixture—but Gerten did some tinkering in his office and found an even better solution. "We made modifications to the existing lighting and went from 72 watts to 30 watts," he says. "And once we got the energy rebate from [the energy company] Xcel, it cost us just six bucks a room." The payback period for the improvements, he reports proudly, is less than a year.
While Macalester has added some automated systems to modify nighttime lighting and temperatures to save money, Gerten believes there's value in simplicity. "There are all sorts of exotic lighting control systems," he says. "But some of the older systems are the most reliable. It's not too complicated to turn on a light, but more sophisticated systems just create another potential failure area."
Gerten has up to three student workers helping him at a time, and he tries to instill in them his knowledge and work ethic; he knows it will complement the Macalester degree they eventually earn. "If they have a house, they'll have an idea of how stuff works," he says. "It's a skill they can use for the rest of their lives." (Indeed, one of his favorite student workers earned a degree in English— and promptly turned around and got a job as an electrician.)
Regardless of students' interest in the trade, they never take his explanations for granted, says Gerten. "With students, you can always count on questions, one after another: 'Why? Why? Why am I doing it this way? Education is part of my job."

Elmira Marshall
Title: Cashier in the student accounts office
Macalester tenure: 22 years
"I started out in banking, and I got used to working with so much money that it didn't seem real. But when a parent [of modest means] calls me, panicking about whether or not they can pay the $120 they owe, I know that feeling is real. I understand the importance of respecting that."
When Elmira Marshall started out at Macalester in 1992, she saw almost every student on campus during each of their four years. She collected tuition payments and cashed small checks, sold laundry tokens, and deposited money from student organizations. She answered the phones and talked to parents who were paying their child's tuition fees.
These days, with many of these transactions done online, she doesn't see a steady stream of students like she used to, but about a quarter of the student body still finds their way to her office each year. Parents call frequently to clarify a charge or make sure a tuition payment has gone through. "When the phone rings, it's not an automated system answering, it's me," she says. "And if I'm not at my desk, I try to call back within the hour. People appreciate it when they hear the same voice over the years, and a lot of times I'll hear parents say, 'You made it pleasant for me to hand over my money.' "
Marshall's empathetic, drama-free approach is critical when dealing with an emotional topic like money, she says. "Parents are paying a lot of money, and I try to think about what it's like to be in their shoes," she says. "Even if it's a problem I can't solve, I never leave the call until I make sure I get them to the right person. It never pays to be rude."
One of the greatest joys of her job, she says, is watching students grow into themselves over time. She sees first-year students, "shy and fresh and bright-eyed," transform into edgier versions of themselves before the first semester is over. "After three months, their hair might be blue. And I can't tell you how many students have shown me their belly-button piercings," she says. "But by their senior year? They almost all revert back—the colors are gone, the piercings are gone. They're more mature—they're adults! And that's fun to watch."
Brandi Anderson
Title: Lunch server at Café Mac
Macalester tenure: 14 years
"I never miss a day because I love being here, serving my kids."
Brandi Anderson landed at Café Mac after attending St. Paul's Humboldt High School and putting in a short stint with Transition to Independence (TTI), a community-based program designed to give special education students the skills they need to succeed in the world. She's been serving up lunches to hungry students at Café Mac ever since.
Anderson's responsibilities include stocking the stations with bagels and bread, setting up taco and baked potato bars, and serving up hot dishes from a rotating menu. And while she ladles out a standard-sized portion for each student, there's one dish that students consistently crave: "They always want more rice," she says. "And I always give it to them. The students are my customers, and that's what I'm here for."
Mac students are good at reminding her of their dietary needs, says Anderson, whether that means being vegan, gluten-free, or allergic to nuts. She, in turn, offers her take on any dish that she knows has a kick. "I don't want students to burn their tongues!" she says. "I tell them if something's spicy."
Anderson adores the students—who refer to her as "Miss Brandi"—for their friendliness, and occasionally doles out some advice when the going gets tough. "When they tell me they're tired, they're stressing out, or they have some history thing to do, I remind them to take things one day at a time," she says. "That's all you can do."
Her permanently positive attitude comes from her mom, Anderson reports, who taught her to stay both focused and kind. In addition to her standard-issue uniform, Anderson pins on a purple ribbon every day as a nod to her sister, who struggles with lupus.
And while many Mac students face years before they land their perfect gig, Anderson says she's already arrived. "This is my dream, to work here," she says. "I take my job very seriously."
Mark Holte
Title: Technical supervisor in art and art history
Macalester tenure: More than 20 years
"In the art world, everything is out there in the open. Everyone can see your approach and your craftsmanship. Everyone gets critiqued. That can be humbling."
Mark Holte knows that most Macalester students who walk into an art class have spent much of their lives in their heads, deep in the pages of books and ideas. And often, he says, they end up craving more tactile experiences. "Lots of students come to the art department because they want to use their hands," he says. "They want to make a connection with materials, with something solid."
Thanks to renovations made to the Janet Wallace Fine Arts Center, which reopened in 2012, students have more opportunities than ever to turn their ideas into objects. And when they start taking those first, tentative steps into creating, Holte is right there with them.
He is the staff member responsible for ensuring that the department's equipment— from foundry furnaces to metalcasting equipment—is in working order. Holte also provides a supportive nudge when students fear using large and potentially dangerous tools. "A student might want to use the lightest little tool to carve wood, but when they realize it's going to take them 10 years to finish a project, I'll pull them over to a saw that they'd normally never look at," he says. "They want to know they can use it without cutting a finger off."
Seeing that transformation in students— the shift from fear to confidence— is one of the most rewarding parts of his job, says Holte. "I love it when students walk in the door and are uncomfortable, because you know they're taking a risk to be in an art class. Here, it's not a competition. It's more about helping people make progress."
And sometimes, he says, that progress extends well beyond Macalester's campus. Thanks to the Twin Cities' thriving art community, Holte often sees familiar names plastering posters for local gallery shows or teaching the next generation of artists. "I've seen students go on to make labels for music albums and beer bottles," he says. "They're teaching a class or they're director of an arts program. It's exciting."
Barb Olson
Title: Custodian
Macalester tenure: 31 years
"Barb has institutional knowledge you can't find anywhere else—she's always got the answer when I've got a question. And she does everything perfectly." —KYLE WRIGHT, Custodial Shift Supervisor
When Barb Olson begins her annual cleaning of student rooms after graduation, she knows she'll find some interesting things among the cast-off couches and precariously assembled IKEA shelves. Some years she unearths working laptops and televisions among the trash bags.
And one year she discovered a guinea pig. "Fortunately," says Olson, "The hall director found a home for it."
For nearly 30 years, Olson (along with her colleague, 29-year veteran Judy Van Arx) has been doing seamless setups for Macalester's biggest and most important events, from graduation and Reunion to Board of Trustees meetings. Together they assemble stages, arrange chairs, and put out tables for Mock Trial events, science fairs, and everything in between.
Over time, Olson has gained the skills to understand instantly how to arrange chairs with Tetris-like precision. "Sometimes, the diagrams look good on paper, but when you actually do the setup, you've got to work with it a little bit," she says.
Olson also helps give some spaces a little more pomp and circumstance: this past fall, for example, she moved a gorgeous wood table and leather chairs— once reserved only for members of the Board of Trustees—into Turck Hall's formal lounge, where any student can use them.
Although she's been doing some of the campus's heaviest lifting for decades, Olson has been remarkably resilient, rarely getting injured or missing work.
That said, Olson says she knows at least one foolproof trick to avoid injury when moving heavy furniture: "Get somebody else—somebody strong—to do it."