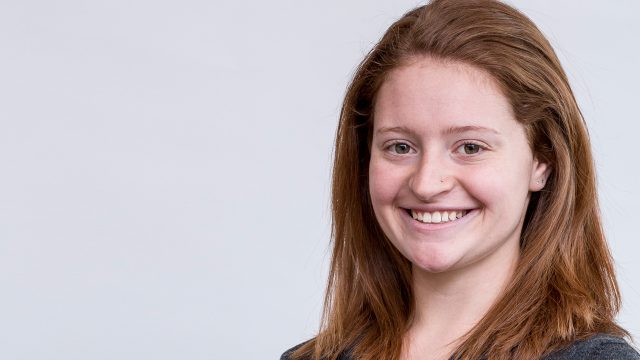 After studying and living in Chile for six months, Rachel Swanson '15 (Lexington, Ky.) was struck by two themes: that the stories of older people were not heard and that profound silence still reigned in post-dictatorship Chile.
To address both of those issues, the anthropology and Hispanic studies major designed a Live It! Fund project to conduct oral histories of Chilean elders in the presence of their grandchildren, thus "creating a space for dialogue and healing."
The 17 years of dictatorship following Chile's 1973 military coup led to massive human rights violations, disappearances, murders, and torture, which created a fear-based society, Swanson explains. Even once democracy returned to that nation in 1990, silence and fear continued.
Swanson's project, conducted over winter break around the southern Chilean city of Temuco, involved 16 pairs of grandparents and grandchildren. The younger generation asked their elders questions they'd always wanted to ask, with Swanson chiming in when she felt it was appropriate. The interviews were not recorded. After each oral history, Swanson recorded a short video with the grandchild in which they discussed the process, what they'd learned, and why they thought it was important.
Although 16 family pairs is obviously only a small start in breaking the silence of Chile, Swanson believes the interviews and videos may help lead to more openness and understanding within families and to more Chilean youth pursuing these kinds of conversations with their elders.
The Live It! Fund, a project of the Institute for Global Citizenship Student Council, was developed to help Mac students live out their own definitions of global citizenship. Grants ranging from $500 to $10,000 are given for summer and J-term projects, which can take place anywhere in the world. Says Swanson, "The Live It! Fund provides an incredible opportunity to create dialogue, intercultural understanding, and cultural exchange."
Following are the other Live It! Fund projects that took place over J-term:
Workshops and activities through the organization Growing Up Healthy conducted with the male Latino community of Northfield, Minn., Cristian Lozada Hernandez '17 (Northfield, Minn.) and Sara Parcero Leites '15 (Moana-Pontevedra, Spain)
A multimedia project showcasing the narratives of immigrants and refugees in Houston, Jonathan Goh '15 (Houston, Texas) and Michelle Kiang '15 (Houston, Texas). Kiang was interviewed on FOX 26 News in Houston and both were interviewed on Houston Public Media about this project.
Partnership with St. Paul schools to provide chemistry and biology lessons to middle-schoolers with diverse backgrounds, Nita Chai '16 (Apple Valley, Minn.) and Alex Weberg '15 (East Aurora, N.Y.)
A sustainable, community-owned and managed yogurt kitchen designed to help establish economic stability for the women in the Mwanza region of Tanzania, Zahrah Shakur '16 (Mwanza, Tanzania)