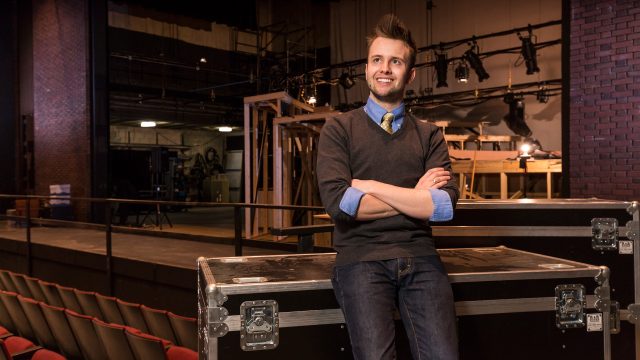 Juggling comes naturally to John Stark '16 (Grinnell, Iowa). So do acting and directing—for the Macalester Theatre Department and the student-run Mac Players—founding a musical theater troupe, serving as co-chair of Queer Union for three semesters, and working at the Civic Engagement Center.
"It adds up to a lot of events, which is fun and really exciting," Stark says.
A theatre major and dance minor, Stark sought out a school with strong arts programs. "The Twin Cities, with its really vibrant theater community, seemed to be the sort of place that I wanted to end up," he says.
In his second semester, Stark got his first crack at directing a musical when he co-directed Dr. Horrible's Sing-Along Blog with two other students for Mac Players. He co-directed another Mac Players production I Love You, You're Perfect, Now Change last semester. "It was great," Stark says. "As a director, there's nothing more inspiring than seeing your cast take a performance and just run with it."
More traditional theatrical venues have also drawn in Stark, who has acted in the theatre department's productions of Romeo and Juliet and The Resistible Rise of Arturo Ui. He appreciates the opportunity to work on and off stage.
"Directing is one of the most exciting things you can do," Stark says. "The ability to craft an experience for an audience … it's powerful and a lot of responsibility. But for me, it's also the most liberating experience in the world. You get to make something."
Stark's musical theater group will launch its inaugural production, Spring Awakening, on April 16-17, 2015. The show delves into issues including sexual assault and academic pressures. "I hope the production ends up speaking to the Macalester experience and perhaps providing a catalyst for dialogue around issues Macalester students are really passionate about," Stark says.
He also hopes to bring marionettes to Macalester. He found inspiration in the Community-Based Theater class he took last semester from Harry Waters Jr. In the course, students met twice a week at In the Heart of the Beast Puppet and Mask Theatre to help prepare puppets and other props for Minneapolis's annual May Day Parade. Stark is planning to bring a Greek mythology-based puppet show to campus for next year.
The close relationships he's built with theatre professors, including Waters, who is his advisor, and Eric Colleary, are especially meaningful to Stark. "The theatre department here has been extremely supportive of me doing outside shows," Stark said. "The professors make a point of coming to see my work."
He also appreciates a college where theater is taken seriously, yet engages the entire campus. Last semester, for example, Mac Players organized—in Café Mac—an impromptu reenactment of the famous deli scene from When Harry Met Sally.
Such an eclectic and extensive mix of experiences means there's rarely a hole in his Google Calendar schedule, says Stark, but that's fine with him. "It's easy to have passion and energy when every day you get the opportunity to do exactly what you want to do with your life."