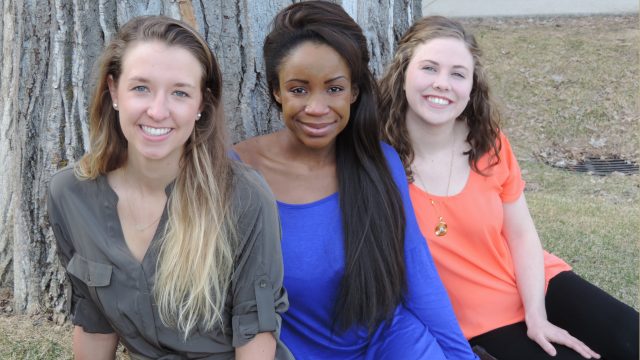 "Regardless of where we plant our feet, we have the power to do great things within our personal spheres of passion and influence." —Anne Gavin '15
It's a point of pride that Macalester was among the first colleges in the nation to fly the flag of the United Nations. The college's historic commitment to global understanding lives on in its commitment to global citizenship.
Each year a student, sometimes more than one, is presented with the Global Citizenship Student Award in recognition of their deep commitment to the ideals and practice of high academic performance, internationalism, multiculturalism, and civic engagement.
This year three graduating seniors were chosen to receive this high honor and to speak at the Global Citizens Celebration on April 14. 
Anne Gavin of Mendota Heights, Minn., is an anthropology major with a minor in political science. Early in her college career, she experienced how differently she (a visiting student) and refugees of the Arab Spring were treated as they arrived on the island of Gozo, Malta. In response, she cofounded with Irene Gibson Macalester Helping Open Peaceful Exchange—MacHOPE, which raised funds for wells, facilitated conversations with Iraqi refugees, organized pen pal exchanges, and made presentations to American elementary students about Iraqi life. As an intern in Rwanda with Partners in Health, she co-designed a campaign to reduce pediatric malnutrition. As a Chuck Green Fellow, she worked with North Minneapolis children up to high school age to help them develop plans to accomplish their individual goals. Most recently she was a Humanity in Action Fellow in Washington, D.C., and Amsterdam. "Regardless of where we plant our feet," wrote Anne, "we have the power to do great things within our personal spheres of passion and influence." 
Christine Ohenewah of Mankato, Minn., majored in both political science and American studies. Although born in Ghana and fluent in Twi and Spanish as well as English, her scholarship and civic engagement have focused on communities in the U.S., specifically dealing with the suppression of Black women's voices. Her award-winning honors thesis, "Blood Diamonds: The Recovery of Black Unification Amidst White Hegemony," explores intraracial conflict between Africans and African Americans in the Twin Cities. As a Mellon Mays Undergraduate Research Fellow, she was a summer research fellow at Harvard University and presented her work at a symposium sponsored by Harvard and MIT. Locally, she served as a mentor in the Department of Multicultural Life's Emerging Scholars Program and worked with young Black girls through programs including one she founded called Black Girls First, which promotes college awareness and provides a forum for these girls to be heard. In the near future, Ohenewah will be attending the University of Chicago for a master's in international relations and intends to promote the voices and agency of Black diasporic women throughout the globe. "Change," she believes, "seldom commences with silence and inaction." 
Gabrielle Queenan of Bedford, Mass., majored in environmental studies and political science. She has promoted sustainability on campus, in the Twin Cities, and internationally. She served as chapter coordinator for Rising Minds, a non-profit organization based in both the U.S. and Guatemala that focuses on cultivating sustainable development initiatives in rural Guatemalan communities. At the University of Maryland School of Law, she was a research fellow in environmental law and participated in the 2013 International Union for Conservation of Nature in New Zealand. In addition to serving as one of the campus coordinators for the Zero Waste initiative and the Sustainability Student Network, she has worked with environmental studies faculty and other students on the Community Climate Change Conversations project. Working with the City of St. Paul and the Science Museum of Minnesota, they developed a model for community deliberation that engages a racially, ethnically, and socioeconomically diverse group of citizens to consider how they might plan for changes due to extreme weather. Her dream, she wrote, "is to pursue a career in sustainable development policymaking efforts that accurately reflect the realities of community needs."