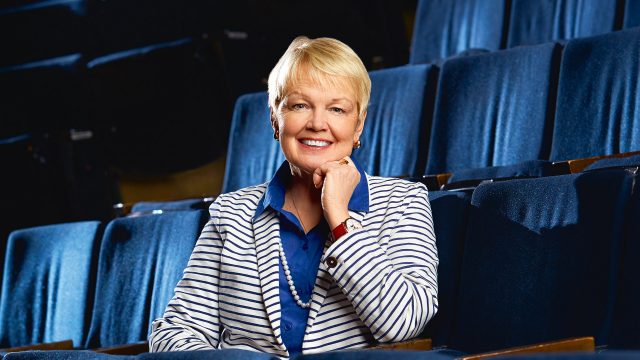 When Minnesota playwright, ordained Presbyterian pastor, and social critic Kristine Holmgren '75 arrived at Macalester in 1967, the campus was still ruled by a "formality of daily life," she remembers, with many men wearing ties and most women wearing skirts "with knee socks to match," she laughs. "Back then, both chapel and convocation were mandatory, and we handed over a computer punch-card to record our attendance." Then, at the end of her sophomore year, Holmgren left college to live in California.
When she returned to Macalester four years later to complete her degree, campus culture had utterly changed. "By 1973 we were the original hippies," she says. "The dorms were co-ed and so were the bathrooms."
Holmgren, who later became Macalester's first female chaplain, has been through some major lifestyle shifts herself along the way. Her life, and the stories she tells about it, serve as testament to the tumultuous times she's experienced.
God Girl, Holmgren's first professionally produced play, had its premiere last February at St. Paul's History Theatre. The autobiographical work is a look back at Holmgren's mid-'70s experience as part of the first generation of women admitted to Princeton Theological Seminary.
"I worked on that play for three years," she says. "I endured a lot of pain stirring up old recollections." She describes the male domination of the Presbyterian-affiliated seminary, where she and other feminist theologians identified the source of discrimination in the patriarchal language of the times: "It started with 'God the father,' and went right on from there," she says. She graduated from Princeton with a Master of Divinity degree in 1979.
Though her years at Princeton were challenging, Holmgren took delight in seeing her script come to life: "It's thrilling to experience something that wouldn't have existed if I hadn't told the tale," she says.
She's now hard at work on a new play called The Giving House, commissioned by the Minnesota Historical Society and based on their popular exhibit about a Minnesota house that had been home to many different immigrant families.
Holmgren wanted to be a pastor from the time she was seven. She sees the unity of service and writing, and believes in the deep connection between ministry and art. Her first play was a Thanksgiving pageant written for her first-grade class. Before she could write, she dictated stories to her mother, who wrote them down for her. Her writing is anthologized in two volumes, The Magic of Christmas Miracles (William Morrow, 1998) and Sacred Strands: Sermons by Minnesota Women (Lone Oak Press, 1991).
Holmgren was only able to attend Macalester because her single mother took a job as a maid at Doty Hall [then an all-women's residence hall]. Because children of campus workers were eligible for free tuition, Holmgren's mother saw the job as a way to provide her daughter with an otherwise unattainable college degree.
"Back then, Macalester maids did everything for the students," Holmgren recalls. "My mother made beds every day and did laundry for her Doty Hall women. She vacuumed their dorm rooms and cleaned their bathrooms every morning. She was in her late 50s when she started, and it was hard work." Holmgren's mother finally retired after her daughter graduated.
Many Minnesotans best know Holmgren for her provocative commentary pieces on the editorial pages of the [Minneapolis] Star Tribune, where she was a columnist from 1993 to 2006. The lifelong advocate for women and children's issues saw the column as a chance to "write whatever I wanted," she says. Still, that freedom came at a price. "I received death threats and threats against my children. But you can't make a difference if you don't stand in the fire."
Holmgren says she "walked away" from being a congregational pastor in 2001. "My writing life was becoming so big, and I needed to make more money." These days, she spends her Sunday mornings at home. Of the Presbyterian faith in which she participated for so many years, she says, "It's not my church anymore. I visit congregations sometimes, and as soon as someone says 'men of God' or asks us to sing 'Faith of our Fathers,' I leave."
Holmgren has no plans to stop writing. "At this stage in life, I've learned it's important to find your art form. Writing gives my life richness, and now that I have the time and freedom to choose what I want to do, my first choice is to write. It has always fed me and has never let me down."
Holmgren's daughters are also Mac graduates: Grace Deason '04, a professor of social psychology at the University of Wisconsin–Eau Claire, and Houston-based corporate attorney Claire Deason '06.
Earlier this year, Grace gave birth to Holmgren's first grandchild, Rose. The proud grandmother is already hoping for a third generation at her alma mater. "I hope Rose gets to dip her toe in the waters of Macalester, and receive at least a fraction of the great opportunities her great-grandmother's sacrifices made possible for us," she says.
"Macalester is a place to receive the grander vision of what it means to be human," Holmgren says. "It's not just an education; it's a change of spirit and an opening of the heart. I admire the college's courage and willingness to change course, to balance itself and go forward."