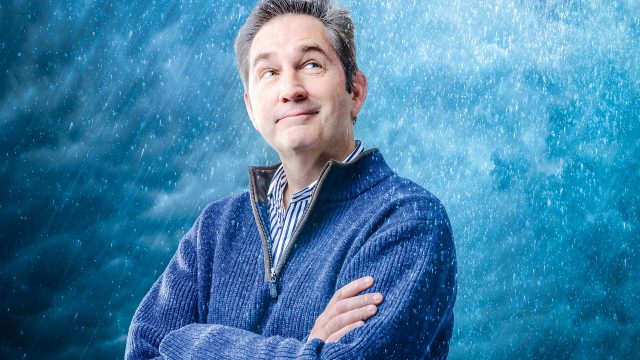 The defining moment of Paul Huttner's career came early, when he was just a few years out of college. Like his career break, the event Huttner '85 was covering—Minnesota's record-busting Halloween blizzard of 1991—came early, and no one was prepared for it. Huttner was then working as a meteorologist at WCCO-TV in Minneapolis.
He was on morning duty, and when he got up well before dawn on November 1, 1991, to drive to the station, 15 inches of snow were already on the ground, and the white stuff was still coming down hard (the storm ultimately dumped 28.4 inches on the Twin Cities in two days). Earlier forecasts had predicted a foot of snow for this late-fall storm, but clearly something bigger was happening.
Huttner drove in from the western suburb of Minnetonka, "sending up 15-inch rooster tails of snow on the freeway," he says. "There were no plows, no other cars—it was eerily quiet. I didn't dare stop until I had skidded into a snowbank a block from the station." He found the building—and most of downtown—nearly empty. "I was the only one to make it into the station that day," Huttner recalls. "There were no reporters, no anchors. One technical person and a news director had stayed overnight. My director said, 'I want you to go on the air, stay on the air, and turn this station into the Weather Channel.'"
As the snow piled up and road conditions worsened, Huttner was the only person on the air for five hours, scrambling to fill the time. He detailed the forecast (snow, snow, and more snow) and called homebound anchors for live updates ("What does it look like out your window?" "Well, Paul, there's a lot of snow.")
The young Huttner's antic performance won him praise from his bosses, along with an impressive viewership. "We did a 40-plus share," he says, "which was unheard of in those days."
Meteorologists live for storms like that, and reporting nonstop on a big weather event was a dream come true for the climate-obsessed Huttner, a geography major who'd grown up in the Twin Cities' western suburbs.
"My first memory is of the Minnetonka tornado of 1965," Huttner recalls. "I was four years old, and my siblings and I went out to the driveway to watch the green sky. My mom yelled, 'Go in the basement.' We did, the storm passed, and our house wasn't damaged. Later, though, we drove through a nearby neighborhood that was devastated. I thought, 'I need to know what did this.' From that moment on, I had the weather bug."
But while Huttner was sold on learning about weather, he wasn't quite sure how to do it. The first person in his family to attend college, he applied to Macalester on a friend's advice. He decided to major in geography, reasoning that would get him closest to his career goal.
He lucked out in being assigned as an advisor Howard Mielke '63, "a climate guy with a good amount of experience in meteorology." Mielke, now at Tulane University, remembers Huttner as "an enthusiastic and interesting student. Right from the beginning, he had an interest in the weather and the environment."
Huttner structured his major to meet his unique needs. Mac didn't have atmospheric science or meteorology degrees, so he took all the climate classes he could, interned at WCCO, and structured his credits to match American Meteorological Society criteria.
After graduation, Huttner worked at a private consulting firm doing operational forecasting such as flood-and-ice predictions. That was followed by a string of weatherman jobs at radio and television stations around the country.
Eventually, he says, like a "typical Minnesota homing pigeon," he returned to the state, ultimately landing a job as chief meteorologist for Minnesota Public Radio. For Huttner, the MPR job is ideal. Distanced from the distractions of live Doppler feeds and tornado touchdown videos, his listeners are a cerebral bunch, more interested in the whys of weather patterns than in the what is happening now. "It's a perfect fit for me," says Huttner. "Our listeners crave that science and the deeper context of why weather systems operate the way they do. And that's what I love to talk about."
Huttner, who has been married for 30 years to Amber Damitz Huttner '85, also enjoys being the celebrity voice that gets noticed in line at the grocery store. Even more, he appreciates the opportunity to focus on a topic that's been central in his mind since his Macalester days.
Back when he was studying with Mielke, Huttner read Reid Bryson's global warming primer The Climates of Hunger. "Way back then, I was already studying climate change," he says, "and today I head up Climate Cast at MPR, a feature about global warming." Huttner—who believes climate change will significantly impact our lives for years to come—hopes his reporting will raise people's awareness of the problem and lead them to change damaging behaviors.
In the past, meteorologists were often dismissed as fluffy additions to newscasts, but today, says Huttner, that attitude is shifting to better reflect the impact weather has on all our lives. "The days of the weathergirl and the weather goofball are gone," he says. "Weather is serious business. Weather forecasting provides at least a $4 billion annual economic benefit to the U.S. economy, and our interest in it reflects that."
Serious business aside, Huttner still likes to remember the sheer fun of that fateful fall morning when the snow kept piling up and he was the only person at WCCO-TV warning people to stay home. "Big storms in Minnesota are a big deal," Huttner says. "All you have to do is listen to people talk at the grocery store about the coming storm to know how plugged in we are to the weather. I'm just happy to be part of that conversation."