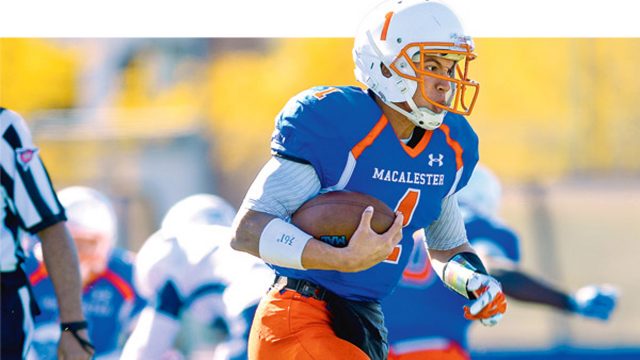 His career as a Scot may have come to a close, but the football career of former Mac quarterback Samson Bialostok '15 recently took an international turn. Two days after graduating from Macalester in May, the Long Island native caught a flight to Finland to play for the Tampere Saints this summer.
The city is a two-hour drive north of the capital, Helsinki, where hockey and soccer are the dominant sports. "Part of my job there is coaching a men's junior team and a women's junior team," says Bialostok, who majored in economics and Chinese. "We're just trying to spread the word about American football. Right now, it's in the development stage for sure, but it's growing and they have a lot of youth leagues."
During his senior season as quarterback for the Scots, Bialostok racked up 1,948 passing yards with 12 touchdowns, gaining another 882 yards and 13 touchdowns on the ground. His efforts and leadership were key in the team's historic run to the NCAA playoffs and the first conference championship in 67 years. A November win against St. Norbert College, in which Bialostok ran for 113 yards and two touchdowns with another touchdown and 122 yards through the air, caught the attention
of St. Norbert's coach, who has ties to the American Football Association of Finland.
"It's his ability and reputation as a football player that got him this opportunity," says Macalester head football coach Tony Jennison. "You can see [in him] a really highlevel athlete who makes dominating plays and wills his team to victory."
Intrigued by the possibility of playing football overseas, Bialostok pursued Tampere's coach to learn more. "I like experiencing new cultures and it was a chance to play," he says. "I figured Finland is a place that I would never, ever, ever think of going to, so it worked out that it caught my interest."
Since his Finnish coaches had only seen him on film, Bialostok relied on his Macalester coaches to build a workout and conditioning regimen to keep him in shape until he joined the Tampere team at mid-season. Though he expected a steep learning curve when he landed in Scandinavia, Bialostok was also looking forward to exploring Finland in his free time: "I hear the food is great, the environment is beautiful, and we can see the Northern lights at night."
In between games, Bialostok also plans to continue his Chinese studies and line up job interviews for his return to the United States in the fall. One accomplishment he'd love to add to his resume: "It would be cool to win a Finnish championship. Those are two words I would never have put together normally in football."