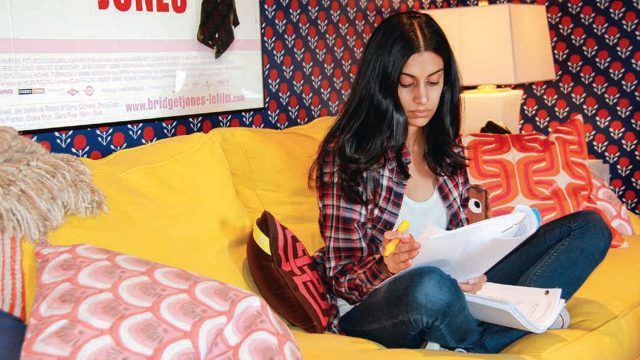 How Sonia Kharkar '08 turned a childhood passion for sitcoms into a Hollywood career.
Any parent who has ever worried that too much screen time will cripple a child's ambition should probably consider the career trajectory of Sonia Kharkar '08. At 29, the Shoreview, Minn., native is the showrunner's assistant—Hollywood speak for the boss's right hand—at The Mindy Project, a sitcom about a romantically frustrated OB-GYN and her eccentric coworkers created by and starring Mindy Kaling, the Emmy-nominated writer, actress, and producer who reached household name status when she starred in The Office.
Growing up, Kharkar was devoted to TV, although she probably couldn't tell you much about the plotlines of SpongeBob SquarePants or Scooby-Doo. "I watched everything my dad watched," says Kharkar, who lights up when describing evenings sitting on the floor in front of NBC's "Must See TV"—the Thursday lineup of 1990s megahits, including Mad About You, Friends, and Seinfeld. Her enthusiasm for Ross, Rachel, Chandler, and Phoebe was so heartfelt that she perfected her HTML and Photoshop skills to create an online Friends fan page.
In addition to providing family bonding time, Kharkar says those sitcoms showed her how to navigate the world she was growing up in. "Comedy and storytelling help you practice emotions that you don't always express," she says. "I was a shy kid and an only child. Watching those shows was like having a friend and living alongside those people."
At Macalester, Kharkar was an English major who also minored in media and cultural studies and psychology. She was on the staff of Chanter, the college's literary magazine, and took as many creative writing courses as she could fit into her schedule, studying with writers Alex Lemon, Steven Polansky, Stephen Burt, and Peter Bognanni, with whom she did an independent screenwriting study. "Macalester cemented my interest in creative writing and being around other writers," she says. "I loved those classes and the people who worked on Chanter. I wanted to soak up everything."
Graduating at the height of the recession, Kharkar used her experience from—wait for it—her Friends fan page to land a job as a web designer at Treefort, a Twin Cities website and app developer. She enjoyed the work, but missed writing. When Bognanni suggested she consider an MFA program, she applied and was accepted to the University of Southern California, where she started two years of full-time study in film and television writing in 2009.
Kharkar's parents, who emigrated from India before she was born, were extremely supportive of their daughter's decision to move to California. But they had their concerns, which Kharkar shared. "It was daunting," she says of her decision to enroll at USC and pursue a television writing career. "You are taking a big gamble on something that's fulfilling to you, but you aren't going to a school that has a practical application in the world, like becoming a doctor."
Still, Kharkar had talent, not to mention a knack for working hard and networking. After graduating from USC, she used connections from an internship to secure a position in the iconic mailroom at William Morris Endeavor, one of the world's largest and most prestigious talent agencies. That experience led to her first jobs as a showrunner's assistant on The Blacklist and a pilot created by Robert Padnick, who had been a writer for The Office. The pilot didn't get picked up, but eventually turned into a made-for-TV opportunity when Padnick recommended her to his Office colleague Mindy Kaling, who was looking for an assistant.
The two clicked. "In the interview, Sonia struck me as quiet, but very bright," says Kaling. "She had great taste in television and I felt like I could talk to her for hours. She also had a poise that I didn't see in a lot of other girls in their mid-twenties." After the interview, Kharkar sent Kaling a thank you email, which showed so much passion for the position that Kaling decided she was the right person for the job. "I liked knowing how much she cared," she says.
A year into the job, Kharkar is working 60-hour weeks as the gateway between Kaling and The Mindy Project's writers, publicists, producers, and everyone else who brings the show to life. She's organized a writers' retreat in Las Vegas, taken in the swirl of the Sundance Film Festival, attended movie previews, and even filled in as an assistant in the writers' room.
She's also gotten a behind-the-scenes immersion into star-making on the Universal Studios lot, where The Mindy Project is taped. "The best part is seeing fans respond to Mindy," she says. "We'll be shooting and she'll come out of her trailer and a tour bus will drive by and she'll wave and people will recognize her. I remember myself as a kid, and how much that would mean to me."
While Kharkar isn't interested in acting, she definitely looks to Kaling as a mentor. "Mindy has such a strong, distinct voice, and every project she works on is infused with it," says Kharkar. "She's funny with a lot of heart and is relatable. And she's also a true businesswoman who is always thinking about how people will react and how she can use her fame for good things."
It's a level of creative fulfillment that Kharkar hopes she'll enjoy one day. In her spare time, she is writing her own pilot—a half-hour romantic comedy inspired by relationships she's had and "insecurities I've felt along the way."
And now that The Mindy Project has been picked up for a fourth season by Hulu (the first three seasons were on Fox), she also hopes to make it into the writers' room as an assistant and find a sliver of balance in an industry that's notorious for demanding a workaholic level of commitment.
"It's exhilarating and exhausting," Kharkar says of the TV life. "I think what's hard is that there is no path to becoming a writer. It's a lot about timing and luck and hard work and talent." So far, for Kharkar, those stars seem to be aligning