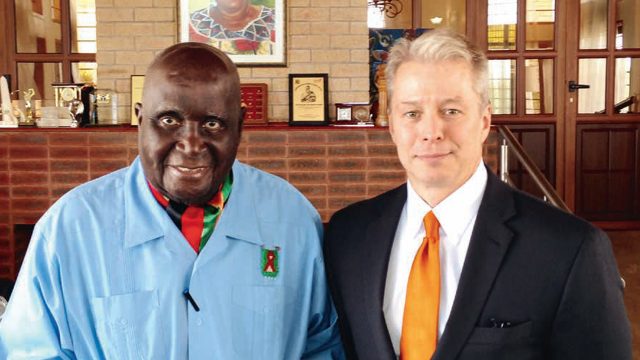 Eric Schultz '82, America's new ambassador to Zambia, has been winning hearts and minds through nearly three decades of foreign service.
Eric Schultz '82 was on the hot seat. The newly confirmed ambassador to Zambia, a landlocked country in southern Africa, Schultz was in the middle of a long televised interview when the host lobbed a zinger. The United States, he said, espouses the virtues of good governance, yet "often you have been accused as a nation of meddling in internal politics… and in some instances accused of forcing governments out."
Because the U.S. plays an outsized role in the world, people who find themselves with a representative in their midst often want to hold them accountable. With superpower status come diplomatic challenges. "We get access," Schultz said, "but our motives are sometimes questioned."
With cameras rolling, Schultz, 55, clasped his hands casually over a crossed knee and responded with an honest answer. "The United States is not a perfect country," he said. "There is no such thing. Our values and our interests don't always align."
"Yet," he continued, "the United States is actually a very different country now than it was 10 years ago, 20 years ago, 30 years ago. When I was growing up, it would have been inconceivable to imagine the United States electing an African American as its president. It would have been inconceivable that same-sex partners could marry… Democracy is always a work in progress and the United States as a country is a work in progress. I would like to think that we are getting better."
His mission is delicate: to forward American economic and democratic interests in Zambia, perceived to be ripe for increased investment, while also supporting the will of the local people. "You are trying to do good without drawing attention to yourself," Schultz said. "We are not sent overseas to preach to people, to say, 'You have to be like us.' My argument is democracy is not an American principle, it is a universal principle."
Schultz was born in Michigan, one of six kids, but moved a lot due to his father's service in the Navy as a flight engineer. The family landed in Bloomington, Minn., where Schultz finished high school, when his dad went to work for Northwest Airlines. He was drawn to Macalester because of its lauded international studies program. "I was always curious about other cultures and other languages," says Schultz, who speaks French, Russian, Ukrainian, and a little Polish. He also picked up a less-tangible skill. "I got not just a good education out of Macalester, but also good socialization. I learned how to get along with other people. I think it's the structure of the school. It's small so you get to know everybody."
"I never wanted to leave Macalester," he says. "I was a reluctant graduate."
Schultz earned his master's at the University of Denver and while there, almost on a whim, he took the foreign service exam. Only a small fraction of those who complete the exam ever land a diplomatic post. But Schultz breezed through and soon received a letter offering him a position.
Over a 27-year diplomatic career, Schultz has served in various roles in a wide array of countries, including Madagascar, France, Georgia, Turkmenistan, Zimbabwe, Russia, and, most recently, Ukraine. Confirmed by the U.S. Senate in September, Zambia is his first post as ambassador. He describes the country as beautiful—it shares one of the world's largest waterfalls with Zimbabwe—and fairly stable. Even so, Schultz works from a new, highly secure U.S. embassy in Lusaka that sits on a hill overlooking the city. "It's set back to protect against a bomb attack," Schultz says, adding that he considers that unlikely. "Zambia is a pretty peaceful country. I don't feel much at risk here." His biggest complaint about his office, in fact, is that the windows don't open.
"It would be very difficult to work in a country where you couldn't travel freely and get to know people on a personal basis," says Schultz, who considers openness an attribute necessary to the job. "Some of the posts in the Middle East, you can't go anywhere without armed body guards. I would find that strange."
Frequent moves are part of life in the foreign service, which has required the regular uprooting of his wife, Klaudia, whom he met at a conference in Poland, and two sons, Alek, 13, and Adam, 10. The boys are enamored of American culture, despite living more than 7,000 miles away. "I can't decide whether to feel proud or guilty about that," Schultz says. "They have had a great opportunity to see the world and experience things other kids don't get to see."
Recently, Schultz asked his sons what he should bring back from a stateside conference. Adam requested Legos, while Alek asked for a Chipotle burrito. "I carried two in my carry-on all the way from Washington to Lusaka," Schultz says. "He was in seventh heaven for a couple of days."
"You have to want to live overseas," Schultz says about his life as a career diplomat. "It's called the foreign service for a reason. You have to enjoy making friends with people. You try to win hearts and minds by getting to know people… The most interesting aspect of it is just being at the heart of things."