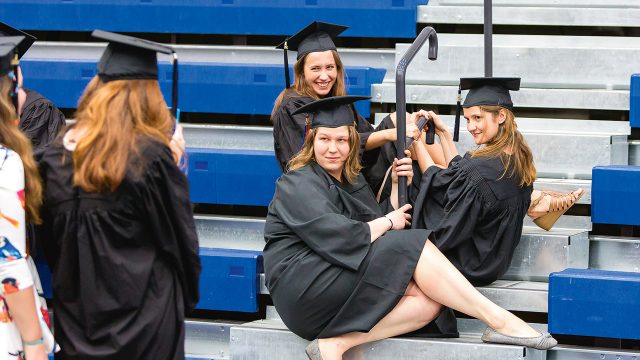 WITHOUT NAMING NAMES, here's where some of this year's graduates are off to make their mark in the world.
Many grads will head back to the classroom, this time at the front of the room. At least three will be teaching domestically with Teach for America, and others will be Fulbright English teaching assistants in Senegal, Malaysia, Germany, and Brazil. Other Fulbrighters will conduct research in Kuwait and, with a Fulbright-Schuman European Union grant, in Malta, Italy and Greece.
New grads are also headed to graduate school at Brown University, the American Museum of Natural History, Miami University of Ohio, the universities of Chicago, Washington, Wisconsin, and Pennsylvania. Their areas of study span veterinary medicine, dentistry, student affairs, medicinal chemistry, earth science education, nursing, human development counseling, public health, and physical therapy. One grad is going to London to study dance; another is headed to the Disney College Program; many more expect to spend a gap year working before heading back to the books.
Grads from 2015 will serve in the Peace Corps in Peru and Ethiopia, with Lutheran Volunteer Corps, with Jesuit Volunteer Corps, and as Humanity in Action Fellows.
Still other grads will be working for 3M, Bank of Japan, Children's Hospital, Dow, Ernst & Young, First Universalist Church, Metropolitan Council, National Geographic, Proctor & Gamble, Target, Thomson Reuters, and an array of prominent consulting firms.