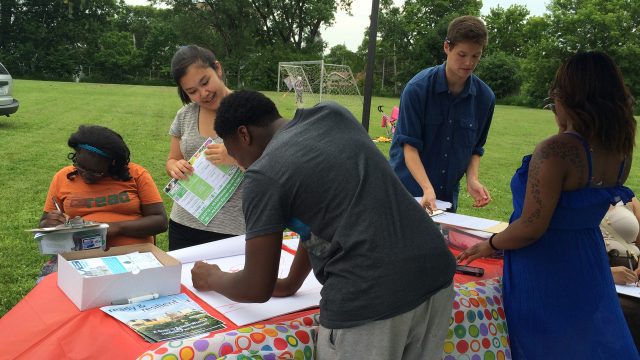 Potholes, power outages, and transit delays. A number of community members across St. Paul are helping prepare their neighbors for common disruptions that result from extreme weather such as severe storms and heat waves. A grant from Great Lakes Integrated Sciences + Assessments (GLISA) allowed Macalester environmental studies students, mentored by professors Christie Manning and Roopali Phadke, to fund climate adaptation projects developed by community members across St. Paul.
"This particular project was conceived in partnership with the Mayor's Office from the beginning," said Phadke. "They are great allies." The process began last summer when Macalester convened neighborhood meetings to discuss strategies for climate adaptation. Anyone who attended these meetings could apply for funding. Of the 12 applications received, Macalester funded nine, most from lower-income or historically marginalized communities.
"It's not that people in these communities aren't aware of climate change, but they see it as a distant issue," said Manning. Helping people see how tangible issues such as heat waves are connected to climate change creates an emotional response. "The grant opens up opportunities for them to do something."
Environmental studies majors Jared Sousa '17 (Tacoma, Wash.), Ivy Bardaglio '16 (Burlington, Vt.) and Kira Liu '17 (Newton, Mass.) assisted the community members with shopping, planning events, creating presentations, making handouts, and attending meetings. Each student managed three projects.
The projects respond to the need for education and access to resources, and range from emergency disaster kits to a green newspaper (see Figure 1).
One project centered around emergency kits for extreme weather. Bardaglio distributed the kits to children attending a peace festival in the Summit-University neighborhood.
"We came with 40 emergency kits and gave all of them out before the event was over," said Bardaglio. The kits contained first-aid supplies, face masks, wet wipes, hand sanitizer, flashlights, and coloring books and markers to entertain children during a blackout or storm.
"The kids really liked the kits, although not all of them understood what they were meant for," said Bardaglio. "We included a small note explaining extreme weather and emergency preparedness that hopefully their parents saw when they brought the kits home."
Sousa likes that the projects focus less on "preaching" about climate change and more on raising awareness of extreme weather such as heat waves.   
"The framing of extreme weather highlight the idea that these are local issues," said Liu. "They affect you directly. These are things that you can do to prevent them or be prepared for them in the future. It brings things down to a more personal level."
Most of the people carrying out projects are in their 50s or older. Many applied for the grant on behalf of an organization or their local government. "These are people who are very well established in their community as leaders and they all have busy day jobs" said Bardaglio.
As support staff, the students sometimes struggled with balancing the autonomy of the community members with their own goals for the projects. "We really want these to be projects run by the community members, created by the community members," said Liu, "but we also want to make sure that it's relevant to what we're working on."
Despite these challenges, the projects are making good progress. "It's been really interesting to see how much community members care about these issues and to see actual community efforts rather than something that was started by the city," said Liu.
Since the neighborhoods are spread geographically throughout St. Paul, the students have become more adept at public transport. "There are all these neighborhoods I never knew about," said Bardaglio.  
Community involvement "roots them to this place, our city, in a unique way," said Phadke, who, over the years, has helped many of her students land internships with city agencies, including the Mayor's Office.
"The deeper civic engagement is amazing," said Manning. "You read and think about case studies and the scholarship behind them, but when you step into a community and see these forces in action, as well as their complexity in the real world, it becomes so much more real."
St. Paul has no official climate adaptation plan, but students said the projects this summer provide a starting point in developing one. The funding institution, GLISA, is also considering replicating their method in other Great Lakes cities.
Figure 1:
| | | |
| --- | --- | --- |
| Project | Neighborhood | Purpose |
| Green newspaper | Frogtown | Highlights climate change heroes and how to help your neighbors |
| Emergency kits for children | Summit-University | Extreme weather preparedness |
| Emergency kits for elders | East Side | Extreme weather preparedness |
| Vermicomposting system (composting using worms) | Dunning Recreation Center in Summit-University | Children attending camps learn the importance of composting and the recreation center reduces waste |
| Interactive display for creating emergency kits | Art on the Avenue festival, West Side | Extreme weather preparedness |
| Listening sessions | Hamline-Midway | Elders share experiences with extreme weather with community members |
| Climate change adaptation curriculum | Boys Totem Town, West Side | Educates young men in juvenile detention centers about the effects of climate change |
| Chimney swift towers | North End | Towers provide habitat for chimney swifts, birds that eat mosquitoes and prevent vector-borne illness from spreading, but are in decline due to deforestation and capped chimneys |
| Community networks | Payne-Phalen | Build outreach and support for people most vulnerable to heat waves, including the elderly and those without air conditioning |