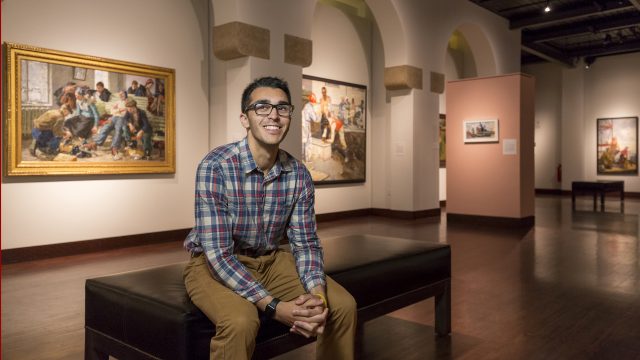 Russia is a "sometimes-misunderstood nation," says Joshua Sosa '16 (Chicago). His summer internship at the Museum of Russian Art in Minneapolis illuminated the importance of educating people about Russian culture and history.
There are only a handful—maybe three—museums of Russian art in the U.S. This museum was often mentioned by professors in the Russian Studies Department as a valuable resource, and so Sosa decided to take advantage of its proximity. A political science major and Russian studies minor, Sosa gained new insights from an internship at the museum.
Sosa dubs his Russian studies minor a "prized possession." The internship allowed him to apply his studies to a real-life setting. "I had access to a vast network of Russian-speaking people, an amazing staff well versed in Russian history and culture, and a space where I could discuss things I've studied through the years," said Sosa.
Sosa plans to become a kindergarten teacher, so he chose to develop some children's programming as a form of community outreach. He created a scavenger hunt for a new exhibit, Russian Samovars, and planned museum tours for children.
"The museum has wonderful resources for sharing Russian culture and history," said Sosa. "I would love to see more energy and time focused on children's programming, so the museum can be more accessible to children."
In addition to developing children's programming, Sosa conducted historical research to help the curator produce wall texts for an upcoming World War I exhibit. He also hopes to create a for-credit internship at the museum, a goal shared by many Macalester faculty interested in developing a future museum studies concentration.
The museum staff and volunteers are an enthusiastic and highly committed group, according to Sosa, so after his morning commute to the museum, he always stopped to greet the museum's director of store operations. "His hospitality and energy is tenfold that of a shot of espresso."