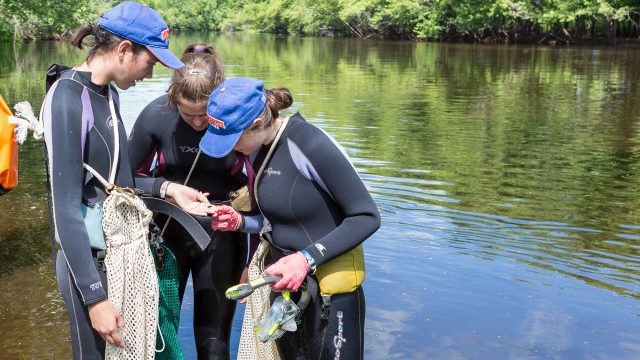 "We spent our days snorkeling in central and southern Minnesota Rivers." — Molly Guiney
Mussels are not rocks. As a geologist, I am used to digging around for inanimate objects, not living, breathing specimens. But this summer, I experienced the best of both geology and biology through the study of mussels.
Along with Professors Kelly MacGregor (geology) and Dan Hornbach (biology, environmental studies), we looked at the native mussel populations in four rivers. We spent our days snorkeling in central and southern Minnesota in the LeSueur, Chippewa, and Cottonwood Rivers that flow to the Minnesota River, and the Snake River, a tributary to the St. Croix.
At many sites in each river, we carried out timed searches to quantify native mussel populations and species types. We also aggregated, or grouped together, our target species, the Plain Pocketbook and the White Heelsplitter. We went back to collect tissue samples of these mussels in early fall to determine their stress levels, and compare how these species are faring in the different rivers. Finally, we collected river bed sediment to see if mussel communities prefer certain environments over others, such as gravel and sand over silty river beds.
Native mussels can be a good way to gage how healthy a river is—if mussels are not abundant, or only a limited number of species exist, or the population has declined over time, it suggests a less than ideal ecosystem. This unique cross-disciplinary study may help our state to better understand the condition of its rivers and plan for the future.
Learning to snorkel was exciting and my colleagues—students and faculty—were fun to work with. There were even weekly barbeques for all science researchers, and it was great to see the range of research projects that students were working on.
River research has also reaffirmed my fascination with hydrology and water, and I hope to take a biodiversity or ecology course this year to learn more about interactions between the physical and biological worlds.
Most importantly, I am learning how real science is carried out. Science is not always a neat set of steps. Our research was heavily dependent on nature and water levels, so we paid close attention to the weather forecasts in order to use our time wisely. One of the most important things I learned: There are no straight paths to your goals.
And mussels are pretty cute too, there's always that.