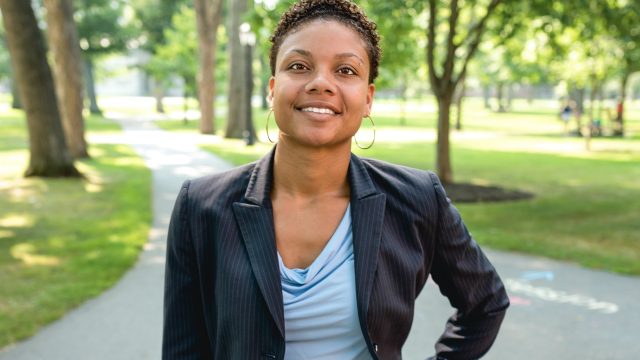 Before she encountered her first student at Bowdoin College this fall, Brittany Lewis '09 had a lesson planned for her first day of teaching as a post-doctoral fellow. "At the beginning, I always tell my students, 'It's okay if you don't know what you're going to do and you don't have all the answers,'" says Lewis, who was awarded a doctorate in feminist studies from the University of Minnesota in May. "I had no clue what I was going to do when I came to Macalester, but you figure it out as you go," says Lewis. "It's been quite the ride."
Lewis grew up in Minneapolis, earning attention as a top basketball player at Roosevelt High School and an invitation to help rebuild Macalester's women's team. She'd never heard of the school before visiting it her senior year, harboring doubts as to whether a small liberal arts college would be a good fit. Then she sat in on a Hip-hop Feminism class, "and I was blown away," she remembers. "I just couldn't believe there were classes that put women's roles in hip-hop culture into an academic framework. I was sold."
When she arrived on campus in 2005, Lewis envisioned a future in journalism, but "the classes I took and the faculty mentorship I received pushed me to ask different questions." One pivotal class was Black Public Intellectuals, taught by Duchess Harris—now chair of the American Studies Department—which examined Black scholarly leaders in politics, theater, literature, and film, along with "Ebony Voices in the Ivory Tower."
Says Lewis, "There is this larger history that I was completely unaware of: the history of the Black female struggle from slavery to the current moment. And it blew my mind. The course took an intellectual approach to reading their activism that I had longed for."
Lewis quit basketball after her sophomore year as she embraced political activism and delved into the lives and writings of Black women activists such as feminist poet Audre Lorde, journalist Ida B. Wells, and civil rights leader Fannie Lou Hamer. She also interned with North Minneapolis state representative Neva Walker, the first African American woman to serve in the Minnesota Legislature, took on leadership roles at the college, and helped create Macalester's Black History Month committee.
The close bonds Lewis forged with other student activists and faculty mentors grew more meaningful during her junior year, when she became pregnant. "People assumed I would leave school and my family really wanted me to take time off, but in my mind that wasn't an option," says Lewis, who remembers telling then-Student Affairs Vice President Laurie Hamre, "I'm not going anywhere." In fact, Lewis gave birth to her first daughter, Brooklynn, just weeks before starting her senior year.
"I wanted to show my daughter how important it is to not give up on your goals and dreams. I was planning to go to graduate school— and it was important to me to stick to the plan," she says. To manage it all, she moved off campus and switched to mostly night classes so she could care for her daughter during the day, with now-husband Brandon Royce-Diop watching the baby at night. Her mother, who owns a group home, planned staffing so Lewis could drop off Brooklynn if she needed to run to class.
Brooklynn was also a regular at Lewis's senior seminar with Duchess Harris. Indeed, Harris occasionally taught with the baby perched on her hip, and fellow students would take turns holding her during class discussions. The Macalester faculty and staff, says Lewis, "had a relationship with me and wanted me to finish. Now I want to be that for someone else," she continues. "Life is complicated . . . I want to be able to assist that student who has promise and is working hard, but just needs a little help."
Lewis kept up the same pace through graduate school at the University of Minnesota "eating, sleeping, and breathing books" except for the summer-long maternity leave she took to welcome second daughter, Naima, born in 2012.
Though she continues to face challenges as she begins her academic career— submitting book proposals and looking for tenure-track positions— Lewis feels fortunate to have found work she hadn't even imagined a decade ago. "I didn't know you could build a career writing about things you're passionate about," she says. "But I fell in love with this thing, and I believe I have something to contribute to the conversation."
Sparking conversations that challenge preconceptions about race, privilege, and power structures is part of her lesson plans as she teaches classes such as Black Girlhood and History of Black Women's Political Activism in Brunswick, Maine, where she moved with her family last summer. "My purpose in class is to talk at them less, and get them to think out loud and engage with each other more," she says. Learning about voices traditionally left out of history books, Lewis says, "is often about unlearning what you think you know. It can be uncomfortable, but you do your students a disservice if you fail to provide them with a safe place to engage on issues of race.
"If you don't, how can you expect them to do it in the real world?"