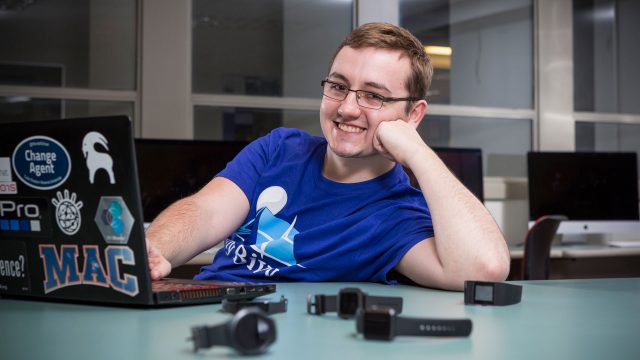 "One of the biggest consequences of PTSD is the inability to sleep at night, and our app allows both the Department of Veterans Affairs and the soldier the opportunity to examine the physiological side effects of PTSD in real time." –Tyler Skluzacek '16 
UPDATE Nov. 18, 2015:  Skluzacek won MobDemo 2015
Tyler Skluzacek '16 (New Prague, Minn.) and his team took a top prize at HackDC, a grueling 36-hour coding competition in Washington, D.C., dedicated to addressing Post-Traumatic Stress Disorder (PTSD). As the winners of Best PTSD Mobile App for Clinicians, team "The Cure" took home $1500.
Their app, myBivy (short for bivouac, temporary soldier's quarters), runs on the Pebble Time Smartwatch and is designed to track "night terrors," a PTSD symptom in which soldiers or others may suddenly awaken in a panic.
Some 3.6 million veterans experience PTSD following exposure to traumatic or life-threatening events. This includes 11–20% of those who served in Iraq and Afghanistan, as well as veterans of the Gulf and Vietnam Wars. Other symptoms may include flashbacks, insomnia, and exaggerated responses to triggers. And it's not only vets—an estimated 7.8% of Americans are affected by PTSD.
Skluzacek, who is majoring in computer science, applied math and statistics, and economics, headed to D.C. for the competition, inspired, in part, by the experience of his father, an Iraq War veteran. Many of the participants arrived with teams in place, but Skluzacek recruited four team members on the spot.
It was an intense 36 hours. "We actually entered the program with a number of bad ideas that we didn't know were bad until we talked to clinicians and veterans," says Skluzacek. "None of us considered ourselves to be 'experts' in mobile application creation, so much of the competition was us learning new languages and implementing them on the fly."
"One of the biggest consequences of PTSD is the inability to sleep at night, and our app allows both the Department of Veterans Affairs and the soldier the opportunity to examine the physiological side effects of PTSD in real time," explained Skluzacek.
"By tracking volatility and heart-rate motions of those wearing the watch, myBivy records the data for both the VA and the veteran, with an easy-to-understand visualization on Android smartphones for the veteran and a more complex statistical analysis delivered directly into the VA database. After clinical testing, the myBivy will learn to predict night terrors and actually buzz the veteran awake minutes before night terrors would happen."
When the judges announced Skluzacek's team had won, he admits, "I was probably the most emotional person in the room, along with some of the veterans I spoke with. It wasn't like the moment on Who Wants to Be a Millionaire where the winner starts crying because they suddenly have piles of money and can't figure out what to spend it on. I thought about telling my dad that my idea will help him sleep better someday, and that 'someday' is coming up soon."
The team hopes to continue work on the app with the Department of Veterans Affairs and Skluzacek has already been in contact with a clinician there about doing so. "Once the program is cleaned up and our team is happy with it, we'll send it off to the VA for clinical testing. As an additional step, we can make this app available to anyone with night terrors, not just veterans."
At the competition, Skluzacek was asked why he chose to study computer science and mathematics at a liberal arts school. "It's actually quite easy to sit in front of the computer and code an application that 'works.'  What's less easy is insightfully considering the needs of people using the app, and reaching out to those you're trying to help to ensure it is useful to those for whom it's intended. My team made many technical and aesthetic changes to the app based on conversations with clinicians and veterans, and I believe that's why our application will actually change how we treat PTSD." 
Media Coverage
"This College Student Created An App To Help Veterans Combat Night Terrors," Gizmodo (gizmodo.com), Oct. 16, 2015
"Student Whose Army Dad Has PTSD Creates App to Help Vets Sleep," NBC News (nbcnews.com), Oct. 15, 2015
"College Student Creates App to Help Veterans (Like His Dad) Prevent Night Terrors: 'I Won't Sleep Until Veterans Can'," People Magazine (people.com), Oct. 15, 2015
"Student creates app for vets to prevent night terrors," USA Today (usatoday.com), Oct. 15, 2015
"Student creates app for vets to prevent night terrors," KARE 11 (kare11.com), Oct. 13, 2015