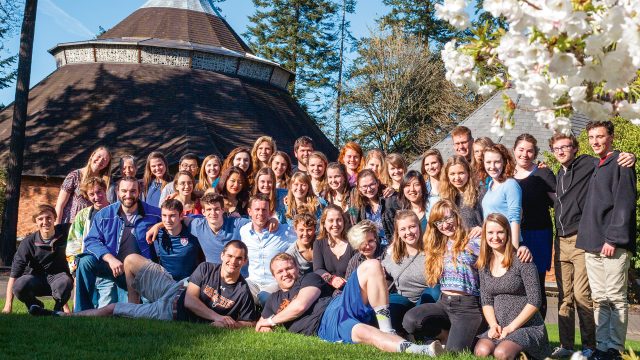 It is a chilly morning in March—very early in the morning—when the Macalester Concert Choir members climb onto a couple buses parked in back of Weyerhaeuser Hall to make the short trip to the Minneapolis-St. Paul International Airport.
But despite the unholy 6 a.m. meeting time, "an air of excitement" fills the bus, says alto Jolena Zabel '16 (Hastings, Minn.). "There's definitely plenty of energy here."
And why not, for the 40 members of the Concert Choir are headed out on a tour of the Pacific Northwest, where they will share their music with the many Macalester alumni and friends who make their homes in Portland and Seattle.
"We're taking up half the plane," says Zabel. "It's always fun when we're together."
–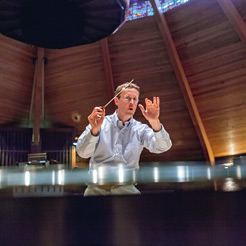 Much of the fun and energy of Concert Choir can be attributed to its leader, Michael McGaghie, who took over as conductor in the fall of 2012. McGaghie has an impressive resume, with degrees from Harvard and Boston University and stints as director of choral activities at The Boston Conservatory and assistant conductor of the Harvard Glee Club.
But what you can't see on paper is the enormous talent and enthusiasm he brings to his role of conductor. The man vibrates with energy. "Mike is always so excited about the music, and he helps get me excited, too," says soprano Diana Rosenzweig '15 (Ann Arbor, Mich.).
What's more, says Zabel, "He knows community makes a difference to the music in a choir. If community goes unnurtured, the music is affected."
–
The tour's first major community-building exercise is an hours-long trip to Powell's Books, the famously huge downtown Portland store. Students who tire of book shopping wander around downtown Portland— encountering more bikes than cars—and stroll along the Willamette River. Later they meet their host families, mostly Macalester alumni and friends, but some, such as Zabel's hosts, just local community members who have agreed to open their homes to visiting fellow choristers. "We ate a great meal and had a blast there," says Zabel. "I found it remarkable that people with no connection to the college would be interested in doing this."
–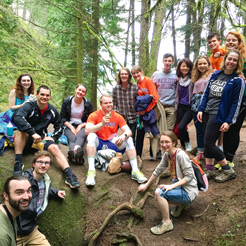 "Welcome to our first full day in Oregon! How did you sleep? Great? I'm very glad to hear it! Let's 
get right to work!" And so begins day two of the tour, as the choir members, McGaghie, and accompanist Ruth Palmer gather in Lewis & Clark College's Agnes Flanagan chapel, a Douglas fir/pebble floored/stained glass building in the center of campus.
"Ee–aaah–ee-aah–aay-ooo-oooh!" soars to the chapel's conical ceiling as the choir warms up. The first song they rehearse on the first day is "Dear Old Macalester." "We'll sing this with any alumni present," says McGaghie.
As the familiar anthem rolls out, McGaghie shouts, "That's gorgeous! Gorgeous! Keep the sound very open! Sopranos, you're still sharp every time you sing that D. Basses, take it down a bit, though I hate to say that. It's like turning down a plate of really delicious food!"
–
Although the tour was originally destined solely for Seattle, Mc- Gaghie added on Portland because Lewis & Clark's choir director—Dr. Katherine FitzGibbon— is a close friend from graduate school. It also happens to be the college of the twin sister of baritone and choir manager Alex Webb '17. (Zoe Webb is Alex's twin sister; their mother is Macalester math professor Karen Saxe.) These connections add a lot of life and love to the day. McGaghie keeps hugging FitzGibbon. "I'm so glad to be here!" he exclaims, his enthusiasm infectious. "Man, this is fun!"
At dinnertime in the Lewis & Clark cafeteria, both choirs sit together, eating and laughing in the large, sunny space. The Mac students are amused to discover that the same company, Bon Appetit Catering, runs the food service operations of both colleges.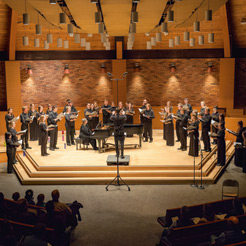 Soon there's a mad rush to get dressed—hardest for the women, trying to wriggle into their black skirts and heels and fix their hair and makeup in a too-small ladies room. And before anyone is quite ready, the concert is starting.
The repertoire is a mix of 20th and 21st century pieces including "Fern Hill" by John Corigliano, "Sure on This Shining Night" by Morten Lauridsen, and "Wanting Memories" by Ysaye M. Barnwell. The Macalester Concert Choir sings in a mixed formation, which means that altos, sopranos, tenors, and basses are spread throughout the group rather than being clumped together in sections. "I tend to think that it adds richness to the sound and strengthens the independence of the singers," says McGaghie, who is forever tinkering with the choral members' placement.
Says accompanist Palmer, "It takes a really keen ear to play well with placement, making sure that not all the strongest voices are on one side," for instance. "And Mike has one of the best ears around."
The reception following the concert is a happy mixture of Mac alumni, choir members, Lewis & Clark choir members, the Webb/Saxe family (who traveled to Portland for the occasion), Lewis & Clark students, and other community members.
–
Tours, of course, are expensive undertakings for a group the size of the Macalester Concert Choir. Although every effort is made to reduce costs (staying with host families rather than in hotels, for example), buying plane tickets, feeding, and transporting a group of 40 isn't cheap. So why do it?
"Because touring is the number one best experience for reinforcing our musicality," says McGaghie. "The quality of our performances goes up exponentially on a tour."
Psychologically it's important too, he continues. "Tours build warmth, cooperation, and trust because you're together in a time and place where the rest of life's daily clutter is gone. And the non-music days are just as important as the concert days. Together we make something that none of us can make on our own.
"We're more than the sum of our parts, and never is that more true than with a choir."
The choir members emphatically agree. "Touring as a choir is essential to honing the communication and trust among the group," says bass David Goldstein '16 (Sharon, Mass.). Adds Zabel, "Tours provide a community-building and learning experience that you can't find anywhere else. They're so important for the fellowship they build and for getting Macalester's name out there. We're ambassadors of the college while we're on tour—for potential students, for the alumni community, and for our audience members in general."
–
Ambassadorship of a more impromptu kind pops up the day after the Lewis & Clark concert, while the group is touring the Columbia River Gorge east of Portland. Having stopped at the Crown Point overlook, the choir wanders into an octagonal park building called Vista House, and there makes a snap decision to sing in the acoustically outstanding space.
They perform Rachmaninoff's "Bogoroditse Devo" in the centuryold stone structure, while more and more tourists gather to listen. As the choir members hold hands, their music soars through the Art Nouveau building with its panoramic Columbia River views. It's a magical moment, both choir members and director agree. Says Goldstein, "I'll never forget that performance as long as I live."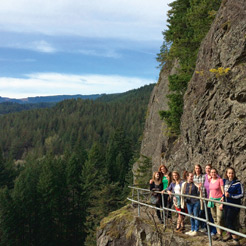 Hiking along the spectacular Columbia River Gorge comes next, with some students scrambling up a mile to the top of the Multnomah Falls trail and others hanging back to chat at various overlooks. For Rosenzweig, the hiking day provides a rare chance to have lengthy oneon- one conversations with fellow choir members. "That's a part of the tour that's very special," she says.
The long bus ride from Portland to Seattle, complete with major rush-hour traffic on Interstate 5, provides another opportunity for choral bonding. Raucous games of Mad Libs (verbs: snogging, slobbering, clenching; adjectives: slimy, chunky, prickly) alternate with questions like: Who is most likely to text during rehearsals? (Mike McGaghie, they agree, though he protests he's using the metronome on his phone.) Who is the loudest singer? Who's most likely to know what's trending on Twitter? Most likely to get lost at Powell's Books?
–
All this musical talent, by the way, comes from a wide range of Macalester students. Macalester's choir includes students who are pursuing all manner of majors. Rosenzweig, for instance, is studying economics while Goldstein is tackling computer science, international studies, and Arabic. Zabel is majoring in political science, English, and international studies, while other choristers are focused on psychology, geology, media studies, Hispanic studies, and math.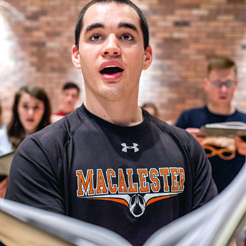 Mac's choir members hail from all over the country and the world, too. Says Zabel, "I grew up 30 minutes away from campus but we have kids from both coasts," as well as from Tokyo and Beijing. "I find that diversity really valuable," she says. "I've met friends I would otherwise never have met…it changed my friend group at college."
Athletes are also a significant part of the choir, something you'll rarely find at a Big Ten school, for instance. One of these is Konnor Fleming '15 (Charlotte, Vt.), who was enjoying his first and only semester in Concert Choir, a commitment that had proven impossible while he played football and ran track. When a bass dropped out of choir at midyear, he saw his opportunity and "cut a deal between Margaret [track coach] and Mike." The defensive back had sung in his high school choir, and "really missed that sound" despite having stayed musically active through his membership in the a cappella group Scotch Tape. "Being part of Concert Choir has been a dream come true for me," he says. "From the first rehearsal, I've been blown away by the quality of this group's sound."
Quarterback and tenor Jacob Simons '17 (Oconomowoc, Wis.) is also in the choir, as is John Verkuilen '13 (Green Bay, Wis.), a former Macalester offensive lineman who sings tenor on the tour and served all year as the group's assistant director. (This fall he is studying choral conducting at the Boston Conservatory). Then there's the man who was voted by his peers as loudest singer—Alex Rack '16 (Swarthmore, Pa.), a backstroker on the men's swim team.
–
Friday dawns grey and rainy in Seattle, as choir members gather at the site of the 1960 World's Fair just north of downtown to board the bus for Tacoma. Tonight's concert is at Christ Episcopal Church in downtown Tacoma, adjacent to a huge hospital complex. The Brutaliststyle concrete building is a marked contrast to yesterday's Art Nouveau park building. It's colder today, too, and choir members are wearing jeans and sweatshirts as the afternoon rehearsal starts.
Choir members are full of stories about their overnight hosts in Seattle. Both Goldstein and Zabel, along with tenor Spike Sommers '18 (Providence, R.I.) are staying with Emma Lynn '13. "It's nice to meet recent choir alumni who are working as musicians," says Sommers. "It's cool to see their great little apartments and what they're doing now…it makes me optimistic about what I might be doing in a few years, after college."
The housing and other tour logistics are complicated, and McGaghie admits he has been helped enormously in these efforts by choir managers Rosenzweig, Webb, and alto Paige Blazei '15 (Plymouth, Minn.). Rosenzweig arranged to acquire new, more gender-neutral concert attire and ordered plane tickets; Webb handled the programs and made sure everyone got on the buses and airplanes; and Blazei arranged all the tour housing.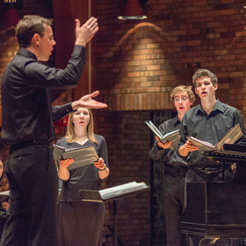 After a significant warm-up (McGaghie: "Brrrrrrrrr! Up and stretch to the sky! Lovely! I can't wait to share us with them!"), the whole group enjoys a church supper with the congregation, most of whom are in their sixties and seventies. Choir members mingle with church ladies, complimenting them on their casseroles and cookies.
–
On Saturday, the last full day of the tour, the drizzly Seattle weather brightens, allowing choir members to walk to Pike Place Market and to catch a glimpse of the Pacific. By 6 p.m. it's back to today's performance space, First United Methodist Church, located near Seattle's famous Space Needle. In the large contemporary sanctuary lined with purple, blue, and green stained-glass windows, McGaghie reminds his choir members to keep looking up for musical cues, and to stretch before the performance.
The group also spends some time discussing the meaning of "Fern Hill," with lyrics by poet Dylan Thomas. "Thank you for sharing your thoughts," says McGaghie. "Now, would you like to do this number atour April concert?" "YES!" the 40 singers shout as one. "Okay, that's all I needed to hear," says McGaghie, providing yet another example of the respect he routinely accords his choir members.
"Mike really listens to us, and a lot of directors of his stature wouldn't," says Zabel. "For example, last year we asked for more global music and sure enough, this year he added that to our repertoire. He knows that for us to have a role makes everything better."
Before long the concert is in full swing and then, all too soon, its soaring music ends, and the choir and its audience are filing downstairs for coffee and punch. Much hugging ensues, especially among the current choir members and recent ones such as Emma Lynn '13, Hannah Warman Nkeulia '13, Claire Biringer '12, and Taryn Valley '14.
Watching the warmth among the college singers, it's easy to believe Rosenzweig when she insists that group members stay in touch. "Choir is a constant source of security," she says. "It's really like a family, and certainly the place I've made my closest friends.
"Mike cares deeply about us, and is always checking in to see how we're doing. As he says, we're here for each other."