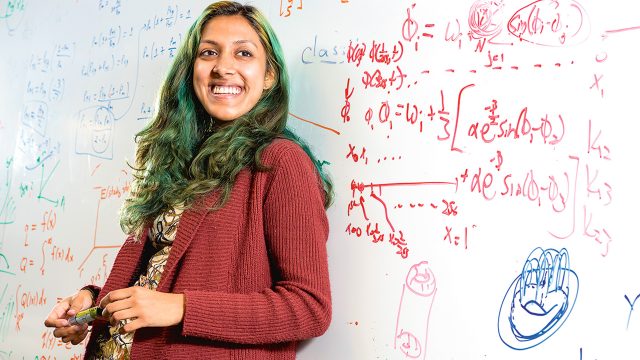 LAST SUMMER, Molly Guiney '16 (Two Harbors, Minn.) snorkeled through Minnesota rivers looking for Plain Pocketbooks and White Heelsplitters—two kinds of mussels that indicate river health.
She was one of over 80 Macalester students in the hard sciences, environmental studies, and math, statistics and computer science who gained valuable hands-on summer research experience.
Back on campus, Esha Datta '17 (Palo Alto, Calif.) studied coupled oscillators—oscillators influenced by the behavior of other oscillators around them. Coupling can cause systems of oscillators to synchronize over time. This is seen in nature with fireflies, which will initially flash at their own frequencies but can eventually begin to flash in unison.
Other students worked further afield. Katherine Lane '17 (Petaluma, Calif.) traveled to Switzerland to study how the bacteria in bee guts influences honeybee health. Liang "Adrian" Chang '16 (Jinan, China) spent a second summer at the renowned MD Anderson Cancer Center in Houston investigating the biochemical pathways of metastatic breast cancer.
Alex Gordon '18 (Chicago) couldn't travel to the dwarf galaxies he studies, so he obtained research data from the Hubble Telescope and other telescopes based in New Mexico and the Netherlands.
And several Mac alumni hired students to work in their labs for the summer, among them Ray Runyan '72 (University of Arizona), Pamela Peralta '03 (Georgia Tech), and Erica Andersen-Nissen '98 (Cape Town HVTN Immunology Laboratory, South Africa).