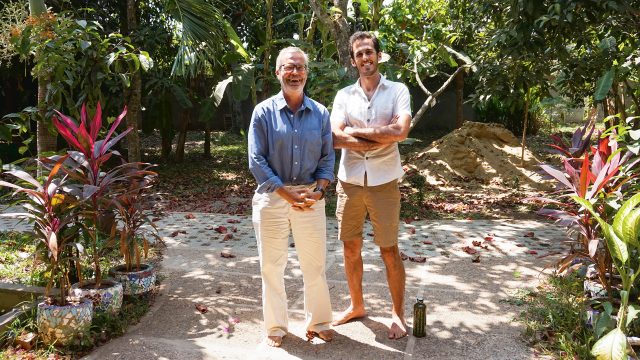 Growing up, Max Cady '10 spent seven weeks each summer at a camp in the Adirondacks, where, in addition to learning how to carve canoe paddles and hoist sails, he cared for barnyard animals and grew produce in the camp's working farm. It was such a transformative experience for the New York City native that he eventually worked there as a counselor. "I had a good education," says Cady of his Brooklyn private school, "but I'd come home from camp feeling like I'd learned more over the summer than I had during the school year."
That affinity for hands-on, project-based learning eventually took Cady across the world to the Liger Learning Center, an innovative boarding school in the rainforest just outside Phnom Penh, Cambodia. Started in 2012 by an American investor and his wife, the Englishlanguage school provides full scholarships for 50 Cambodian students, ages 11 to 18, from disadvantaged backgrounds (they're now recruiting another 60 for a new cohort to start next fall). Students are chosen not just for their academic potential but also for the kind of creative spark and dot-connecting chutzpah that, encouraged and nurtured, could one day turn them into their country's entrepreneurial leaders.
That's a high bar for any school, much less a start-up in Cambodia, which missed out on the education boom of Singapore and other Southeast Asian countries when the Khmer Rouge was in power. "It's not a normal school," says Liger Learning Coordinator Jeffrey Holte, the brother of Macalester Art Department technical supervisor Mark Holte. "Our program has been developed to encourage our students to change their country." In addition to a core program emphasizing math and literacy, Liger's curriculum is centered around "explorations"—seven- week projects that examine a real-life challenge in Cambodia. Students travel throughout the country to conduct research and develop a product or other solution to address the problem.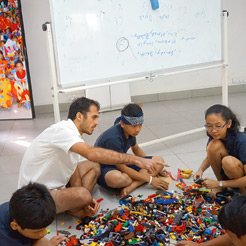 Cady learned about Liger not from Holte but from an international school job fair. He'd been working at after-school programs in Minnesota and was considering a career in education. There was just one hitch: "I hated school," he says. Even with that reservation, Liger's real-world philosophy struck a chord with Cady. So despite having never worked as a teacher or visited Southeast Asia, he signed on as an intern, living on site and facilitating after-school activities.
It was a perfect fit. And what started as a one-year lark turned into a life-changing, three-year commitment and ultimately a promotion to full-time learning facilitator—Liger-speak for teacher. Cady was one often facilitators, half of whom came from other countries.
"I've always wanted to make the world more interesting and playful," says Cady. "At Liger I found that I could do fun things with education." That included coaching the school's robotics program, despite knowing nothing about the subject and working with kids who didn't own computers. He also led a water safety class, inspired by the fact that drowning is the leading cause of death for Cambodian children. A former member of the Macalester swim team, Cady taught his students to swim and helped them create a basic water safety curriculum. He also facilitated a collaboration with an international school in Singapore through which his students, just 12 at the time, provided technical support to Cambodian NGOs.
He was aided in this work by his psychology degree, says Cady, as well as by a Macalester course—taught by religion professor and Cambodia expert Erik Davis—that explored Buddhism and the supernatural. He also appreciates the impact Mac's culture had on him. "I feel like Macalester gave me a more just and equitable view of the world."
"Max was the perfect person to teach kids how to change the world," says Holte. "Kids coming out of government schools are very linear. It was mind-blowing for them to be exposed to someone like Max, who sometimes has crazy ideas that are actually very cutting edge. He encouraged our students to think."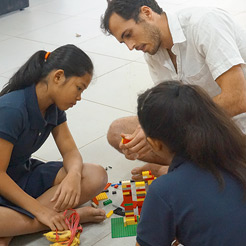 Cady's playful support of his students was on display last year when Mark Holte and his wife, Pat Harty, a retired St. Paul Public Schools speech pathologist, visited Liger. Harty was there to observe and offer suggestions to the school about how to best teach English as a second language. She watched as, from a pile of Legos dumped in the middle of the classroom floor, Cady's class was attempting to fashion banana hangers—a device to keep this Cambodian diet staple fresh longer. "Max did a great job using questions and challenges as opposed to giving students the four steps to build hangers," Harty says.
Cady left Liger last summer to pursue a master's degree at the Technology, Innovation, and Education program within Harvard's Graduate School of Education. When asked what's next, Cady pauses and looks away. It's clear he's still processing his experience at Liger and isn't certain of his path. But for now he's focused on networking and acquiring some formal training in education, in the hopes that he'll find another opportunity to use his unconventional approach to schooling.
"Liger really changed my ideas about what's possible in education," he says. "I'm not a textbook teacher and don't want to be. At Liger my role was to help kids develop as innovative, creative thinkers."
With Cady as a role model, chances are good that his students— both past and future—will become exactly that.