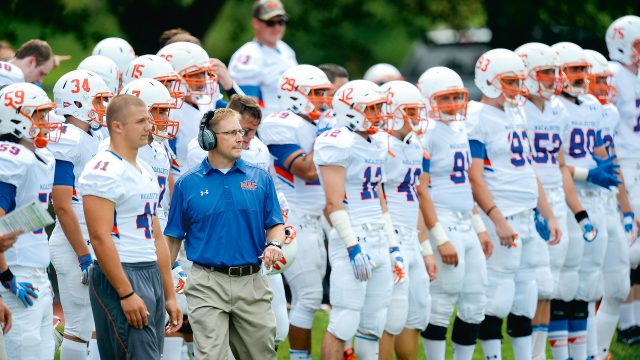 IN AUGUST, the Macalester football program kicked off its current season with 79 players, its largest roster on record. Players represent 24 states, including Alaska and Hawaii.
"Ninety percent of our players had above a 3.0 GPA last semester," says head coach Tony Jennison. "I don't know where else in America you're going to find a football program with those [academic] numbers." Last season, the team won the Midwest Conference title, the Scots' first conference football title since 1947.
"When I first got here, the football program was in pretty rough shape," says Jennison. "But a lot of people have worked hard to build a program that Macalester can be proud of. I like to think the young men we have returning are serious about pushing themselves in all aspects of their lives, not just football. We believe that greatness comes when you consistently do your best at every opportunity, whether in your personal, academic, or athletic life."
The 2015 game schedule began September 5, when the Scots faced longtime rivals the Carleton Knights.