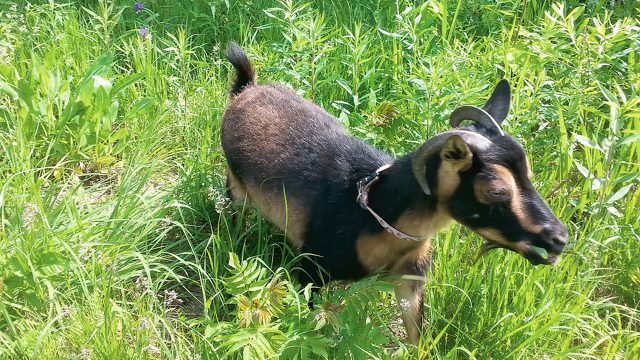 GETTING PAID TO MAKE FRIENDS with goats, listen to birds, and conduct groundbreaking research might sound too good to be true. But each summer, Macalester biology students live and work at the Katharine Ordway Natural History Study Area, a nearly 300-acre field station located only 17 miles from Macalester.
Last summer's research included gathering soil samples from around woody plants for genetic analysis of the soil microbial community. Andrew Boyer '17 (Bellingham, Wash.) explains that studying bacteria in the soil can help us understand why some microbial species are successful at invading new habitats.
Another project measured tree diameters for a long-term study of carbon stored in trees, a phenomenon thought to possibly help mitigate the effects of climate change.
Students estimated the diversity of the forest's avian community by listening for ovenbirds and searching for their nests. They wanted to see if these birds nest successfully at Ordway and if the young reach adulthood. Alex Lewanski '17 (Hastings, Minn.) explains that raccoons probably reduce the ovenbird population at Ordway by eating eggs and the young.
The summer's main project was a continuation of a six-year study of garlic mustard. Lewanski, along with Cody Dalrymple '16 (Berkeley, Calif.), Mira Ensley-Field '17 (Appleton, Wis.), and Allison Pillar '17 (Chicago), divided the study site into research grids to estimate the percentage of forest floor covered by garlic mustard. The students investigated why it is found in some areas at Ordway but not others. They also designed their own sub-project to see if human and animal traffic on the trails helped disperse the seeds (it has little effect).
"People spend thousands of dollars to remove garlic mustard because it's invasive," says Lewanski. "But in our research here, we're finding that it's potentially not as invasive as people think." Conclusions from the six-year study found that native and nonnative species in the herb layer of the oak woodland seem to coexist rather than compete with one another.
While gaining valuable experience conducting ecological research, the students enjoyed a lot of independence as well. Ordway director Jerald Dosch aims for students and faculty members to become research peers. Here, says Lewanski, "We're researching with the professors. They don't know any more than we do what the data's going to show. In ecology, we can't control all the variables."
Another fun part of Ordway is living on site. The newly renovated field station includes a dorm-style living space and a spacious kitchen with a clear view of the goats, prairie, and forest beyond. Lewanski enjoyed the convenience of taking just a few steps to start her 7 a.m. workday. When research wrapped up at 3 p.m., students canoed, cooked, read, and made s'mores over the fire pit.
Students also cared for three goats, provided by farmer Don Oberdorfer '91 to eat the woody plants encroaching on the prairie.
Work concluded in mid-July, and the students presented their findings at the college's annual student research poster session this fall. Though pleased with the summer's progress, they were sad to leave. "This is a nice place to live and an enjoyable job," says Ensley-Field. Lewanski agrees: "Work didn't feel like work."