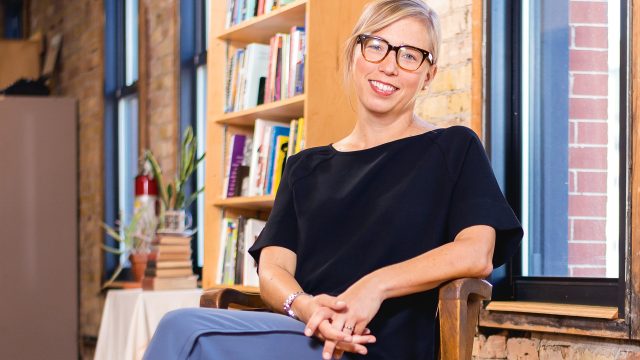 The Loft Literary Center, one of the nation's leading literary nonprofit organizations, is a Twin Cities institution that's gained a reputation as a premier resource for writing education, author readings, grant administration and performances. After its longtime executive director announced she was stepping down, a nationwide search was launched. The new director is Britt Udesen '98, who was selected from a pool of more than 75 candidates.
Udesen, a Minnesota native, comes to The Loft from a leadership role at another respected writing center, Idaho-based The Cabin. She brings a history of innovation and collaboration, including development of a successful writers-in-schools program. "It's magical to help young writers understand the power of their own voices," she says. "In school, the fun is often taken out of writing. But creative writing is all about learning how to tell your story in your own voice, and understanding you have something important to say."
Learning to find her own creative voice was a journey that started for Udesen with her decision to attend Macalester College as a fine arts and education major. "I had been determined to leave Minnesota for college," she says. "But my aunt and uncle were Mac alums (Jill Burkland '68 and Bruce Burkland '72), and my mom felt the college would be a good fit for me. She insisted I have an overnight visit at Macalester, and an hour into the visit, I knew it was the right school for me. I felt so welcome and so intrigued by a diverse and intellectually curious group of students. I was surrounded by some of the smartest people I'd ever met in my life, but no one was trying to prove anything."
Udesen's years at Macalester provided a safe and supportive place in which to make art. "It was the perfect preparation for a multidisciplinary artist because I was constantly urged to ask the essential questions," she says. "If I won the lottery today, I'd go back to college because I love exploring new things while being surrounded by people who both encourage and push me." Her focus in college was fiber arts, through she also studied printmaking, drawing, photography, poetry, and art history. She worked closely with former art professor Mary Hark. "Now, every day, I get to walk by a huge, beautiful piece of hers at the entrance to The Loft," Udesen says.
A sophomore-year internship at the Minnesota Center for Book Arts (MCBA) provided her with an introduction to arts administration. After helping out there with communications, budgeting, outreach, and other administrative tasks, says Udesen, "I was hooked pretty quickly, and I've been doing similar work ever since." After college she worked as a teaching artist for MCBA, ran education programs for the Textile Center of Minnesota, and worked at the College of Visual Arts. She left town for an administrative role at Idaho's Sun Valley Center for the Arts before taking the executive director position at The Cabin.
Although she lived in Idaho for more than a decade, Udesen's connections to Minnesota remain strong. She graduated from Mounds View High School in suburban Arden Hills, Minn., and as a young adult lived in both Uptown and Northeast Minneapolis. And her favorite place in the state—"maybe my favorite place in the world"—is the North Shore.
Udesen's Minnesota connections were among the factors that helped her become The Loft's fifth executive director in its 40-year history. "She knows the arts and literary communities of the Twin Cities very well," says Jack El-Hai, a Loft board and search committee member. Udesen's background as a visual artist rather than a writer didn't affect the committee's decision, says El-Hai. "Being a writer isn't part of the job description, and we weren't looking for a clone of previous leaders," he says. "What impressed us about Britt was the strength of her character and her personality."
For her part, says Udesen, "You won't find a person more passionate about literature, arts education, and the essential role of writers in our community than me. Plus, I can rock a spreadsheet and I know my way around a budget."
The transition to a new job has occurred along with other significant life changes for Udesen. Like The Loft itself, she just celebrated her 40th birthday. She is also a newlywed, having recently married Minnesota native Matt Furber. The occasion was an opportunity for some artistic expression. "I printed our wedding invitations and thank-you cards on my press," she says. "I'm doing art on a smaller, more personal scale these days. I may not do it every day or as my profession, but I will never stop creating things."
Asked what differences she anticipates in moving from a tiny nonprofit to the much larger Loft, with its $2 million annual operating budget and staff of more than 40, Udesen begins with practicalities. "I expect I won't have to clean the bathroom as often," she laughs. "Seriously, though, my first priority is to listen. This is a stable and successful organization, and it's my job to understand what's being done well, and how I can continue to support the good work."
Members of The Loft's board, who voted unanimously for her leadership appointment, are supportive. "Britt is such a good listener, and so judicious with her words," El-Hai says. "Her reputation and influence will only grow over time."
For her part, Udesen remains unabashedly enthusiastic about her chosen path, even at the risk of "geeking out" over her career. "In arts administration, I get to serve artists, introduce communities to their work, build connections, and tell stories," she says. "There isn't a person more enthusiastic, or perhaps some would say nerdy, about the work I get to do."