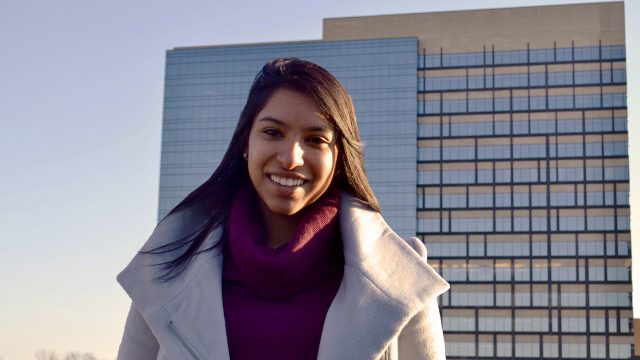 Sam Naden
Software engineer
Thomson Reuters, Eagan, Minn.
I wanted to start my career in software development. Thomson Reuters makes a lot of cool software products, so I made sure to apply. People there are passionate about technology and generally open-minded about up-and-coming technologies. As a software engineer, I'm on a team that helps make a web application that enables courts to run more efficiently by keeping track of all its cases and data related to cases. My responsibilities as a developer are to collaborate with other members of my team to add and improve features of our product. This involves planning out work to be done and then implementing those changes by writing code.  
Macalester's computer science curriculum does a great job in teaching the fundamentals of computer science, such as knowledge of algorithms, good design, and writing efficient code.  These are valuable skills that I use often at my job. However, I think the most useful thing I got out of my Macalester education is a sense of calmness and confidence. Making it through Macalester's rigorous academics left me with the idea that if I could do that, I can do this.
Kunal Chauhan
Investment banking analyst
Lazard, New York
Professor Joyce Minor's Intro to Investment Banking class was a hot one that everyone talked about. Unsure exactly what investment banking was, I enrolled in her class and it didn't take long for Joyce Minor to blow me away. She noticed my affection for the industry and introduced me to Mac alumnus Tristan Loiselle '12 who worked at Lazard. Tristan and I clicked immediately. I was fortunate enough to become his mentee for the next months, a time period that involved intensive coaching from Tristan and multiple in-person interviews with Lazard. I was offered a summer internship with Lazard after my junior year, which led to a full-time offer the following September.
My primary responsibilities involve a lot of analytical and presentational work. Some examples include analyzing companies' financial statements by putting together financial models in Excel, performing detailed industry research, conducting due diligence, and compiling client presentations in PowerPoint. Macalester really taught me how to think and how to look at things from a critical point of view. Professors at Macalester never guide you to the answer straight away; they force you to consider multiple solutions. Mac fosters creative problem solving, something Wall Street can't get enough of.
Lucy Short
Master of Arts in Teaching Secondary English Candidate
Brown University, Providence, R.I.
I'm in my practicum semester of the MAT Secondary English program. I'm teaching 10th Grade Honors World Literature at an urban public school down the street from my house. I teach for about two hours every day and observe for the rest of the school day. I was able to design my own unit under the guidance of my mentor teacher. We just finished a socratic seminar on Kendrick Lamar's "i". Besides student teaching, I take two other academic classes at Brown, Analysis of Teaching and Psychology of Teaching.
Part of my teaching philosophy revolves around listening. Maybe that student has his head down because his brother got into a car accident this weekend or something another student said in the discussion was really triggering. I am constantly reminded of the importance of checking myself and asking my students how they are doing before assuming anything. If my students aren't engaged, it's because I'm not engaging them. I'm probably not asking the right questions. The other members of my cohort joke that I'm weirdly calm in the classroom. I think that has a lot to do with how Macalester encouraged me to question teachers as experts. I try to be real with my students. Most of the time, they appreciate that.
The MAT program has made me realize how much I actually want to teach high school. My students are incredibly brave, passionate, and brilliant. I cry about my students. I write about my students. I even dream about my students most nights. To me, teaching is really just figuring out how to love each of your students, even when they sort of can't stand you. I used to think that I wanted to be a professor. Now, that's on the back burner. I think I want to stick with teenagers for a while. They really speak to me.
Ha Song Pham
Research analyst
The Brattle Group, Washington D.C.  
I took Econometrics in the spring of my junior year at Mac, and loved it so much that I wanted to work with data after graduation. My professor suggested that I look into economic consulting. I applied to a couple of firms, and in the end chose Brattle because of its small size and intellectually challenging work. As a research analyst, my work involves data cleaning and analysis. I work in a team to prepare the data component in expert witness testimony for litigation cases. One of the cases is about the California energy crisis back in the 2000s. During this period, energy prices were hiked up due to manipulative market behaviors by some of the energy sellers. As an economic consulting firm, Brattle works with the lawyers and the State of California. Microeconomic theories and data analysis help expose the manipulative but clever acts that these sellers used.
The project-based and client-based characteristics of consulting requires me to learn quickly and deliver error-free results in a short amount of time. The demanding course load at Mac taught me how to use my time efficiently. All of my economics and statistics classes provided me with a solid technical background for the job. From my Mac education, I have developed an ability to think critically and creatively, and to always consider the ethical aspect of my work.
Jyothi Dhanwada (pictured above)
Healthcare Consultant
Optum Consulting at UnitedHealthcare Group, Eden Prairie
Consulting is fast-paced and often ambiguous work, especially in the area of healthcare, which is becoming more complex and interconnected. As a biology and political science major entering the consulting world, I definitely had a different perspective than the traditional finance or business major. My diverse coursework and research opportunities at Macalester prepared me for the "on your toes" and innovative problem solving aspect of consulting because of the strong focus on critical and interdisciplinary thinking.
As a healthcare consultant at Optum, I work with clients including providers, health plans, individuals and families, the government, and employers, to help determine their needs and solve complex business problems. I work in a business analyst role with a provider network on the West Coast on revenue cycle management initiatives, which include managing the processing of claims, payment, and revenue generation. I love that my day-to-day work allows me to solve real-world, complex problems in the field. I never imagined that my career trajectory would include healthcare consulting, but I am really passionate about the work I am doing and can see myself continuing in this industry in the future.