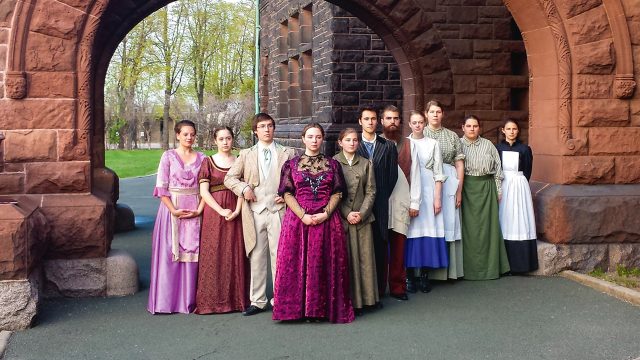 BEING PART OF A COLLEGE located in the middle of a major metro area is a real boon for arts students. Macalester's Theatre and Dance Department takes particular advantage of this urban location when hiring its visiting instructors.
Take, for example, former visiting professor Eric Colleary, who last spring offered the class Performing History, which made use of many local historical and theatrical assets. Colleary, now Clive Curator of Theater and Performing Arts at the University of Texas, has a doctorate in theater and a minor in museum studies.
He put both forms of expertise to use leading his 12-member class in writing and performing an interpretive play about the James J. Hill family of St. Paul. Hill, founder and owner of the Northern Pacific and Great Northern Railways, built a mansion on the city's wealthy Summit Avenue— today a Minnesota Historical Society site.
The first half of the semester students immersed themselves in St. Paul and Hill family history—the food (they even cooked and served a meal using recipes from the time), the etiquette, the social dance, the architecture, and family and servant papers. The class visited the J.J. Hill House (where the performance was held in May), the J.J. Hill library, and the Landmark Center, site of the old federal courthouse, where Hill fought a trust-busting suit against his railroad.
The play was set in 1910, and told mostly from the perspective of the Hills' Irish and Swedish servants. College theatrical costumer Lynn Farrington found period costumes at Macalester, Hamline University, Chanhassen Dinner Theater, and other local theaters.
Said English major Isabella Seaton '15 (Aberdeen, S.D.), who played Hill's wife, Mary: "This has been a really comprehensive course. It's amazing the amount of detail we learned from archives, house records, letters, and so on." Hill House site manager Craig Johnson told Colleary he was "deeply impressed" with the students, and that in the quarter century he'd worked there, no other group had done such deep research nor created such an engaging program.
Other theatre/dance classes available to Mac students, thanks to its urban location, include an African American theater class taught by Sarah Bellamy, new co-artistic director of St. Paul's Penumbra Theatre Company (recently featured in a New York Times article about new leaders of Twin Cities theaters); a class, Physical Approaches, taught by performer and director Bob Rosen, cofounder of the internationally acclaimed Theatre de la Jeune Lune; and dance courses with Brian Evans, principal dancer with the Stuart Pimsler Dance & Theater; Patricia Brown, founder and choreographer for the Spirit of Ashé Performing Arts Troupe; and Krista Landberg '85, former principal dancer with the Susan Marshall Co. in New York City.