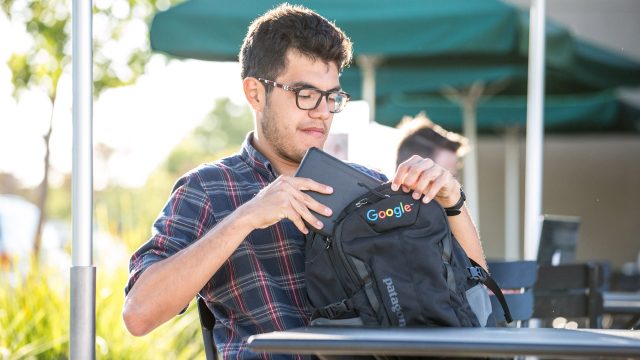 "The experience was both challenging and rewarding. … I am much more concerned about writing beautiful, readable, maintainable and testable code now." –Alan Morales '18
Alan Morales '18 (Escuintla, Guatemala) already had experience with small companies and in research, so he wanted to check out life in a big tech company. He landed an engineering practicum internship with one of the giants—Google in their Boulder, Colo., office. (There are currently two other recent graduates working at Google.)
A computer science and Chinese major, Morales was very impressed with the attention to detail; every piece of code was carefully tested. Often he was asked to work on technologies that were new to him, yet he managed to learn them over the course of the summer. 
"The experience was both challenging and rewarding. The quality of the code that was demanded from me was beyond anything I had ever heard of. I am much more concerned about writing beautiful, readable, maintainable and testable code now." 
Morales thoroughly enjoyed the company culture. "Google is a relatively flat company, especially considering its size. Every Thursday, the CEO of Google would transmit a video stream about the cool new things that the company is working on, and the future of Google. I felt like I could approach anyone in the office comfortably. In fact, I had lunch with the site director a few times, the "highest" position in Google Boulder." 
The flexible schedule was another plus: "My normal day would start at 8:00 a.m. I would code for a little bit and eat breakfast at 8:30. At 9:00, I would attend a "stand up meeting," where my teammates and I talked briefly about what we had worked on the day before, and what we would work on that day. At noon I would have lunch or play pickup soccer. I might have a meeting or two with my supervisors or members of other teams. My day normally finished at around 5:00 or 6:00." 
His advice to students applying for internships is to apply to many places and to send their CV's everywhere they would like to work, even if they don't say they are taking interns. "Starting early can have huge gains later on." 
After his successful internship, Morales has already been invited back to Google for next summer.