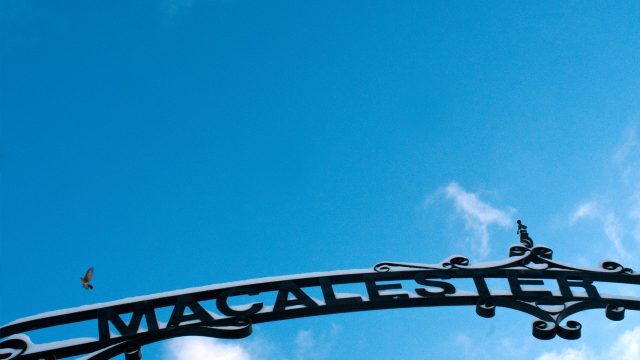 We culled through all the news of 2015 to highlight the most viewed stories. It was a year for accolades, award-winning technology, community building, and good-old Macalester drive to make the world a better place. Here are those stories, in no particular order, that brought you delight and pride for what happens at 1600 grand.
Dozens of African American women worked for NASA as expert mathematicians from the 1940s to the 1960s and almost no one knew about it. Segregated within NASA facilities in Hampton, Va., well-educated Black women used slide rules and pencils to do the calculations for flights by astronauts John Glenn and Alan Shepherd.
The fact that this history is little known makes it ripe for research by collaborators Lucy Short '15 (St. Louis) and American studies professor Duchess Harris, whose grandmother, Miriam Daniel Mann, was one of those extraordinary women.
Every year bagpiper Mike Breidenbach walks the halls with Macalester's Provost to announce tenure. This year, 12 faculty members received that recognition. Eleven new tenure-track faculty also joined our ranks.
Walter Mondale Speaks at Commencement
The announcement that Former Vice President Walter Mondale was to deliver the commencement address was a delight for all.
"Walter Mondale is a legend in the state of Minnesota and someone we cherish here at Macalester College," said President Brian Rosenberg.  "This year's seniors are fortunate to have the former Vice President as their speaker. He truly is the embodiment of thoughtful, humane, and selfless service to others."
What does entrepreneurship look like at a liberal arts college? How does it align with Macalester's mission? Kate Ryan Reiling, a 2000 Macalester graduate, has undertaken defining that in her role as Entrepreneur in Residence, a new position at the college.  
New Vice President of Student Affairs Announced
After more than 23 years, beloved vice president of students affairs Laurie Hamre retired. Macalester did a national search to find Donna Lee to replace her. She was president for Student Life & Dean of Students at Agnes Scott College in Decatur, Ga.
Tyler Skluzacek '16 (New Prague, Minn.) won a coding competition in Washington, D.C. that quickly gained national attention, leading to him being featured in People and USA Today. He raised more money through Kickstarter than he ever intended and later went on to win another hackathon in Minneapolis that will allow him to create his app for PTSD sufferers.
A Brief History of Seven Killings
English professor Marlon James won The Man Booker Prize Award for his novel about Bob Marley and chalked up a number of other awards; he appeared on Seth Meyers' Late Night show and most recently was named among the best dressed by London's Financial Times.
Because Macalester has committed to becoming carbon-neutral by 2020, it made sense for the college to sign an agreement with SunEdison, Inc., the world's largest renewable energy development company. The agreement will help offset college energy use with solar.  
As decisions in politics, government, science, and commerce continue to be shaped by the large quantities of data brought about by the revolution in computing, the field of data science continues to grow. Macalester added this new minor to educate students for our changing landscape.
Ian Luebbers '17 (Downingtown, Pa.) has a schedule similar to those of many Macalester students, balancing academics with music, sports, and clubs. But this physics major/soccer player/violinist has an additional, more unusual pastime: he happens to be one of the world's best Irish step dancers, placing fifth in his age group at last spring's 2014 Irish Dancing World Championships.