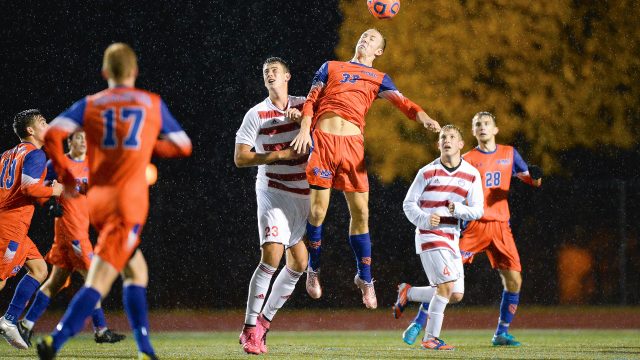 IN THE 89TH minute of the NCAA Division III men's soccer tournament's opening round, Austin Burrows '17 (Roseville, Calif.) scored a goal that sent the Macalester Stadium home crowd into a frenzy and the fighting Scots into the second round with a 1–0 win over the College of St. Scholastica.
Though St. Olaf beat Macalester the following night, the Scots' season went down as one of the best in the program's history. The team finished 14-2-5, going undefeated through the regular season, winning the Minnesota Intercollegiate Athletic Conference regular-season championship, and being ranked as high as 11th nationally. It was because of that success that the Scots earned their at-large bid into the national tournament.
It's a new highlight for the program under the direction of head coach Gregg Olson, who has coached at Mac for just four years. Olson was recently named both MIAC Coach of the Year and North Region Coach of the Year. The team's senior captains remember winning just four games their first year, but this season they believed from the beginning that they could make it to the national tournament.
"The idea was out there," says captain Jac Carlson '16 (Clive, Iowa). "We set team goals during the summer, and one of our goals was to go undefeated at home and to make the MIAC playoffs at least. Winning [the MIAC] was the pinnacle."