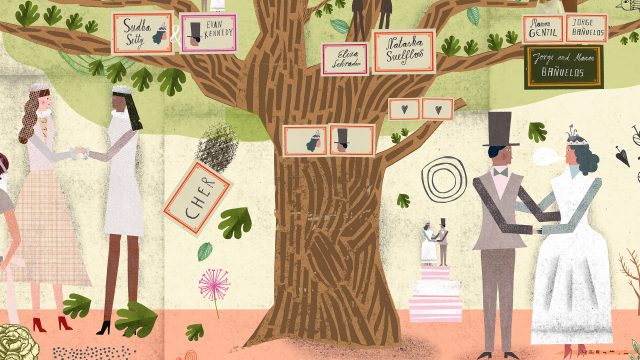 On The Endlessly Fraught Decision Of Choosing A Surname
Our names tell tiny but important stories about who we— and our families—are. So when people marry and perhaps have children, how do they choose a last name that fits? We asked Macalester alumni, faculty, and staff to share how they made their decisions and why it matters.
Before Lloyd Lentz and his wife, Sarah Crawford, got married in 2002, they talked for a long time about which last names they would use after they tied the knot. The pair considered all the common options—Sarah taking Lloyd's last name, hyphenating their names, each keeping their birth names—but none seemed quite right. Instead, they decided to start from scratch.
"When you get married, you start a new family, and we liked the idea of coming up with a new name," says Lloyd, the director of advancement IT at Macalester. "Of course, when you're not choosing from three choices, the conversation gets much harder."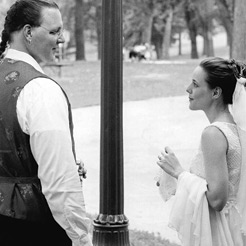 As the two researched possible new names, they discovered a Welsh word, Cledwyn, which meant rough and beautiful. The pair both had Welsh heritage, and Cledwyn seemed to fit them both individually and together. "I've been a ceramics artist for years, and she's a writer and spiritual person," says Lloyd. "It spoke to us." They chose Cledwyn and have never looked back.
Not every couple has such a striking tale to tell about the surname choice. But many who have decided to change their names have grappled with a sense of both losing and gaining identities. Some couples who have each kept their birth names have searched for ways to signify family bonds without sharing a single last name. And as same-sex marriage became legal in all 50 states last summer, many more couples will have these conversations—but with different cultural expectations influencing them. The discussions and choices say a great deal not only about who we are, but who we wish to be.
From convention to free choice
It's no secret that in the United States, it is traditional for a woman to change her last name at marriage to that of her husband—unlike in Spain, for example, where using two last names is common.
Lucy Stone, a 19th century suffragist, was the earliest American proponent of the idea that a woman should keep her birth name after marriage. But the idea didn't really gain traction until the 1970s, when women's rights organizations and advocates brought more attention to the idea. While no authoritative study exists from the '70s, a 2012 survey found that about 20 percent of women marrying for the first time in the 1970s kept their birth names; today, that number has edged up to nearly 29 percent.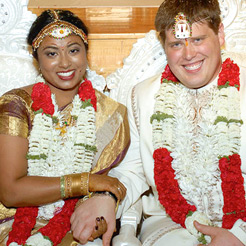 If feminism was one of the driving forces leading women to keep their last names in the '70s, it is only one of several reasons today. For example, because the median age for a first marriage for women is 27—up from 21 in 1970—women who are marrying are more likely to have already established professional and online identities they aren't eager to change.
Or it can simply seem like a hassle. When Sudha Setty '05 kept her surname when marrying Evan Kennedy '05 in 2008, "it wasn't a grand feminist gesture," she says, but rather a pragmatic one. "I was in grad school and I didn't want to have to change my name on federal loans or my master's thesis."
Sonita Sarker, a professor in both the English and Women's, Gender, and Sexuality Studies departments, adds that for many women, keeping a name isn't just about maintaining continuity in their lives: it can also be a connection to a profession, class, race, or culture. "A surname is a historical anchor," she says.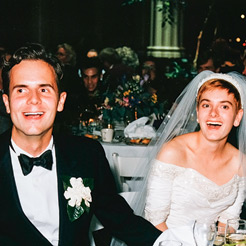 When Andy Steiner '90 married John Manning '90 shortly after their college graduation, both liked the concept of adding the other person's last name to their own as a way of symbolizing their new partnership while retaining their own names. But the decision came with a few hiccups: "I thought we were doing 'Steiner-Manning,'" she recalls. "He thought we were 'Steiner Manning' without the hyphen."
The two never discussed that hyphen, and it was only when they arrived at the courthouse that they discovered the punctuation difference; the court administrator told the pair the only way they could use both names was if they were hyphenated. "There was a moment of hesitation on his part—now he was going to have this super-long name— but he recovered, and we just went with it," Andy recalls.
How culture does and doesn't guide
When Manon Gentil '11 married Jorge Bañuelos '11 in 2013, she knew that it was traditional in Mexico—Bañuelos's home country—for a woman to take her husband's last name. Since it was only important to her that the two share a surname, she was happy to change her name to Manon Bañuelos. "My last name doesn't change the essence of who I am; if anything, my identity has expanded."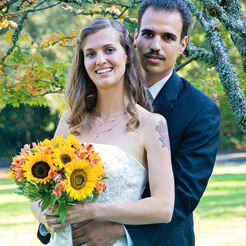 That said, she did harbor one concern. She worried about becoming harder to find online, so she kept the email address using her birth name. As for online networks such as LinkedIn, says Bañuelos, she hasn't had any problems.
While some find naming traditions comforting because of the unity they provide, others find the traditions oppressive. Although Sarker says that few cultures consider surnames a social issue the way many Americans do, the traditional strategy is freighted with an ugly history. "Once upon a time, women were seen as property that was handed over from one male household to another, and the reason a woman took on the husband's name is that she was subordinate, and part of that property," she says. "In some parts of the world, this is still true."
That unhappy history was well known to Eliza Schrader '05 and Natasha Suelflow '05, who married in 2013 after same-sex unions were legalized in New York. The pair never seriously discussed changing their names, although Suelflow briefly considered it.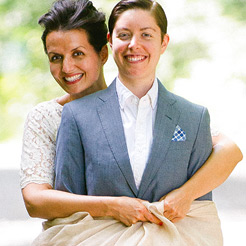 Although they don't face the same specific cultural expectations as straight couples, says Schrader, she says she might feel uncomfortable if Suelflow ever did change her name. "In our relationship, I'm on the butch-er end of the gender spectrum, and Natasha is on the more feminine end," she says. "I definitely feel pressure not to replicate a heteronormative relationship in which the woman would feel pressured to change her name."
The choices people make about their last names can affect how others perceive them in wide-ranging and detailed ways. The Steiner-Mannings know that their hyphenated last name will cause some people to make certain assumptions about their politics (left-leaning) and education level (high). Steiner-Manning says that she and her husband once joked that they might start a newsletter called "Hyphenated Male," with a target demographic of men with hyphenated last names. "It was going to be an awesome niche market," she says.
Navigating the next generation
If the decisions people make about their own last names can feel fraught, the formulas for children can seem even more vexing.
Bañuelos says that having kids has made her even more certain about her decision to change her name when she married. "It's more practical for medical and insurance-related things," she says. "Our family feels like more of a unit when people can refer to us collectively as "'the Bañuelos family.'"
Setty and Kennedy, meanwhile, had a trickier path. The pair wanted to come up with a way to recognize both of their histories when they named their daughter, who was born last year. "We came up with a compromise, where she has an Indian first name and Kennedy as her last name," Setty says. "Unless there's some reason that changing my name makes life easier for us in the future, I will keep my last name."
Schrader and Suelflow, who plan to have children, say their decisions about kids' surnames have been guided by Mac conversations: Suelflow remembers talking with a Mac friend about matrilineal last names and multiple last names, which is part of the reason she and Schrader plan to put both of their surnames on their kids' birth certificates. "We want to preserve the option for them to do whatever they want in the future," she says. "We'll be doing something that feels good for us and doesn't definitively cut out one of our histories."
The Steiner-Mannings—who go by their birth names professionally but use the hyphenated name for their children and any family-related matters—like having a hyphenate that makes clear the link to both their birth families. But down the road, should one of their children find a mate who also has a hyphenated last name, they understand that the possibility of exponential last-name growth might become untenable
But Andy Steiner-Manning's not worried. "We came up with our own name, so they can do whatever they want to do," she says of her children's decisions. "They could come up with a completely new name. Maybe they'll go by just one name, like Cher. Our parents didn't freak out about our decision, and I don't think we will, either."
In the end, there is no one perfect solution—except whatever fits the couple themselves. "I don't think anyone's figured it out," says Sarker. "But choosing a last name is a way to think through how we see our individuality—is it in our name? Our actions? It's a way to think about what our names really signify and embody."