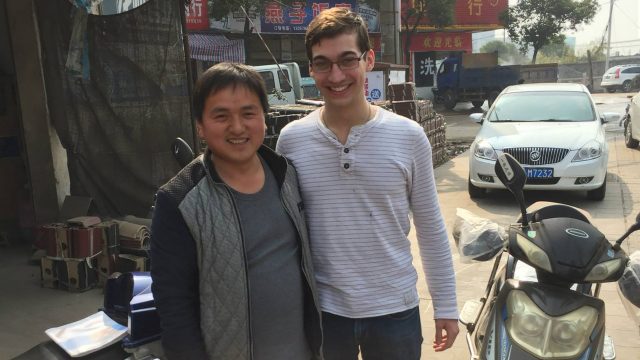 For two Chinese and international studies double majors, spending the spring semester abroad in China proved to be a transformative experience.
Participating in the CIEE Nanjing: Intensive Chinese Language and Culture program, Grace Newton '16 (Middleton, Wis.) took a 12-credit Mandarin course, equivalent to one full year of study, in addition to a business course. "It is an intensive program," Newton says. "We had to learn and memorize 60 new Chinese words everyday." She persevered and excelled at the course, and her language progress enabled Newton to take a 400-level, advanced Mandarin class this semester. During the program, Newton also traveled to other Chinese cities and Taiwan. The cultural immersion proved to be a rich asset to her as she undertakes the senior capstone in Chinese studies back at Macalester.
For Newton, studying Chinese is more than just academic. Adopted from Nanjing at age three, she has always considered the historic Chinese city her hometown and a big part of her identity. In her free time, Newton roamed the city's scenic attractions, restaurants, bookstores and artistic spots. She also met a special person: "I reunited with my nanny who worked at the orphanage and oversaw my adoption." Grace had traveled to Nanjing before and met her nanny at age 13, but she couldn't speak any Chinese then and had to talk through an interpreter. "This time, I was able to talk to her in my own words," she says. "It was a very emotional and special moment to me. She was also the one who gave me my Chinese name which I have kept and cherished." Newton left China with not only improved Mandarin skills but also strengthened ties to her birthplace and identity.
Like Newton, Jake Speirs '16 (Cottage Grove, Minn.) wanted intensive language study in his semester abroad. Starting with a firm desire to master Chinese, Speirs reviewed many programs for language learning and decided to go on the Middlebury School in China: Hangzhou program at Zhejiang University. There he took four courses, all taught in Mandarin, including a one-on-one Chinese instruction course and an independent study on Chinese-African relations. Speirs had taken five courses in Mandarin at Macalester, but the immersion experience provided a new challenge. "We also had Chinese roommates and spoke Chinese in and out of class," he says. "I felt the pressure to improve not only for the sake of academics, but also for my living in China." The program's highlight for Speirs: completing a research paper on Chinese-African relations, a 1500-word dissertation written entirely in Chinese.
His journey in China wasn't finished at the end of the semester, though. Shortly after returning to the United States, Speirs learned that he had won a U.S. Department of State Critical Language Scholarship and would be traveling to Beijing for another intensive Chinese learning program. During two months at Peking University over the summer, he completed an equivalent of a full year of Chinese instruction. Speirs continued building connections and learning about language and culture, elevating his Mandarin proficiency and cultural understanding to a new level.