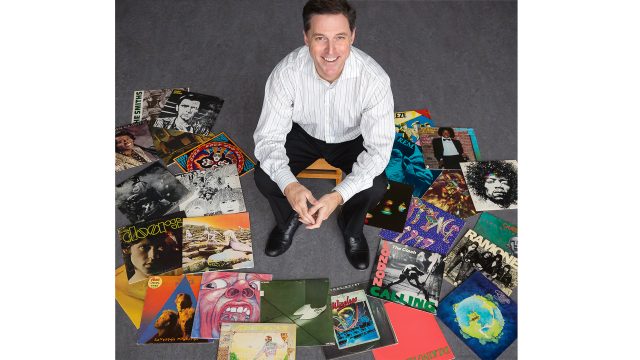 ACROSS CAMPUS, on buses, walking down the street, people with earbuds or noise-cancelling headphones are listening to the beat of their own drummers. But music wasn't always so solitary. Many alumni have fond memories of late night gatherings around a turntable, listening to albums—together.
Now music professor Mark Mandarano has recreated that experience with Late Night Vinyl. Since March 2013, he has invited students to the music building three times each semester to listen to an album—intentionally, without interruptions or skipping songs. Playing of the album, which is announced ahead of time, is preceded by a 10-minute talk about its history and cover art. Then the needle drops.
Selections have included such classics as Abbey Road by The Beatles, Born to Run by Bruce Springsteen, and Tapestry by Carole King.
It was when Mandarano came to Macalester as director of instrumental activities in 2012 that he first conceived of a way "to revive listening as a communal experience—a group of people in one room, listening to the same thing, created by one artist or group, all the way through."
Late Night Vinyl has drawn up to 80 students at a time, with some of the most popular offerings including The Beatles' Sgt. Pepper's Lonely Hearts Club Band and albums by Fleetwood Mac, Paul Simon, Pink Floyd, and Queen.
"There's something valuable about giving yourself over to an artist's choices," says Mandarano. "We're so driven these days by user-friendly selection and our need to switch our attention elsewhere at any moment. To surrender that volition to an artist, and accept the pace they set, becomes a fascinating and welcome alternative."