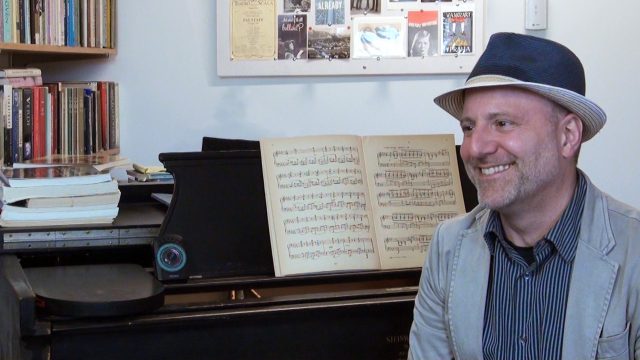 The Police, The Shins, John Cage, Beethoven, and '60s girl groups: sound like an interesting line-up? Those musicians are just a few among those covered in the first-year course Music and Freedom, taught by music professor Mark Mazullo.
The idea behind the class was sparked by English professor Jim Dawes, who founded Macalester's Human Rights and Humanitarianism concentration. He challenged Mazullo to develop a course that would count toward that concentration and Mazullo came up with Music and Freedom. In the class, he leads students in exploring traditions in both Western art music (opera and symphonic music) and 20th century popular music in order to, as he puts it, "search for the ways in which music has served sociopolitical ideologies, overtly and unintentionally."
Along the way the class reads such works as Kant, Foucault, and the Declaration of Independence while listening to Mozart's opera Don Giovanni, Beethoven's Symphony Number 3, and selections from The Complete Stax.
"I want them to learn that art matters, and why it matters," says Mazullo.
The students, all first-years, come to the class with a wide range of musical backgrounds. "One person is really into piano jazz improvisation, another guy performs folk music, and still others are involved in orchestra, choir, or other ensembles," says Elizabeth Emanuel '19 (Oak Ridge, Tenn.). And some have no musical training whatsoever but are just interested in the topic, says Mazullo, adding, "There's a real mix of kids."
While assuming no musical training, Mazullo does expect his students to learn how to describe and analyze music. That was the most challenging part of the class for Alana Schreiber '19 (Montclair, N.J.), who describes herself as "an on-and-off musician but a consistent appreciator of music." Emanuel also found the course writing—multiple essays culminating with a 3,000-word paper and oral presentation—difficult but worthwhile.
Improving students' writing is among the goals of all first-year courses, and Emanuel confirms that Mazullo "expects a lot out of our papers, which pushes us to write better essays."
But the rigor of the class is nicely paired with another first-year course goal—building community. And that happened quickly, say both Schreiber and Emanuel. "We all live within a few rooms of each other," says Emanuel, "which is nice when you're rushing to finish an essay that's due the next day."
One night the classmates organized a "Ring party" to watch Wagner's Das Rheingold, which they'd been studying in class. Another night Mazullo, a noted cook, had the entire class over for dinner. Says Emanuel, "We all had a great time getting to know him, his family and each other better…. I stayed much longer than I expected to." Adds Mazullo, "I try to do the dinner early in the semester when they need it most. They were so happy to be in a house with a little kid and a dog." (Not to mention the pork roast, risotto, and caprese salad.)
While each student appreciates a different part of the course (Schreiber enjoyed the jazz and blues unit; Emanuel mentioned influential modern composer John Cage), each also comes away from Music and Freedom with a greater understanding of both music and human rights arguments.
"This class is about making connections between ideas and art," says Mazullo.  "I want them to understand that art is always connected with social and political life and that the ideas expressed by sound are equal to those expressed by words."