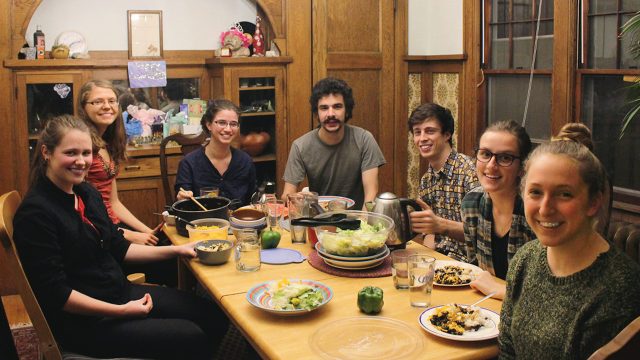 WHAT AM I GOING to do for dinner? Many Macalester students living off-campus dread this daily question. Limited by time and budget, students often end up eating quick (and bland) meals alone. Enter NÜDL: a mealsharing service that connects students who enjoy cooking and hosting with those looking for an affordable, home-cooked meal.
The idea emerged this summer from an entrepreneurial program on campus called Mac Startups. Alex Dangel '16 (Ulm, Germany) and Caitlin Toner '15 (New Providence, N.J.) created NÜDL with the overarching goal of improving our food system. "When it comes to eating, we often pick convenience over something that's good for us," Dangel told The Mac Weekly. "Getting together around a meal also creates a positive environment around food. Eating by yourself, eating a microwave meal, is what we often resort to, but it doesn't make us happy."
Since the beginning of the school year, NÜDL has facilitated 95 meal-shares and served almost 500 meals. Here's how it works: Students interested in hosting meals plan the menu, pick a date, and set the meal price. Hungry students then sign up for dinner on NÜDL's website.
They can choose from a variety of cuisines; any given week might include meal-shares offering ratatouille, tater-tot hot dish, sweet potato–edamame wraps, or chicken chorizo soup. Or perhaps chicken stew flavored with ale, the dish recently prepared by NÜDL team members Alan Morales Blanco '17 (Escuintla, Guatemala) and Eivind Bakke '16 (Harstad, Norway).
Morales Blanco, who learned about NÜDL from a Facebook post, likes how the group encourages students to meet new people and learn from each other. Other NÜDL team members include Alex Klopp '16 (Iowa City, Iowa), Pradyut Bansal '17 (Bangalore, India), and Emma Foti '18 (Tappan, N.Y.).
NÜDL hopes to expand. According to cofounder Dangel, this will first involve reaching out to local Macalester alumni. The startup recently launched a website and has a mobile app in the works.